Felines, Friends, and Fitbloggin'
Guess what?  The plane didn't crash.  Shocking, no?
Flying makes me very nervous.  So nervous that I consciously do things I try not to don't do.  Things like leave my hair on the shower wall (because Brent will most definitely appreciate strands of course dark hair still clogging the drains when I'm gone) and my clothes on the floor (he will want to remember the sweetness of my workout B.O.). I also do things like intentionally post a corny love Facebook status before the plane takes off  "just in case" that probably makes half of my friends roll their eyes.  When I mentioned the "love status I want to be remembered by" mid-flight to the young women sitting next to me because "you never know" I got feigned smiles. I don't think they appreciated the small talk.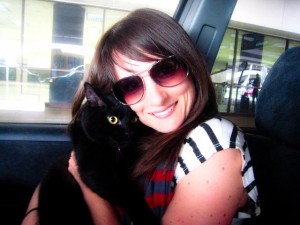 The next best thing after not crashing and seeing my family was seeing my cat, Meow Cow.  I got to see him sooner rather than later because Brent brought him along the 56 mile drive to LAX.  Judging by the "meeee-OOOWS" I heard in the background while making my "we landed 30 minutes early" call  to Brent (and by the above photo) I can only assume MC appreciated this as much as I did.  Brent bringing MC along says one of two things- I'm extraordinarily loved or Brent has finally accepted I'm a bat—-crazy cat lady.  Or both.
After landing in Baltimore at 7:30 AM and taking a 3 hour long nap, I spent the day wandering around the inner harbor snapping photos of boats, Federal Hill, a $5 "mall psychic", and happened upon the GRAND OPENING of a brand spanking new H&M store.  Seriously, this puppy had only been open an hour when I wandered by which I took as a sign from God that I was supposed to get a new dress and pair of bright coral cropped-at-the-ankle pants.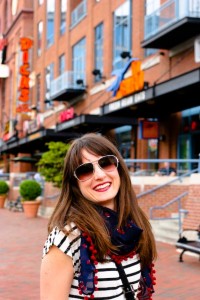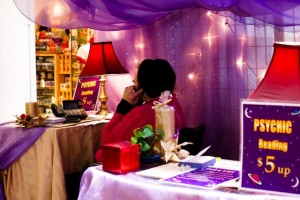 Wonder if she "knows" I posted this on my blog.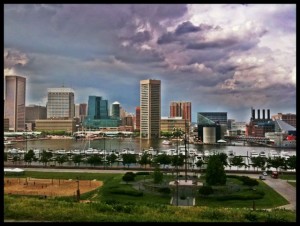 Baltimore from Federal Hill.
So what about Fitbloggin' you ask?  Did the kettlebell demo go well?  Was it fun?  Did you learn a lot?  Did the Lulu pants live up to your expectations?
Yes, yes, yes, and, yes. Until I saw photos but,  man, those Wander Unders sure are comfortable despite not making me look like Jackie Warner as I had hoped.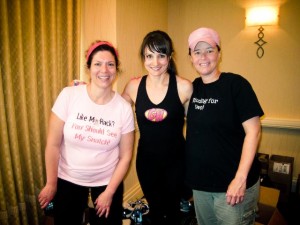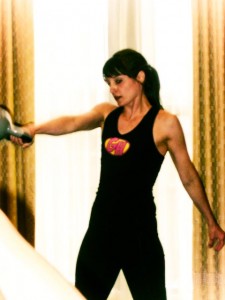 The kettlebell demo went amazingly well.  I really felt like my comrades (that what us kettlebellers call our homies) and I experienced synergy despite just meeting each other in person for the first time 12 hours before.  In fact, I think Lisa, Karen, and I should take our presentation on the road but only if Karen promises to wear "the shirt".  (Enlarge above photo..this blog is rated PG-13.)
The sessions and panels were entertaining and educational. Unfortunately, looking at Google analytics is still about as easy as reading Shakespeare after too many drinks but overall I learned a lot.  I learned about SEO from Matt Frazier, Vlogging from Jendi, and that I'll probably never be a "pro-blogger".  Which by the way is just fine by me.  I LOVE the connections I have in my little corner in cyberland.
You wanna know  the best part? (Yes, here is where I get unapologetically sentimental and sappy.  You knew it was coming.) The people.  Of course.  Almost everyone, was very warm and friendly.  Roni amazes me.  Seriously.  I couldn't even plan a birthday party without a Mt. Saint Helens sized meltdown when I had a baby much less a conference of over 200 bloggers and sponsors.  Thank you, Roni, for all your hard work and positive attitude!
I also met bloggers I have stalked, (Ahem Mizfit), bloggers who have made me laugh via Twitter (Ahem Jack Sh–), and countless other awesome people who made me smile like my  roommates Lacey, Christine, and Jaclyn.  It was really just wonderful to be with so many like-minded individuals who love blogging.
Tina and I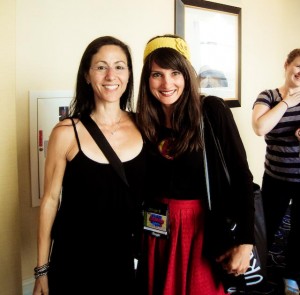 Mizfit (I just can't call her by her first name.) and I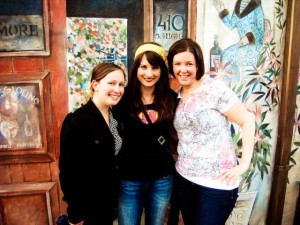 Sagan, yours truly, and Lacey in Little Italy.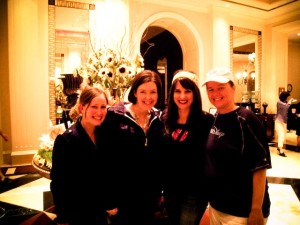 Sagan, Lacey, y.t., and Lisa.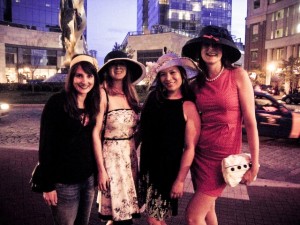 Random girls wearing big hats for The Preakness (a horse race). I thought they looked so pretty that I asked if I could have a picture with them.  Totally normal, right?
I hope you guys had a great weekend and thank you so much for your words of encouragement last week when I posted from the airport.  They kept me sane.  Mostly.
Hugs and High Fives,
Jenn
If you enjoyed this post please Subscribe to the RSS Feed
or
Sign up to have posts emailed to your inbox.
Pin It