Memorial Day Weekend (and Movement Matters Week 4 Results)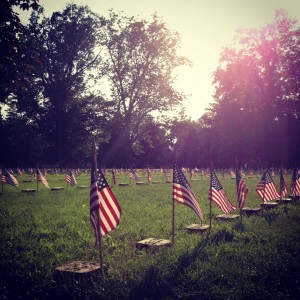 I hope you had a good Memorial Day weekend.
I had a sincere paradigm shift this weekend. Before this weekend, I've never really connected to the meaning of Memorial Day. Fortunately, I've never lost a loved one due to the horrors of war. I'm ashamed to admit but before this weekend Memorial day was more about a "summer kick off". It was a three day weekend. It was a "goal date" to be bikini ready.
Not anymore.
Our weekend started on Friday with a visit to Manasses National Battlefield. Saturday, we went to Harpers Ferry. Sunday, we went to Antietem National Battlefield. Yesterday, we went to Gettysburg National Battlefield.
After all that bikinis and BBQs seem inconsequential.
Freedom is not free.
With a sincere heart I want to say, thank you to all who have served.
It was hot and humid this weekend. In some ways, I think it made visiting the battlefields all that much more powerful. Walking 4.5 miles in cotton t-shirt and shorts during 90 degree weather is one thing. Walking 4.5 miles (Or more…much more.) in a Civil War soldier's uniform of long underwear, shirt, wool hat, wool pants, and wool coat while carrying 45lbs of gear is another.
I have no excuses.
Week Four Results of Movement Matters 10,000 Steps a Day Challenge
5/22 – 14,009
5/23 – 11, 438
5/24 – 9,111
5/25 – 11, 095
5/26 – 11,395
5/27 – 8,022
5/28 – 11,933
Weekly average is 11,000 steps a day.
I've noticed that each week my steps have gone up a little bit. The funny thing is this has not been intentional. I think it's the result of creating a habit. My highest day of 14,009 steps on 5/22 was spent in the campground but walking is mentally becoming such an important part of my day that I find myself wanting to get up and move more. For a slug like myself, this is quite the phenomenon.
Hugs and High Fives,
Jenn
If you enjoyed this post you can follow one of three ways! 1. Subscribe to the RSS Feed 2. "like" Girl Heroes on Facebook, or 3. Sign up to have posts emailed to your inbox. Simple dimple!
Journey with us at New School Nomads as we take a year long RV road trip through the United States!
Pin It