Movement Matters May – 10,000 Steps a Day Movement Challenge and the Health Benefits of Walking
May is the last full month of spring before summer "officially" kicks off with Memorial Day.
Longer days make summer the perfect time for evening strolls.
If you are like me (and most Americans) you could use a little more movement. This month in anticipation of my summer strolls (and if I'm honest, swimsuit season), I'm focusing on the most basic form of movement— walking. I'm taking on a personal 10,000 steps, the number most experts recommend, a day challenge.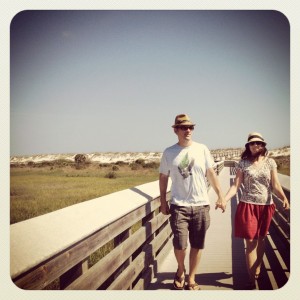 Movement Matters May – A 10,000 steps a day challenge
A few years ago, I discovered just how love walking and its importance to my overall calorie burn. According to my Bodybugg, I burned way more calories on days I walked a lot than on the days I worked out but was otherwise sedentary. What I got what movement of all kinds, even the humble walk, matters. Walking has many benefits other than burning calories.
Health Benefits of Walking
Our bodies are designed to walk
Low impact – walking puts very little stress on the body
Improves or maintains cardiovascular health
Helps or maintains weight loss which results in a long list of health benefits.
Reduces likelihood of some diseases such as diabetes
Increases longevity
Great stress reliever
Improves mood
Encourages mental clarity
Can be meditative
And while this isn't necessarily a "health" benefit, walking doesn't require any fancy equipment. This month for my 10,000 steps challenge I'm going to be using a simple pedometer. I use the Omron HJ-203 Pedometer with Activity Tracker
. It's fairly inexpensive and seems to be accurate.
While walking boasts many benefits and is easy, I still often find myself putting it on the back burner in place of "more important" tasks at hand. You know things like Facebook.
Not this month.
10,000 steps a day.
Why walk? Why not do the 10,000 kettlebell swing challenge again?
While I enjoy more extreme challenges, I'm also trying to slow down, simplify, get honest with myself, and get back to the basics. Nothing is more basic than walking. Plus there are all those benefits I mentioned.
But…. but… but….
What if 10,000 steps is too much? Don't fret! One study showed that "individuals achieving > or = 5000 steps had a substantially lower prevalence of adverse cardiometabolic health indicators than those obtaining fewer steps." So if 10,000 steps seems like too many…start where you are. Try working up to 5000 first and then go from there. Eventually you will reach 10,00 steps.
Hugs and High Fives,
Jenn
If you enjoyed this post you can follow one of three ways! 1. Subscribe to the RSS Feed 2. "like" Girl Heroes on Facebook, or 3. Sign up to have posts emailed to your inbox. Simple dimple!
Check out our family's adventures being inspired to follow you dreams at New School Nomads as we take a year long RV road trip through the United States!
Pin It