The Braxtons
I'm really not a pack rat even though I've been hanging on to one particular pair of jeans for about 15 years.  The Braxtons.
I bought The Braxtons at a thrift store when I was a teenager because I thought they were cool. They have TRIPLE gold stitching going down the legs and around the back yoke.  Cool designs on the pockets which I'm sure inspired the 7 Jeans designers.   A red little tag with a lion on it peeking out on the hip seam.  Best of all they have this unique little beauty mark on the butt where someone dropped a drop of bleach.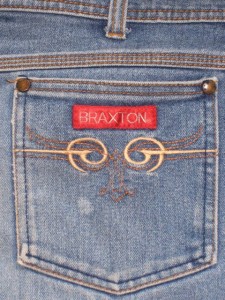 Back in those days I wasn't brave enough to wear a long skirt to try on pants underneath while hiding behind the racks of musty clothes in thrift shops. These days I have no shame. Or class. So I bought The Braxtons sure they would fit. That wasn't the case. "I will fit into these someday," I thought and put them away. Over the next few years I would periodically try them on. No luck. I even took The Braxtons with me to sunny California when I moved for college but still no luck. In fact, over the ensuing years they got smaller and smaller.
Last year I pulled out all my old pants and discovered that just because  the shoe fits doesn't  necessarily mean you should wear it.   However, The Braxtons were one pair that still didn't fit.  So while I gave away all my other "keepers" I tenderly folded up The Braxtons and hid them in the back of my closet with hope.  But this morning in a moment of confidence I pulled them out and was overcome with a mix of loving familiarity, hope, triumph, and disgust.  The Braxtons fit!!!   But they looked ridiculous.  Beyond ridiculous.
For years I've imagined one day being able to fit in The Braxtons.  I would wear them proudly strutting around in my flip flops.  (Because flip flogs are perfect for strutting.) I imagined people would ask me questions like, "Wear did you get those jeans?? So cool!". Or make statments like, "Those jeans look really good on you."  In my dreams.  High waisted jeans are not for short people with thicker thighs and full bums and 8 inch zippers should be illegal.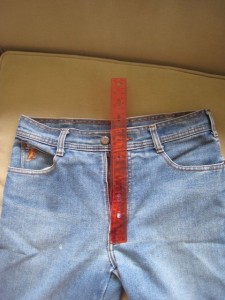 I'm trying to decided what to do with the Braxtons.
As you can tell I'm rather attached to these old jeans although I've worn them once for about 5 minutes.  Why?  The Braxtons symbolize hope to me.  I held onto to them out of belief one day I'd be able to fit into them.  The symbolize determination and perseverance.  It took me 15 years to be able to slide into them instead  nearly passing out from exhaustion trying to hoist them over my thighs.  I'm trying to decide what to do with The Braxtons.  Thinking about taking them to a tailor to see if they can lower the rise and shorten the zipper.  Or maybe I'll just say screw it and wear them with pride.  In either case I've decided to document this day with some very chic photos.
Hugs and High Fives,
Jenn
If you enjoyed this post please Subscribe to the RSS Feed.
or
Sign up to have posts emailed to your inbox.
Pin It