A Windy City Workout – Kettlebell Workout – Illinois
This kettlebell workout is only two moves and the sets are based on the 8 letters in the word Illinois. Like most of my workouts, I try to always connect some number in the workout with the number of letters.  Although there have been a few I was running low on creativity and just wanted to get done.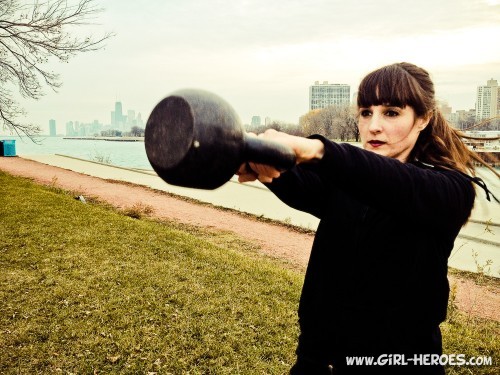 I'm particularly fond of this kettlebell workout for its versatility. Once you have the swing down it's great for beginners through advanced. It can be easily modified by decreasing reps and/or sets or using a heavier kettlebell.  It works well on its own when you don't have a lot of time, as conditioning workout for non-strength days, or as a finisher on strength days.
Illinois
A. Swings 
80,70,60,50,40,20,10
B. KB Toss
 80,70,60,50,40,30,10
Start with 80 reps (or whatever you think is a good number for YOU) and the next set reduce reps by 10 until you get to 10 reps of the swing and toss. Red lipstick and dark eyeliner are optional but highly recommended!* 😉
*We were on our way to visit friends and going out that night so I changed in the car in the car to workout. However, I've done more ridiculous things like combine leopard heels and kettlebells.
I also want to say thank you to Jen for interviewing me in her Lady Lifter Spotlight last week. I interview a lot of women here on my blog so it was nice to be on the other side. Speaking of interviews would any of you like to be featured or have someone would you like to "nominate" as a Girl Hero? I'm always on the lookout for inspirational women. And inspirational does not mean "super buff" or someone who has lost a lot of weight. (Although that's fine!) Girl Heroes are women who are doing their best to choose health in our not so healthy culture. Anyway you can email me if you are interested jenn (at) girl-heroes.com
I haven't been blogging much over here because after Thing One asked me, "Do you think one day I'll be nostalgic for this trip? For living in the RV?" I started to feel like I really need to catch up on capturing our adventures on my travel/family blog. It's kinda embarrassing how far behind I am!!!! When we left I imagined being able to keep up on everything (and not be 6 months behind editing workouts!!) but the truth is I only have so much time and energy. My family and life come before the computer. If they didn't I don't think I'd have anything to write about or even be on this trip! Anyway, it's really important to me to catch up on our travels before time starts to scratch away at those memories. Have you ever seen those blog to book things? They look like the yearbooks I got in high school. My desire is to turn our other blog, Newschool Nomads, into a "yearbook" that captures the memories and brief histories of all the places we have gone and give one to each of the boys when they leave our nest. Sniff. So I'm going to do my best to post a few times a week over here but for right now catching up on the memory book for my kids is my top priority.
Alright that's it….I hope you enjoy this short kettlebell workout and let me know if you know someone (or YOU…don't be shy!) who would make a good Girl Hero!
Hugs and High Fives,
Jenn
Keep up with my kettlebell workouts, real food recipes, and more in one of three ways! 1. Sign up to have posts emailed to your inbox. 2. Subscribe to the RSS Feed or 3. "like" Girl Heroes on Facebook. Simple dimple!
Journey with our family on the road at Newschool Nomads as we travel fulltime in RV through the United States!
Pin It