Beginner Kettlebell Workout – South Carolina
Onward with the beginner kettlebell workout series.
In case you missed it I'm a big nerd doing 13 kettlebell workouts geared towards begginners in my state workout series for the states that were the original 13 colonies. Because beginning a new kettlebell routine is symbolic to starting a new country? Ummmm….yeah.
Anyway…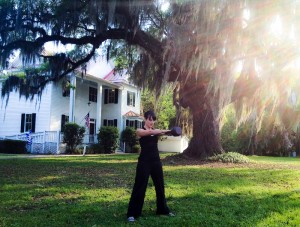 This kettlebell workout is really straightforward and like most of my workouts it relies on basic kettlebell movements because basic movements done with good form and adequate intensity get results. Beginners should always master the basics. Occasionally, I may throw a "new" move in to keep things interesting but for the most part basics is where it's at.
Beginner Kettlebell Workout
Part A
Kettlebell Presses – 5
Goblet Squats – 5
Kettlebell Rows – 5
Repeat 5x
Part B
Swings
8 minutes using an interval that feels right to you. Most people do well with a 30/30 (work to rest) or a 40/20.
Although this is a beginner kettlebell workout it would be easy to make it more difficult by using a heavy weight or substituting harder moves like bottoms up presses, overhead squats, and renegade rows. Personally, I'm sticking with the beginner moves these next few weeks so I can continue to practice my form.
Have a wonderful weekend!!
Hugs and High Fives,
Jenn
If you enjoyed this post you can follow one of three ways! 1. Subscribe to the RSS Feed 2. "like" Girl Heroes on Facebook, or 3. Sign up to have posts emailed to your inbox. Simple dimple!
Be inspired to follow your dreams at New School Nomads as we take a year long RV road trip through the United States!
Pin It