Rainbow in a Cup
You may have heard of rainbow in a cup? If not it's rainbow colored jello layered in a cup.
This salad is like rainbow in a cup only better. And healthier. And it's so good you want to eat it in a bowl not a cup.
The only problem with this rainbow salad is that it's missing blue (and indigo if we are going to get technical). I just couldn't think of anything blue to put in it except blueberries and that wouldn't be acceptable. Nothing against blueberries. I just don't see them going well with cumin or mustard. So pretend the black beans are really blue beans and you can have a full on rainbow inspired salad.
It's a perfect salad to bring along to that Memorial Weekend BBQ this weekend.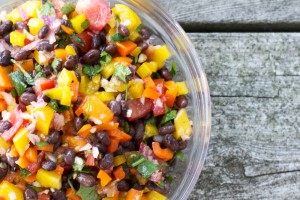 Rainbow in a Cup Bowl Salad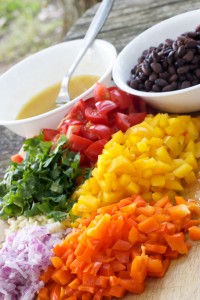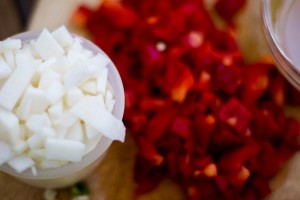 Salad Ingredients
2 Cups Tomatoes – Chopped
1 Orange Bell Pepper – Chopped
1 Yellow Bell Pepper – Chopped
1/4 Cup Purple Onion – Diced
1/4 Cup Cilantro – Chopped
2 Cups Black Beans – (I cook my own) Rinsed and Drained
1 Cup Jicama* – Chopped
2 Cloves of Garlic – Finely Chopped
Dressing
1/4 Cup Rice Vinegar
2 Tbs Olive Oil
1/2 Tsp Dry Mustard
1/4 Tsp Cumin
1/2 Tsp Sea Salt (or to taste)
Directions
Mix all salad ingredints in a bowl. In a seperate bowl, whisk together the dressing ingredients. Toss the dressing with the salad.
*My first attempt at pictures didn't turn out but when I made the rainbow salad again I forgot the jicama. So know it tastes just as good without the jicama. The jicama just gives it a nice crunch.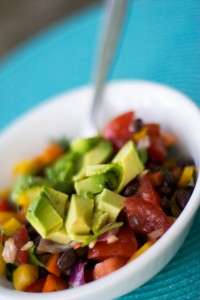 If you want to add some "gold" to the end top of this rainbow salad toss in some chopped avocado. Yum.
Hugs and High Fives,
Jenn
If you enjoyed this post you can follow one of three ways! 1. Subscribe to the RSS Feed 2. "like" Girl Heroes on Facebook, or 3. Sign up to have posts emailed to your inbox. Simple dimple!
Be inspired to follow your dreams at New School Nomads as we take a year long RV road trip through the United States!
Pin It