Movement Matters: Week Three Results
Walking 10,000 steps a day is challenge.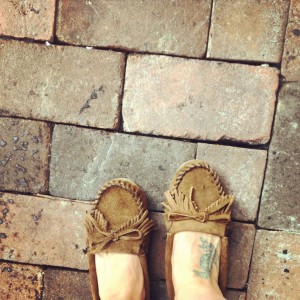 Even with my new walking shoes.
I'm all over being barefoot. However, that's not usually practical especially in the city. So I went on an search to find shoes that were as close to being barefoot as possible that didn't look like frog feet and could be worn with dresses. Hello moccasins. Best. Walking. Shoes. Ever.
Anyway…
Week Three Results of my Movement Matters 10,000 Steps a Day Challenge 
5/15 – 9037
5/16 – 15,410
5/17 – 6707
5/18 – 13,151
5/19 – 10,656
5/20 – 15,995
5/21 – 7747
Weekly average – 11,243 (A little higher than last week.)
Unless, I'm sightseeing getting in 10,000 steps a day takes effort. On sightseeing days I walk 10,000+ steps without thinking about it.
But during an ordinary day I have to be intentional to get in 10,000 steps. This usually means a walk in the morning and evening if I have errands to run that day. If I don't have errands it means adding in a walk in the afternoon.
It's a little embarrassing how much I sit on a normal day. I sit to write. I sit to eat. I sit when we homeschool. I sit to drive. I sit on the couch with Brent in the evening. Often sometimes, I sit and do nothing. (And you thought my life was exciting.)
Before we moved into the RV, I moved more by doing stuff around the house like cleaning. However, the RV takes about 15 minutes to clean and it is 18 steps from the front to the back. Four steps from the couch to the kitchen. (Dangerous.) I could clean all day and walk 1000 steps. Maybe.
Anyway, we left Washington DC yesterday and we are slowing down for a few weeks before we head to Philadelphia and NYC. I only have a battlefield and one museum trip planned this week so I'll have to be intentional each day if I'm going to walk 10,000 steps.
Also planning some workouts for the week after almost 2 weeks off.
Monday – Walk
Tuesday – Walk + Kettlebells
Wednesday – Walk
Thursday – Walk + Kettlebells
Friday – Walk
Saturday – Walk + Kettlebells
Sunday – Walk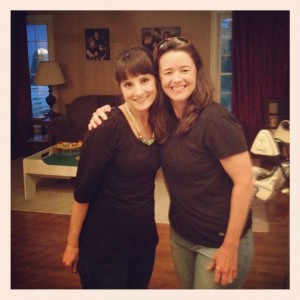 I hoping to get to workout with this lady, Lisa from Workout Mommy. She loves kettlebells too! We had dinner with Lisa and her adorable family last night. So much fun!
Hugs and High Fives,
Jenn
If you enjoyed this post you can follow one of three ways! 1. Subscribe to the RSS Feed 2. "like" Girl Heroes on Facebook, or 3. Sign up to have posts emailed to your inbox. Simple dimple!
Be inspired to follow your dreams at New School Nomads as we take a year long RV road trip through the United States!
Pin It