Movement Matters – First Week's Results and Weekly Workout Plan
I have trouble with "following through". I can't even count the number of things I've started to only give up on halfway through and it wears on my confidence. I'm determined to follow through my "Movement Matters" challenge this month and get in 10,000 steps a day.
Here are my the first week's results.
5/1 – 10,706
5/2 – 10,504
5/3 – 9522
5/4 – 10,247
5/5 – 10,334
5/6 – 11,169
5/7 – 11,086
That's an average of 10,509 steps a day. (Wow. I can use a calculator.)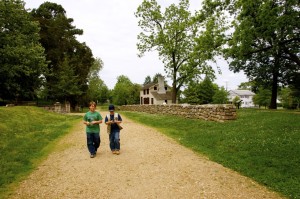 It feels great to follow through even on challenge as small as walking 10,000 steps a day. It took me about 2 or three walks a day if we weren't sightseeing. The best part by far was extra time I spent with my family. Every day I went on a walk with someone in my family. Sometimes it was just Brent and I out for an evening stroll. How I love holding his hand and walking under the full moon. Did you see that moon?!?!!? Other times it was just the boys and I.  I even made sure to use the walks to get some special one on one time with each boy.  Two nights was particularly sweet when Thing 2 wanted to walk with me. The sun had just set and a slight silver still hung in the air.  A group of tables sat near the end of the road and Thing 2 pulled me over to the tables by my hand. We sat down and he put his head in my lap. We chatted there in the darkness for about 20 minutes about life.
Yes, the benefits of walking are much much more than physical.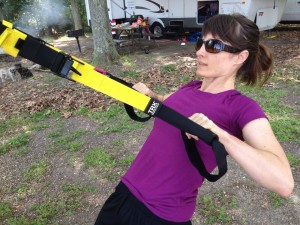 I got in two strength training workouts in addition to my walks.
This week's plan is to continue walking 10,000 steps a day and three 20 minute full body kettlebell and/or suspension trainer workouts. I finally dug out my TRX because I was feeling like I wasn't getting enough "pulling" work and I want to avoid imbalances.
Here is the plan.
Monday – Walk (Done)
Tuesday – Walk + Kettlebell or Suspension Trainer Workout (Done)
Wednesday – Walk
Thursday – Walk +Kettlebell or Suspension Trainer Workout
Friday – Walk
Saturday – Walk + Kettlebell or Suspension Trainer Workout
Well that's it for today. I'm *hoping* to find time to edit another kettlebell workout this week to post to YouTube. We have been crazy busy. In the last three days I've been to George Washington's Birthplace and two Civil War Battlefields. This week I'm in D.C. but I'm hoping I can get to it one evening.
Have a great day!
Hugs and High Fives,
Jenn
If you enjoyed this post you can follow one of three ways! 1. Subscribe to the RSS Feed 2. "like" Girl Heroes on Facebook, or 3. Sign up to have posts emailed to your inbox. Simple dimple!
Check out our family's adventures being inspired to follow you dreams at New School Nomads as we take a year long RV road trip through the United States!
Pin It