Kettlebell Routine – North Carolina
Keeping up with my kettlebell routine on the beach on Hattteras National Seashore in North Carolina felt like doing a workout at home in Ventura, California.
Almost.
We don't have the tallest lighthouse in North America. Unfortunately the lighthouse was closed or I would have made that part of my workout. Although something tells me I wouldn't have wanted been allowed to carry my kettlebell up 248 stairs to the top of the lighthouse.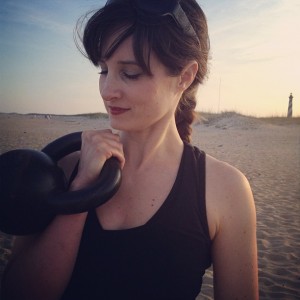 My North Carolina (one of the original 13 colonies) kettlebell routine is part of my beginner series but could be adjusted for any level.
Kettlebell Routine – North Carolina
Part A
1. Overhead Walk Left – about 30 seconds
2. Overhead Walk Right – about 30 seconds
3. One Arm Kettlebell Row Left  8-10 reps
4. One Arm Kettlebell Row Right  8-10 reps
5. Goblet Squat 8-10 reps
Repeat 3-5x
Part B
1. Swings –  30 Seconds
2. Plank – 30 Seconds
Repeat for 8 minutes.
Thanks for following along guys! Have a wonderful weekend!
Hugs and High Fives,
Jenn
If you enjoyed this post you can follow one of three ways! 1. Subscribe to the RSS Feed 2. "like" Girl Heroes on Facebook, or 3. Sign up to have posts emailed to your inbox. Simple dimple!
Journey with us at New School Nomads as we take a year long RV road trip through the United States!
Pin It