How to Live Your Dreams (Inspiration from the Wright Brothers)
"Live your dreams"
A phrase so overused that it has about as much depth as a rubber bracelet it is seen stamped on.
Many of us have lost sight of our dreams. They got stored with our childhood toys and they didn't hear that My Little Ponies made a comeback. Or cynicism is not cool.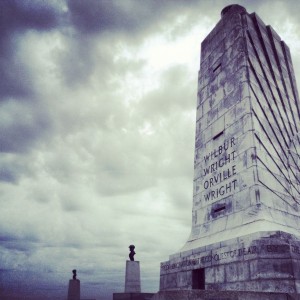 While in North Carolina, we visited the Wilbur and Orville Wright Memorial at Kitty Hawke. It was powerful standing where the first human being took flight. Where two men lived their dreams.
The Wright Brothers didn't achieve their dream to fly overnight. They took the time to change and refine their flyers until on December 14, 1903 Wilbur (who won a coin toss) would live his dream.
Except he didn't. He oversteered and the flyer dove into the sand.
Bummer.
They made repairs and three days later it was Orville's turn to live his dream and attempt the world's first heavier than air human flight. He succeeded by going a distance of 120 feet.
Yep, that first flight only went 120 feet. A 12 second dream.
The second flight went a distance 175 feet.
The third went 200 feet.
The fourth went 852 feet.
Sixty-six years later a man walked on the moon.
Dreams aren't trite.
My point is not that we will all change the course of human history like the Wright Brothers. My point is that we can all live our dreams whatever they may be. We can all fly" further than we can imagine with a little persistance and courage. If your first attempt fails make some tweaks and take off again.
And again.
The inscription on the bottom on the Wright Brother monument says, "In commemoration of the conquest of the air by the brothers Wilbur and Orville Wright conceived by genius achieved by dauntless resolution and unconquerable faith."
There is no magic needed to live your dreams only resolve and faith.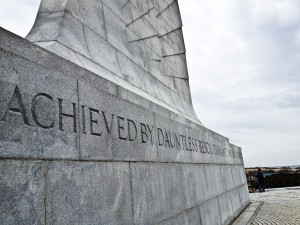 "achieved by dauntless resolution"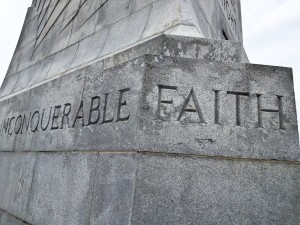 "and unconquerable faith."
This is how to take flight.
This is how to make a difference.
This is how to live your dreams.
Go soar. Even if it's only for 12 seconds.
Hugs and High Fives,
Jenn
If you enjoyed this post you can follow one of three ways! 1. Sign up to have posts emailed to your inbox. 2. Subscribe to the RSS Feed or 3. "like" Girl Heroes on Facebook (Be sure to click "subscribe" if you want posts to show up in your feed.) Simple dimple!
Journey with our family on the road at New School Nomads as we take a year long RV road trip through the United States!
Pin It