Lifted Spirits (and Kettlebells)
While I love exercising outside not having the option to exercise inside has been getting to me.
As the weather changes my workout windows are getting smaller. It's getting dark earlier and the mornings are getting cold. I've been trying hard not to complain because I realize getting to live in an RV and see 48 (hopefully 49) states is an amazing opportunity. I love my life. It's just that bugs, wind, dirt, and tiny space can get old. Yet, it is a small price to pay for living my dream.
Anyway I felt like I needed a break so I gave myself permission to take a week off without feeling guilty on the condition I would get back into my routine the following week.
Once the week ended, cold or not, I eased back into my routine with four workouts in four different locations.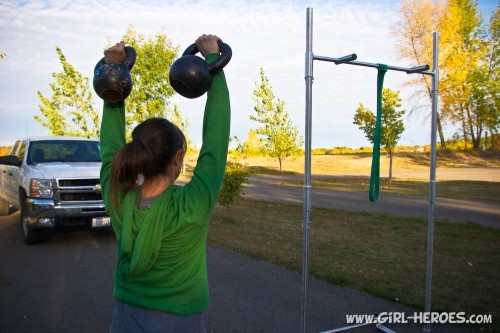 Tuesday I did a strength based workout at our campsite.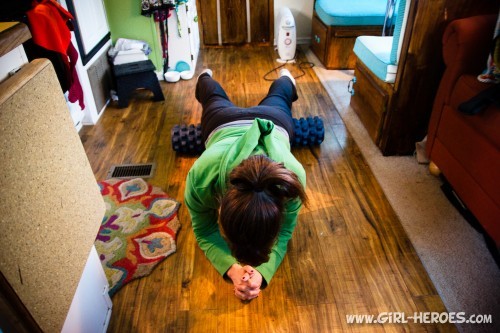 Followed by foam rolling in the RV. It's a little tight but with the weather changing I'm not left with a lot of options.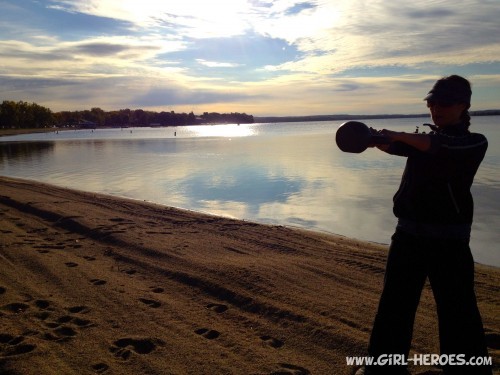 Thursday we filmed Minnesota for my state kettlebell workout series.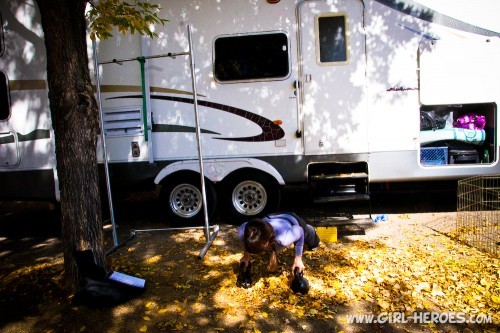 Friday I did my second strength based workout of the week.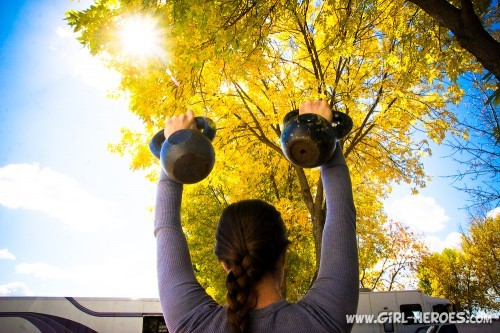 Thing Two now takes about half of my pictures for the blog. I think he is doing a great job and I particularly loved this shot with the yellow leaves and sunlight.  Of course I'm his mom, but I think he has an excellent eye for a 9 year old.

 Anyway, he loves it and he feels really proud when I post the pictures he takes.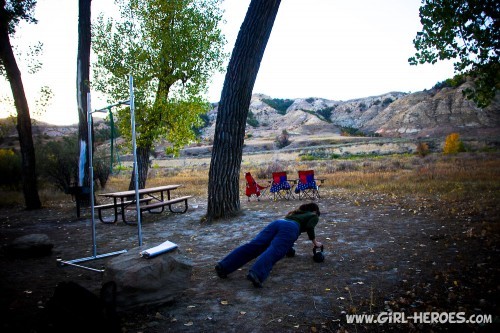 Sunday we went hiking and in the evening I did my third strength based workout for the week. I really didn't want to workout. It was near dusk and getting cold. As I set up my pull up bar I began to fill angry about "having" to set up again and all the dirt on my pants. I know it sounds ridiculous when looking at the beautiful  hillside but it was how I was feeling in the moment.
However, something happened a few minutes later that reinvigorated my love for working out outside and reminded me of my blessings.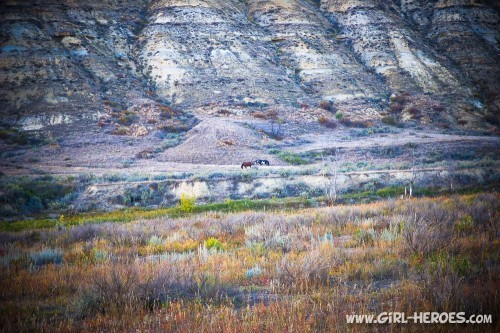 Wild horses walked across the ridge behind our campsite!!! (See the tiny brown and black dots in the center!)
My spirits instantly soared and I remembered how lucky I am to be healthy and able to do what I am doing. Truth be told, I also sort of felt like a spoiled brat complaining about the cold and dirt (Hangs head.) but I'm only human.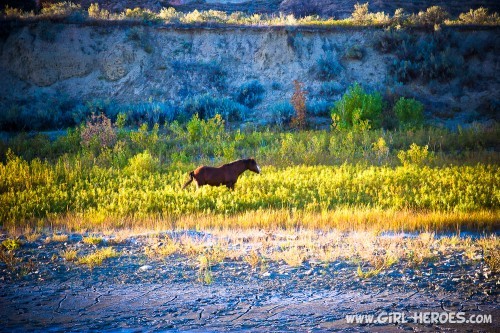 I took a longer rest between sets than usual to walk closer for a picture fo this beauty.
I'm so thankful.
Even for the dirt and bugs.
Hugs and High Fives,
Jenn
Keep up with my kettlebell workouts, real food recipes, and more in one of three ways! 1. Sign up to have posts emailed to your inbox. 2. Subscribe to the RSS Feed or 3. "like" Girl Heroes on Facebook. Simple dimple!
Journey with our family on the road at New School Nomads as we travel fulltime in RV through the United States!
Pin It