On the Move Fitness
Hi guys!
A quick post before we pack up move this morning. We spent a wonderful week in Rapid City, South Dakota. Some nomadic friends, who we got evacuated into a tunnel with during the 4th of July in Boston, met us here and we've been hanging out.  The weather has been nearly perfect which made getting in my workouts much easier.
Monday was a rest day since the week before I finished my workouts on Sunday after taking a full week off.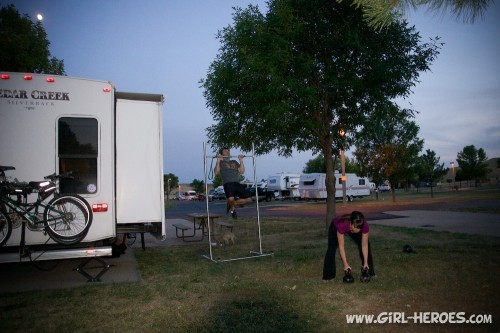 Tuesday Brent and I did  last minute evening workout. It was almost dark by the time we finished. I'm not looking forward to the time change!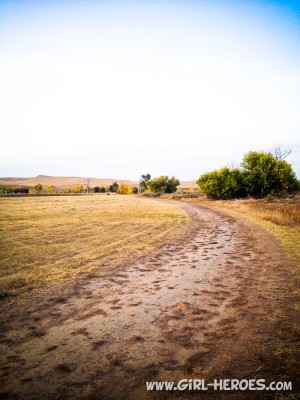 Wednesday I did a few sad little sprints on this trail but it was something. I hadn't sprinted in a long time and my calves were sore for days.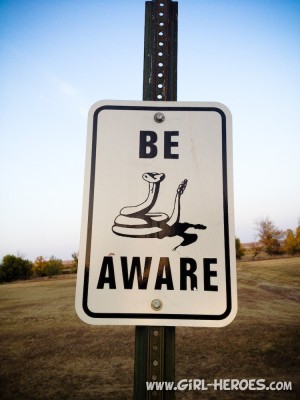 This sign was next to the trail were I was running. Comforting.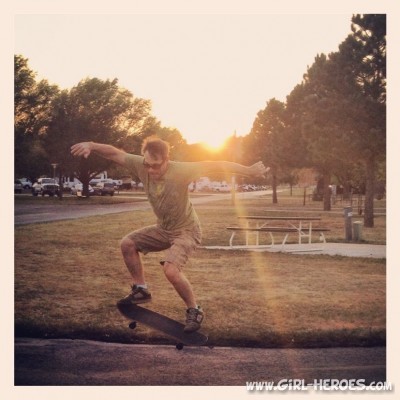 While I sprinted Brent defied gravity. 😉 He is the hottest 40 year old guy I know!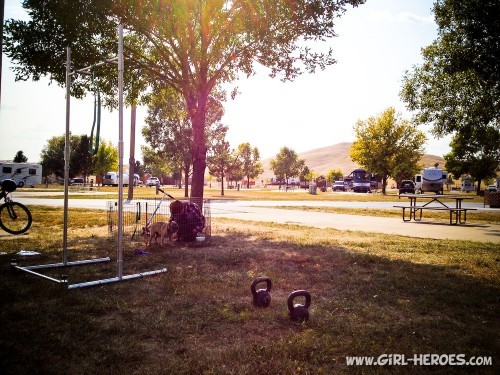 Thursday I did another strength workout at our campsite.
Friday I rested.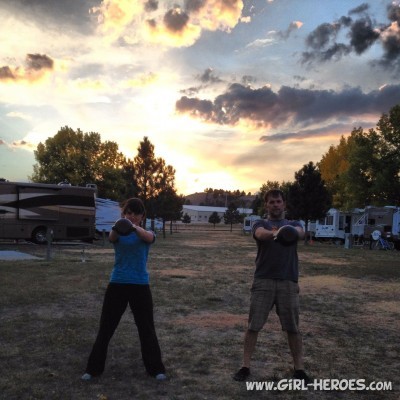 Saturday Brent and I did another evening workout. The sky was so beautiful especially when you use an Instagram filter. 😉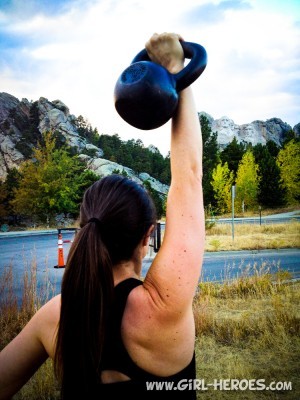 Sunday we filmed a conditioning workout for my state workout series. Do you recognize what is in the top right corner on the mountainside? Iconic, huh!
Speaking of workouts, I'm almost done editing another workout video that I plan on posting later this week. In the meantime, one of my kettlebell workouts was featured on Shape.com!
Alright that's it. I got to pack up my house and hit the road!
Did you workout last week? And a ramdom question…do you have an Instagram? I loooove looking a people's pictures on Instagram (here is my Instagram profile) as long as it's not a constant stream of food and sweaty workout pictures. I don't get that but it's fun getting glimpses into people's lives and the places they go whether it be a garage sale down the street or Paris. 
Hugs and High Fives,
Jenn
Keep up with my kettlebell workouts, real food recipes, and more in one of three ways! 1. Sign up to have posts emailed to your inbox. 2. Subscribe to the RSS Feed or 3. "like" Girl Heroes on Facebook. Simple dimple!
Journey with our family on the road at New School Nomads as we travel fulltime in RV through the United States!
Pin It