Girl Hero Mary
Mary is a newlywed and a personal trainer who, through hard work, transformed her body. She has kept the weight off for over 6 years and has developed quite the physique!  Mary loves, "REALLY! I LOVE IT!" , lifting weights and training for life and competition in figure shows. Mary lives in the city of Minneapolis right by miles of city lakes, so she love to run those also.
In addition,  Mary also enjoys knitting and reading and COOKING! She has been with her husband about 16 months, married about 8 of those months, and has an adorable 6 year old stepson with whom she enjoys reading and drawing mazes. "He is fantastically creative!!" she exclaims! Last but not least, she has 2 cats who never pitch in and help with the dishes.

Mary writes a faith and fitness blog, Fit this, girl! and is a co-leader of the womens ministry at her church, The Exchange Church Minneapolis!  
Girl Hero Mary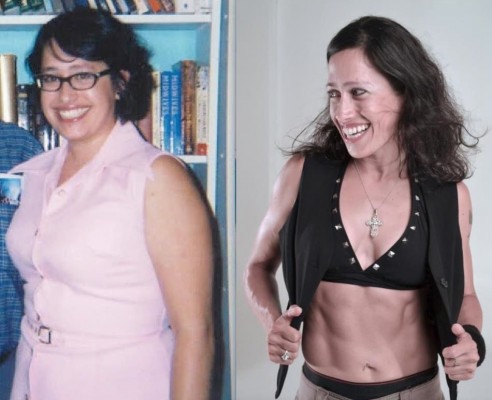 Ma
You lost 40 pounds! How does your lifestyle now compare to then?  In other words how is your before weight loss story different than your after story?
I was really in the throws of depression and quite simply low self esteem and it was a spiral that took my weight and health down. I was up and down, very uneven. My lifestyle changed with my emotions and there was no consistency at all! Sticking to a healthy lifestyle took a bit to adapt to and to create habits around, but I simply kept doing the same things over and over, but this time, they were HEALTHY things. I joined a gym and made sure that I used it three days a week a the least, I had joined weight watchers and counted points day in and day out, I took advantage of those lakes and ran those when I could. But, even when I over ate or missed the gym, I STILL got back up and did it over and over again. I saw change because I didn't give up and was consistent in what I did! 
 I used food before, to an extent we all do, but I used it and let it control me! I would eat when sad, when lonely, to celebrate. I found solace in sugar, in the foods that got me high and opted for more to stay that way when I crashed! I ate way more than I should have at every sitting and ate whatever junk I wanted to. Now, I don't let food control me, sure I mess up, but it doesn't dictate what I do, how I feel or to keep me happy. I use food for fuel and to keep my body running as well as I can. I would never have eaten salads or healthy foods, now I eat clean most of the time. I have the occasional treat, but I plan it and plan to enjoy it.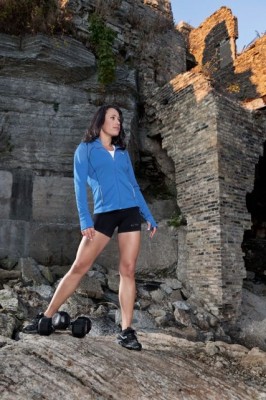 You say the biggest obstacle you faced was yourself. Can you expand on that?
I didn't want to succeed. I wanted to stay at my pity party, population me.  It was scary to think that I could lose weight. If I lost weight then I was succeeding and that meant that I would have to step up and LIVE up to that. I became my biggest obstacle because I was afraid of the responsibility of success, It was easier to stay a failure than to try and succeed and then be accountable to that new level. Then I would have to examine the reasons WHY I overate and over drank, I would have to examine the reasons why I had low self esteem and fear. I would have to have an accountability, even to self that I hadn't had before.  That is not within my comfort zone.
Do you find losing or maintaining harder?
I think losing and maintaining have many of the same elements. There is a level of sacrifice, there always is. You have to workout and eat right to lose weight. Developing new habits is essential to success. Those often take sacrifice. It's not easy, but once you reach your goal, it feels amazing. Many times when we reach the goal, we think that the journey is over. But this road is one that once we start down, we are always on. Nike says there is no finish line, I believe that, we are not through. If you are not moving forward you are moving backwards. John Wayne says that you can be on the right track, but if all you do is sit there, you will get run over. Not that we have to keep losing, but we always strive to move forward to NEW things. Getting better and better, faster, cleaner, stronger and move on to helping others. We don't want to stop and stay where we are and  we certainly don't want our weight or our suceses to go backwards. To Maintain doesn't use the same tactics, but its the same mentality in that we are not "done", there is always more to do.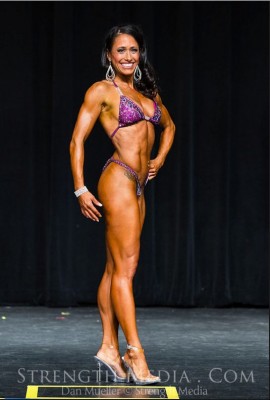 What does a typical day of food look like for you when you are off season?
You know, this is only my second season of competing in figure and prior to that I was marathon running. I don't really want to have an "off" season, I want this to be a lifestyle of eating healthy and working out. Here is what this past 18 months did look like for me. I started eating clean, because as a trainer, I wouldn't want my clients eating the junk processed stuff I was. I actually had a co-worker trainer call me out on eating free junk food from the kitchen at the gym (go figure, right!). A close friend had told me about Tosca Reno's Eat Clean Diet and I looked into it. I started eating clean and lifting using a split routine and my physique changed!! I ate greek yogurt with fruit for snacks, spinach salads with chicken, quinoa, fish tacos, eggs, veggies and ALL kinds of goodness. When I met my husband and we were married, I was just 2 months out from my second show and didn't know how to jump back into normalcy of clean eating. Contest prep diets eliminate much of the healthy fruit sugars and carbohydrates that a regular clean eating diet has in it. After the wedding and honeymoon, I slipped on even regular clean eating. Add a new step son in the mix and I was licking the tuna helper off my fingers more than once a week. What it took was willpower and God power to bring back my natural gifting for discipline. I picked another show and am now working towards being on stage in June for the third time. Some trainers and competitors will gain a lot on an "off" season and then lean out for show time. I lost my 40 pounds once and I don't aim to do it again! I don't see anything wrong with eating full fat, healthy fats in moderation and that is usually what I do when I am not in prep mode.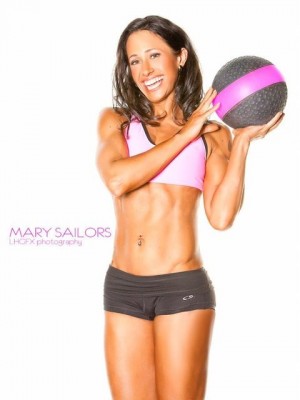 You're a personal trainer and you also teach group fitness classes? Can you tell us a little bit about all that!!!!
In the past I have really enjoyed teaching bootcamps, kettlebells and TRX classes, currently I teach Spin!! I enjoy small group or one on one training best, because I can focus my attention on the needs or one client making sure their form and technique is proper, it makes ALL the difference to see results and gains in strength! I have worked as a personal trainer for 3 years now and it is a dream I saw come to be after a long hard road to my own health and wellbeing. 
Has getting physically stronger impacted you mentally or spiritually?
A spiritual leader in my life once told me that I had an anointing for discipline. I believe I do. Body building and weight lifting is my gifting so it helps that I excel at this. I haven't had anything that I have felt I did as well as this or enjoyed as much. In gaining physical strength I had to dig into my will and my spirit. As a Christian and someone who walks by faith, my emotions don't really get to play a part in this, which is a 180 from my days of emotional eating and drinking. I bring my thoughts and emotions before God and give them over to him in all their weakness and imperfection and He replaces them, He becomes my strength. I believe also that in order to train the way I want, I rely on God for strength to get through, he provides the gifting and the strength to bring me all the way.   I have gotten stronger by going to Him in my weakness and time of need: When I don't want to go to the gym (it happens, sometimes), when I am eeking out those last few reps and sets, I do it because He has called me and equipped me.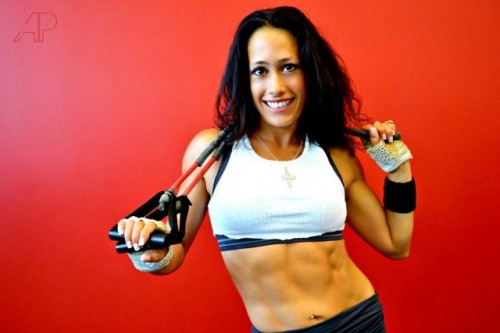 How do you stay motivated?
I try new exercises and even work with trainers, this way I stay excited about my plan and my muscles enjoy a new program periodically too. Same with eating, new recipes are always popping up on my pinterest and on the table. Seeing results is a big motivator and I chose performance based results often: can I lift heavier, can I run faster. When you see strength and growth that way, it really propels you forward. As a trainer I am inspired by my clients everyday and they motivate me. They work incredibly hard and I would be foolish to think that they are the only ones benefiting from the relationship, I learn so much from them and am challenged to be better.
What does a typical week of workouts look like for you?
I lift split body routines which is back/biceps, chest/triceps, shoulders and legs. Mostly because they are primary and secondary muscle splits and they will get full rest if you do it this way. So 4-5 days of lifting and 4-5 days of cardio as well. I do change it up sometimes and do push/pull days or all upper body to just spice it up. To fatigue a single muscle group and the secondary muscles with a hard and fast 40-45 min weight routine creates the perfect burn for me.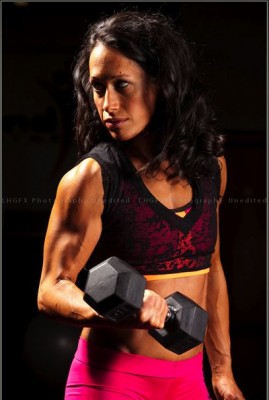 What is your favorite exercise?
I could work shoulders ALL day. I love it. Presses, overhead or arnold presses are great and a single arm push press is a  great challenge.
Any advice for people looking to lose weight or just beginning an exercise program?
Start where you are: join a program that is easy to follow, like Weight Watchers. They teach you how to eat differently and make better choices overall. Too many drastic changes at once can leave people open to failure early on and often. Programs like Weight Watchers meets you where you are and moves you forward from there, no guilt. Join a gym and get a buddy and then stick with it! 8-12 weeks will pass before you will see true results in the direction you want, but in 6 months or a year, you can create a new person with new healthy habits and lifestyle! 
 You're a personal trainer. How do you respond to the question, "How do I get abs?"
Diet! Build them in the gym, grow them when you rest and eat clean so they show up! Having "abs" you can see means you are eating and living lean and mean. Go after it!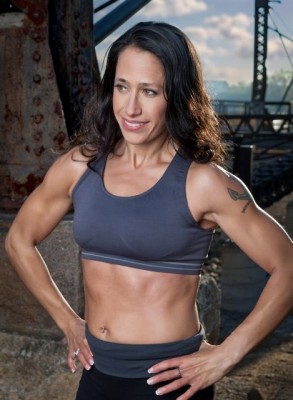 Just for fun…if you could have any super power what would it be?
Maybe when I snapped my fingers, I had a Starbucks Coffee in hand? Or the ability to just beam anywhere, here in MN, it's cold. Flying is out of the question, so beaming up, for sure. 
Thank you Mary for sharing your story with us!!!
You can connect with Mary on Facebook, Twitter, and her blog, Fit this, girl!
Hugs and High Fives,
Jenn
Keep up with my kettlebell workouts, real food recipes, and more in one of three ways! 1. Sign up to have posts emailed to your inbox. 2. Subscribe to the RSS Feed or 3. "like" Girl Heroes on Facebook. Simple dimple!
Journey with our family on the road at Newschool Nomads as we travel fulltime in RV through the United States!
Pin It