Girl Hero Jen Bricker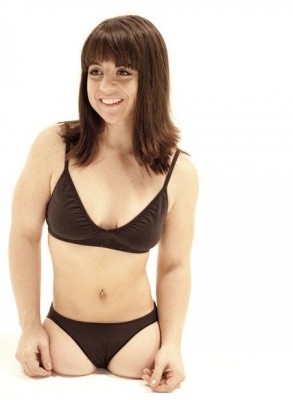 If you think you can't do something Jen Bricker will challenge you to think again.
Jen Bricker has quite an athletic resume. She grew competing in softball, basketball, volleyball, power tumbling, and even competed in the Jr. Olympics, an impressive list of accomplishments for an average individual. However, Jen is far from average. Jen was born without legs due to a nonhereditary birth defect.
Jen Bricker was raised by adoptive parents in rural Illinois. Her mainstream upbringing allowed to her to grow up  and excel like any other kid. She never realized she was any different.  Like many small town girls (ahem), she grew up knowing nothing about nutrition and fitness programming. She grew up in the "world" of fried food and vegetables from a can.
In 2008, Jen decided to pursue a career in entertainment and moved to Orlando, Florida.  There she started to learn about working out and nutrition. She also began performing as an acrobrat/aerilist which eventually landed her a spot as a cast member on Britney Spears The Circus Tour.
Two years ago, Jen took yet another leap of courage and moved to Los Angeles to further her career. Quickly, she learned that in Los Angeles image is part of the game and she took her nutrition and fitness to an even new level and completely transformed her body.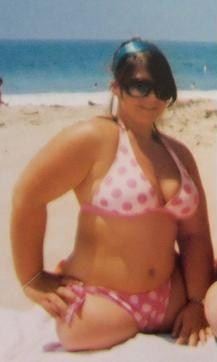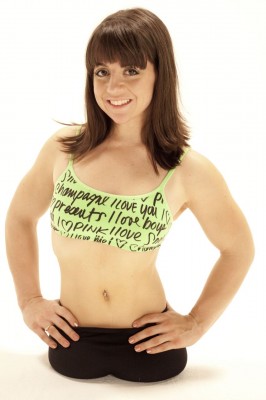 You had an amazing transformation! What triggered your lifestyle change and can you share what your lifestyle, food and fitness wise, was like before and after?
My transformation came in steps, first entering the entertainment industry, I initially dropped 15lbs.  Then the biggest transformation came when I moved to L.A.  I knew that if I wanted to be the best at my field and achieve all my goals, I had to take care of everything I could control, to give myself the best advantage that I could.  In Hollywood, the better you look, the more you work.  I knew that was the cold hard truth for anyone out here.  Thankfully, I was blessed with an AMAZING trainer who changed my life completely, Eric The Trainer!!!  Everything about my lifestyle, diet, sleep, & exercise transformed, which is why I transformed!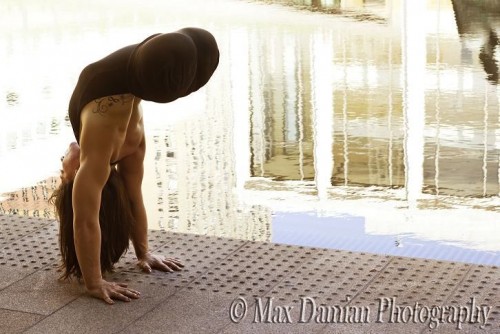 What does your current fitness regime look like? What are your favorite exercises and why?
I currently workout 5 to 6 days a week for about 30-45 min.  I do a mixture of floor exercises all with my own body weight NO weights or machines.  The exercises are as if you are on your hands and knees doing variations of kicking your legs behind and beside you, as well as holding your body weight up during each exercise.  My trainer is very specific about his methods for females to maintain the lean, feminine look.  For me especially one of my biggest problem areas were my arms.  People always think I work them out and lift to get my big muscles, when actually it is quite the opposite.  I always hated having muscular arms, I wanted thin, feminine arms.  So I actively worked with Eric to shrink and tone them.

How or where do you find motivation when it starts to run low?
I mainly workout in groups with people whom I now have formed great friendships with through working out.  That is a great motivation to look beside you and see your friend working just as hard and uplifting you.  Also my trainer is always such a motivation and a happy face!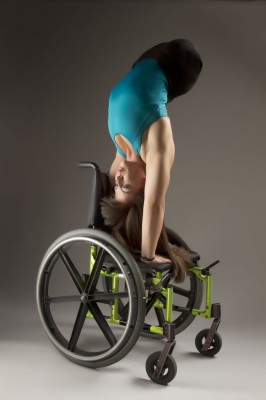 What made you want to learn acrobatics and how did you get involved? 
Ever since I can remember I was magnetically drawn to gymnastics.  In fact when I was about 7, I wanted to be an Olympic gymnast!  I knew the balance beam would be hard, but I didn't care.

Did people ever doubt you? If so how did you respond?
If people ever doubted me, I never knew about it.  When I was younger I really had no clue I was THAT different.  No one at home, at school, or at the gym, ever treated me any different.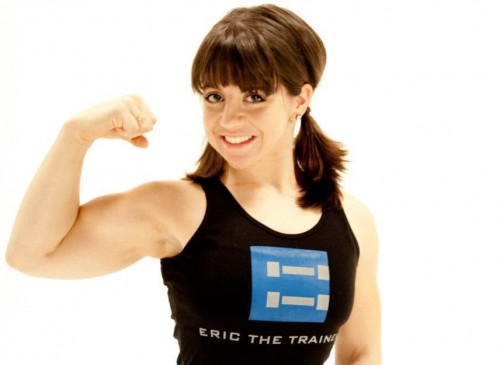 How has living with a disability made you stronger?
For me living with a "disability" is all I've ever known.  I've always been able to do everything I've ever wanted to do, so I don't really see myself as disabled.  I don't really think my life is drastically different than others?
Is there something about living with a disability you would like others to know about?
I think in some ways living with a "disability" has made me mature faster and see the world in a different way.  Looking different or standing out definitely draws attention and I think I get to see a person's true self a lot quicker than maybe someone else.  I think it has allowed me to have a great perspective of reading others quickly and really seeing someone's true self.  It is a gift I'm actually really thankful for.
I think most women struggle with body image. You work in the entertainment industry and live in Los Angeles, a city that know for image! I'd love to hear your perspective. What does healthy body image mean to you?
Living in Los Angeles can absolutely throw your mind for a total head spin!!  It can be very hard to maintain a healthy perspective on your body, when your surrounded by image,image,image.  Honestly, I have struggled just like anyone else feeling that I am not small enough, pretty enough, etc…  But I always try to remember my true purpose in life and why I was born this way and that was to help inspire and motivate others through the gifts and talents I was given.  That always puts things in perspective & gives me a reality check.  Also I go and volunteer with the homeless on Skid row, being around people who are out of the entertainment industry is a great way to un-plug and gain perspective.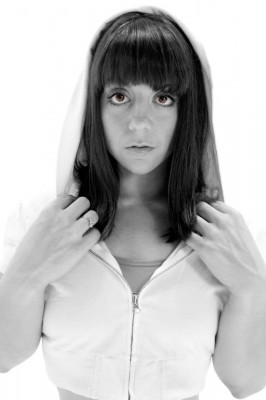 What goals are you working towards right now?
My main goals are to write a book in the next 5 years, be on the cover of a women's fitness magazine, get more involved in voice-over work and my ultimate goal is to be a TV personality/talk show host!
You performed in The Circus staring Britney Spears. What was that like? Did you even imagine you would perform in front of thousands of people growing up?!?
I honestly can't believe that was part of my life, being on the Britney tour was one of the most surreal highs of my life.  Sometimes we would perform in front of 20,000 people LIVE!!  We were CENTER stage, ALL eyes on us!  It was the most adrenaline racing, heart pumping, ALIVE moments over and over again.  I am so thankful and blessed to have that be a part of my life!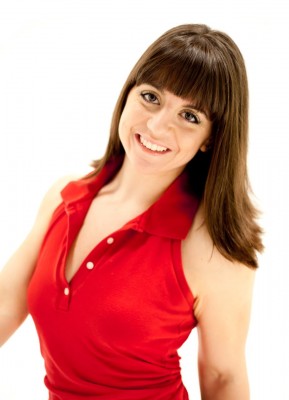 Who inspires (or has inspired) you?
I would say my family inspires me the most, just seeing how constant and steady they are.  How they truly value and cherish the things that really matter in life, how selfless they are. They would always put us kids before themselves and they would give you the shirt off their back.  I am SO ridiculously blessed that I was able to have such amazing people raise me.
Just for fun…if your life was a song what would the title be?
"This One's for the Girl's"  by: Martina McBride.  SUCH a great song of empowerment for any girl/woman!!
Thank you Jen for sharing your story with us. You are an inspiration in the truest sense of the word!
You can connect with Jen Bricker on Twitter, Instagram, Facebook, and YouTube.
Hugs and High Fives,
Jenn
Keep up with my kettlebell workouts, real food recipes, and more in one of three ways! 1. Sign up to have posts emailed to your inbox. 2. Subscribe to the RSS Feed or 3. "like" Girl Heroes on Facebook. Simple dimple!
Journey with our family on the road at New School Nomads as we travel fulltime in RV through the United States!
Pin It