"New Mexico" Workout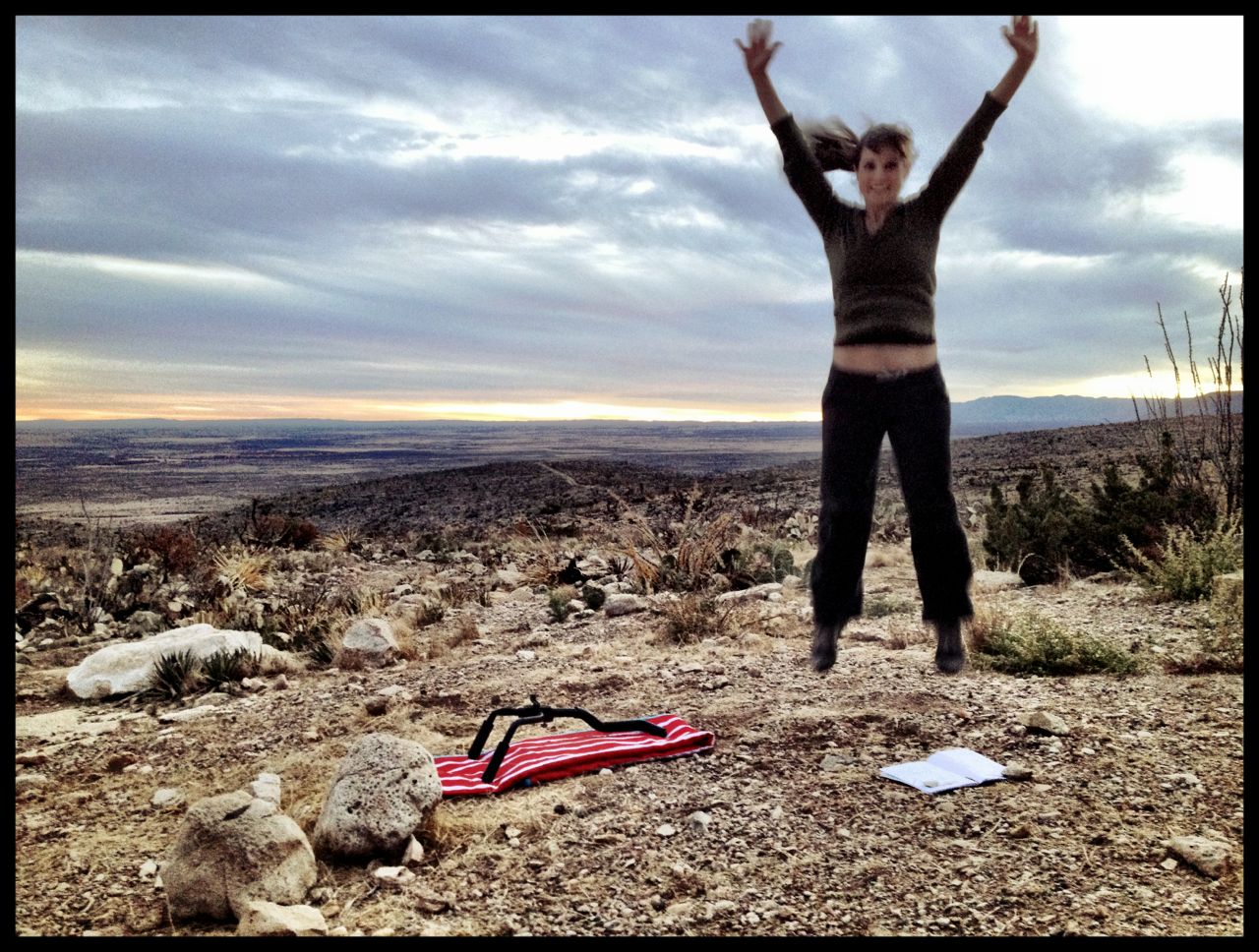 It hard to put into words how much fun we've been having on the road. That's not to say it's not without its hard days.  I've found myself, once or twice, curled up on Brent's lap crying my eyes wondering what the heck are we doing. The day we visited Carlsbad Caverns National Park was not one of those days. The caverns were, for lack of a better word, simply magical like another world.
It also happens that there was a perfect spot for a quick workout in the park. (I keep a set of kettlebells in the truck just in case. Doesn't everyone?) The sun was setting and the colors were breathtaking. About halfway through the workout, I saw what I thought was "a piece of trash" blow by only to realize it was actually a skunk!  (I'm easily entertained as you will see.) Here's a secret. Even though I call him "stinky" in the video, I actually like the smell of skunks. Weirdo.
New Mexico
This is a quick but challenging two part full body workout that can be done "for time".
Part One 
1. Presses – 5
2. Squats – 5
3. Renegade (or regular) Rows – 5 (each side)
Repeat 3x total
Part Two 
1. Swings – 5
2. Burpees (no pushup) – 5
3. Cleans – 5
4. Jump Squats – 5
5. Swings – 5
Repeat 5x total
LOVED this workout and I'm definitely going to come back to it later. Next up is Texas, where I picked an "unusual" spot for a workout. 😉
Hugs and High Fives,
Jenn
Check out our family's adventures at New School Nomads as we plan to take a year long road trip through the United States!
If you enjoyed this post you can follow one of three ways! 1. Subscribe to the RSS Feed 2. "like" on Facebook, or 3. Sign up to have posts emailed to your inbox. Simple dimple!
Pin It