"Arizona" Workout
First, I want to say THANK YOU for the support regarding my relapse. I was really nervous about posting it for fear someone who tell me it was "just in my head" or there is "no such thing as a sugar addiction".  Addiction is a serious matter and I certainly don't want to trivialize more "serious" addictions.  Although, truth be told, a sugar addiction can, albeit much more slowly, lead to an early death in the form of disease.
Anyway, I just wanted to give you my sincere thanks for the support and encouragement.  I feel strengthened already and my only regret is that I didn't reach out sooner.
I'm a bit behind on my workouts because I just spent 10 days with my best friend in Texas.  It has been 7 years since I visited her in Texas so I wanted to spend every moment I could with her. Between homeschooling the boys and hanging out I had little time to workout, write posts, or edit videos.  She and I did manage to do the California in the backyard.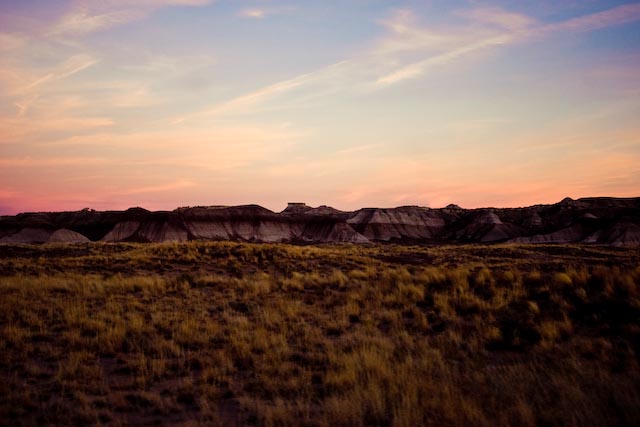 After we left Nevada, we headed over to Arizona where we met a "porcupine hunter", visited a ghost town, saw ancient ruins, and drove through the Painted Desert at sunset (one of the most beautiful 20 minutes of my life and my photograph does not do justice) where we filmed "Arizona".  I was a bit distracted during this workout because Thing 1 and 2 two unnamed boys were running their pug dogs through the cacti. I may or may not have edited out some direction that went something like get on the sidewalk NOW. I think the mountains may have shook.
This workout is in two parts.  Part A is rounds which could be timed.  Part B is a set time which could be counted for reps.
Arizona
Part A
1. Swings – 20 Reps
2. Left and Right Presses – 5 Reps Each Side
3. Tactical Lunges – 20 Reps Alternating Legs
4. Heartbeats – 20 "pulses" (If you have the space these are great to do while walking.)
5. Goblet Squats – 20 Reps
6. Swings – 20 Reps
Repeat 3x, resting as needed, and  it would have been for time if you don't have little boys and pug dogs.
Part B
1. Snatches*
For 7 minutes alternate 15 seconds of snatches with 45 seconds of rest. Why 7? Because Arizona has 7 letters and it makes me happy to correlate my workouts with the letters of the states.  I'm all sorts of scientific. 😉
*If I was injured, or unsure of my snatch technique I would substitute swings for snatches.
I love love the location of my next workout in Nevada and I can't wait to share that one!
Do you think "sugar addiction" is real? I'm not feeling as fragile as I was so feel free to be honest. Do you like the desert?  Have you ever been to the Painted Desert?
Hugs and High Fives,
Jenn
Check out our family's adventures at New School Nomads as we plan to take a year long road trip through the United States!
If you enjoyed this post you can follow one of three ways! 1. Subscribe to the RSS Feed 2. "like" on Facebook, or 3. Sign up to have posts emailed to your inbox. Simple dimple!
Pin It