Move It Monday: Walk this Way
If the Bodybugg taught me anything, it taught me I have NO patience need to move more.  After wearing it for a few days, it was evident that I'm part slug.
Truth be told, I'm sort of sedentary by nature.  Many of my favorite things in life, such as reading, cuddling, writing, thinking, internet surfing require about the same amount of energy as sleeping.  I'm not a busybody.  I'm not a gardener.  My house is a mess. I don't have toddlers anymore.  I don't have a job that requires lots of physical activity.
Once I saw, in black and white, that I needed to increase my activity level, I decided to walk more because I didn't want to clean my house over exercise.  I've discovered something I LOVE walking.  Here are a few reason why.
-Feeling my body move without any impact.  Feels like my body is doing exactly what is was designed to do.
-Seeing things I normally miss.
-Hearing birds chip and leaves rustle.
-Strangers who let me pet their dogs.
-Saving on gas.
-Conversations with Brent or my kids.
-Conversations with myself.
-Time to pray.
-Humming to myself.  Zippidy doo da….
-Burning extra calories.
-Requires no equipment.
Walking is now near the the top of my list for exercise right under weights.  I've been walking any chance I have, to the store, around the neighborhood, while my kids are at taekwondo…
Thing 2 and I on our way to vote.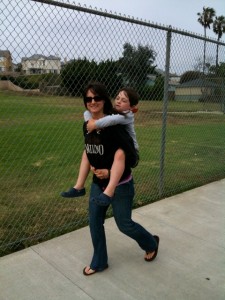 People who live in big walking cities are lucky.  A few years ago we visited some friends in NYC and I don't think I had ever walked so much in my life.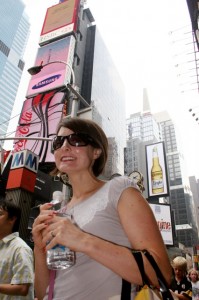 While there I saw the coolest thing ever.  A guy walking his cat on a leash!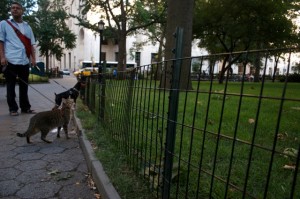 I know Meow Cow wouldn't go for that but I thought he may enjoy taking a walk with me.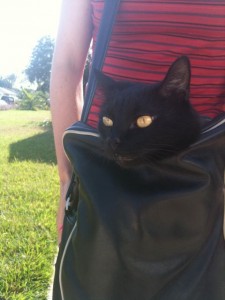 I think he enjoyed the ride.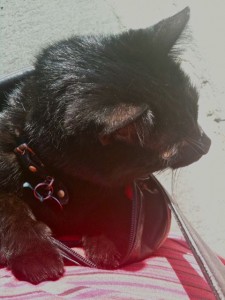 All this walking is helping me get closer to my goal of being able to test with the lighter kettlebell at the RKC.  Working out yesterday I noticed that my delts are finally starting to develop.  I love feeling stronger but I'd be lying if I didn't admit I love looking stronger too.  😉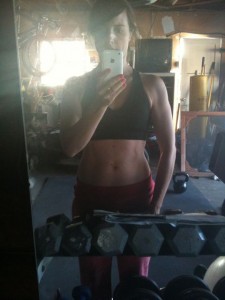 What about you?
What do you like about walking?
Does anyone else feel ridiculous self-conscious taking pictures of themselves in the mirror?
Hugs and High Fives,
Jenn
If you enjoyed this this post please Subscribe to the RSS Feed.
or
Sign up to have posts emailed to your inbox.
Pin It