The birthday gift that keeps on giving. (I hope.)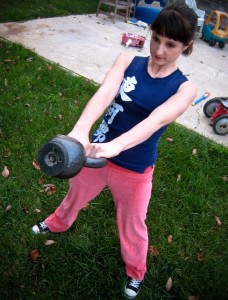 I bought myself an early birthday present.  One that I've been debating on for months.   August 27-29 (my birthday weekend), I will be going to San Diego to have my azz handed to me for the RKC certification.  The RKC is known for being an extremely grueling certification. From everything I've read and heard it's supposed to be tough.  Really tough.
Yet rewarding.
Upon arriving at the certification the first order of business will be to pass the snatch test.  To pass a woman must snatch a 12k (26lbs) or 16k (35lbs) 100 times in 5 minutes.  A woman must weight 123.5 or less to test with the 12k.  I do not weigh less than 123.5 and, as of now, I cannot snatch the 16k safely for even 5 reps. It's possibly but unlikely that I will be able to safely pass test by August using the 16K.  That leaves me with one option.  Shed a few pounds. While, the snatch test is only the part of the challenge, the weight issue is a real issue that must be addressed, preferable sooner than later for strength's sake.
So why did I decided to register for something that may leave my palms looking like I just played patty cake with Freddy Krueger?  Two reasons.  One is simply I'm passionate about kettlebells and their unique benefits.  Two, I love a good old fashioned challenge. I've pushed myself in my workouts before but never have I worked out for 10 hours a day 3 days straight under the critical eye of an instructor.  It should be fun in a twisted sort of way.
I'm nervous.  Really nervous.  There's is 20%-30% failure rate.  I really don't want to be in that percentage.  Since I've already passed the HKC certification and I am training under Doug Nepodal,a senior RKC, I know I have a strong foundation but is it strong enough?  There is that small voice inside my head that doubts my endurance.  That doubts my strength (mental and physical).  That doubts myself.  But I'm also excited.  I'm excited to take my training to another level.  I'm excited to learn.  I'm excited to share what I learn.  I'm excited to grow and we all know challenges are like fertilizers. When I told Doug I had registered he said, "Don't worry, I'll make sure you're ready for the toughest weekend of your life (and one of the most rewarding at the same time, so good for you for signing up)"
I hope he's right.
I also hope my experience is nothing short of one of my favorite blogger's, Josh Hanagarne from The World's Strongest Librarian, RKC experience.
Hugs and High Fives,
Jenn
If you enjoyed this this post please Subscribe to the RSS Feed.
Sign up for up to have posts emailed to your inbox.
Pin It