The Seemingly Impossible Birthday Present
My birthday is in one week.  A few months ago I boldly stated that I would be giving myself a pair of size 26 jeans for my present.  Instead, I think I'm going to just give myself some love because the size 26 isn't going to happen at least not without ripping or suffocating.   That not to say I'm not happy about my progress.  The other morning I got a call to come in for a Cox Communication audition.  They asked me to wear khaki pants but the closest thing I had were a pair of dressy brown pants that I hadn't worn for years.  I had bought them too small hoping to fit into them one day.  Another Braxton moment.  I pulled them on and they were too big.  They weren't like falling off or anything but they were definitely loose.  See!!!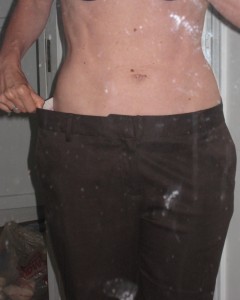 No those aren't stains on my pants it's my dirty mirror and that's a bag of trash in the lower corner.   So I guess the housework to burn calories really hasn't sunk it yet.
The next day  I wore my brown pants again when we went out for Indian food.  I loooooooove Indian food.  I think I could eat it every day.  I'm not normally a buffet person because….well…they sort of gross me out and I always usually overeat but I love Maharaja's buffet.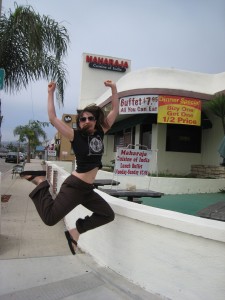 My friend, Michelle, has a new blog A Shade of Gray (I just love that name) and she is doing her first giveaway of  some beautiful jewelry she created!!  Not only is she a talented jewelry designer but Michelle has lost over 50 pounds while still occasionally enjoying McDonald's like me!  Go check out her blog and enter to win!
Have a great weekend!!
xoxo
j
Pin It