Climbing the ladder Part 1: Fun Workout Tools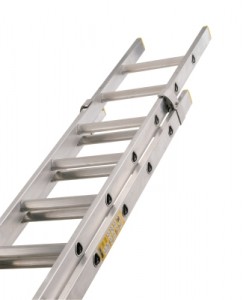 Traditional ladders are something I generaly avoid – seeing as how I fell off backwards when I was painting my son's border in his nursey when I was 8 months pregnant.  The only thing hurt was my pride.
For the most part, I stick to basics (squat variations, swings, presses, pull-ups, dead lifts, ect) for two reasons.  One, I workout in my garage and I only have so much equipment. Two, the basics are effective.  They are the foundation of my training.  My only complaint about the basics is that they can get boring which is why I'm always using different training tools such as Tabata and recently "ladders" to keep things challenging.  I was first introduced to ladders by my kettlbell teacher Doug,  then in Pavel Tsatsouline's book Enter The Kettlebell!, and again during my HKC certification.  Since then I've been using them in my kettlebell workouts and have noticed a definite increase in strength.  However, ladders are NOT limited to kettlebells.  They are well suited for most exercises.  Here is a basic repetition ladder set up.
Basic Rep Ladder
1 Rep of Specific Exercise (could be squats, pull ups, push ups, swings, military presses, lunges, ect)
Rest
2 Reps of Specific Exercise
Rest
3 Reps of Specific Exercise
Rest
4 Reps of Specific Exercise
Rest
5 Reps of Specific Exercise
Rest
You keep adding a rep until the last "rung" is very demanding (hard), hence reaching the end of your ladder.  Rest  2-3 minutes and repeat the ladder starting at the bottom rung.  Or move onto a different exercise ladder.
What are the benefits of ladders?
It is thought to make maximum performance gains, it's good to alternate  hard training sessions with easier training sessions.  Ladders allow you to do this in individual workouts by varying the intensity.  The ladder starts out very easy, get progressively more difficult and then allows you to recover before starting over.
Ladders all you to  perform a higher volume (volume = sets x reps x load/weight) than if you were to do straight sets.   I've been using ladders for kettlebell clean and presses as prescribed in Enter The Kettlebell and assisted pull-ups.  In a 5 rung ladder, I do 15 presses and 15 pull ups total but it's broken down into rungs.  If I were to jump up to the bar I could not do 15 straight pull-ups (unless I added more bands for assistance).  The built in rest periods allow me to perform higher volume with less stress.
Ladders also give you the chance to practice proper form in the lower rungs before you pushing yourself hard during the last reps at the top of the ladder hopefully keeping the same form.  It can be very difficult to retain proper form when going all out every set and rep of your workout.
Variety.   I don't really need to be stronger as my strength already exceeds my daily demands of living.  I can clean out the garage and lift heavy boxes without getting hurt or winded. I can lift my 65lb boy off the ground to give him kisses.  I can make it through a 60 minute high-speed-full-on rant without breaking a sweat.  So the truthfully, while I enjoy trying to get stronger, it's not my be all end all goal. However, different training tools like  ladders make for a more interesting training sessions.
Next Monday, I'll follow up with some more variations of ladder training.
Hugs and High Fives,
Jenn
If you enjoyed this this post please Subscribe to the RSS Feed.
Sign up for up to have posts emailed to your inbox.
Pin It