Climbing the Ladder Part 4: Fun Workout Tools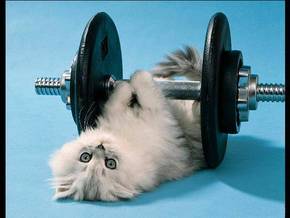 Hope you had a great weekend and for those who are mothers a fantastic Mother's Day.  I bought myself a little present that I'll tell you about later this week  

but first I want to finish my Climbing the Ladder:  Fun Workout Tools series.
Here are links to the earlier posts if you want to check back.
Climbing the Ladder Part 1
Basic Rep Ladders
Climbing the Ladder Part 2
Weight and Time Ladders
Climbing the Ladder Part 3
Reverse Rep Ladders, Reverse Weight Ladders, Reverse Time Ladders, and Pyramids
This week I'm throwing out a quick overview of drop sets, super sets, giant sets, and timed sets.
Drop sets
Drop sets are a popular among bodybuilders.  To perform a drop you do a set of an exercise to failure (or almost failure) then "drop" that weight and immediately pick up a lighter weight for more reps.  You reach failure and repeat usually for 2-3 sets total.  Drop sets are a good way to increase in muscle size (hypertrophy) but shouldn't be overused.  Read Creative Dropsetting by Ton Venuto if you want more detailed information on drops sets.
Super Sets
Super sets are two exercises preformed back to back with little to rest and are a great tool to shave time off of your workout.  There are three different combinations of supersets.
Same Muscle Super Sets – Use the same muscle groups for both sets.  Example bench press and dumbbell fly.
Antagonist Muscle Super Sets – Two exercises using opposing muscle groups are preformed back to back.  For instance biceps and triceps.
Upper/Lower Super Sets – Just like it sounds an upper body exercise followed by a lower body exercise or vice versa.
Giant Sets
Giant sets are 3 or more exercises performed back to back with little to no rest.  Like super sets, different combinations can be used.
Timed Sets
In time sets, your goal is to work for a set time rather than for a number or reps or weights.  For instance, 30 seconds of  swings followed by 30 seconds of rest. Tabata training is also an example of a high intensity timed set.  If you are not familiar with tabata I highly suggest you become acquainted. Mooowahaahaahaa!
As you probably know by now I'm a big fan of the basics (squats, swings, lunges, presses, ect.) because they work.  However, 3 sets of 12 can get pretty boring.  By using a combination of tools to build my workouts I keep things interesting and effective.
What tools do you use to keep your strength training workouts interesting?
Hugs and High Fives,
Jenn
If you enjoyed this this post please Subscribe to the RSS Feed.
Sign up for up to have posts emailed to your inbox.
Pin It