10 Minute Kettlebell Workout – Ohio
Sometimes you only have time for a 10 minute kettlebell workout.
Other times you only want to workout for 10 minutes.
My kettlebell workout in Ohio was one of those times. We filmed this workout in the middle of July when it was hot and humid and a 10 minute kettlebell workout was about all I could tolerate.
So when I only have a few minutes I want to make it count and this kettlebell workout does just that.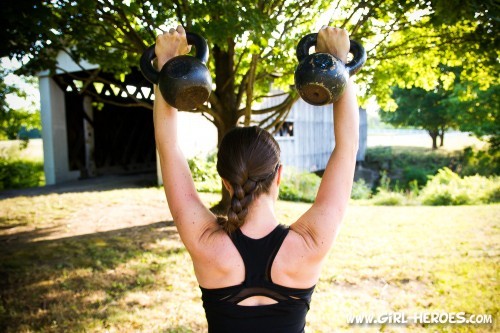 10 Minute Kettlebell Workout – Ohio
1. Double Press  -1
2. Down Up – 1 right, 1 left)
3. Double Row – 1
4. Push Up – 1
AMRAP (as many rounds as possible) in 10 minutes. 
"As many reps as possible"are not my favorite type of workouts.  They are popular right now but I find them too mentally and physically taxing. I prefer to use them sparingly in my workout schedule for days I only have 10 or so minutes or days I "just want to get it done."
Do you like AMRAP workouts? What do you do when you only have 10 minutes to workout?
Hugs and High Fives,
Jenn
Keep up with my kettlebell workouts, real food recipes, and more in one of three ways! 1. Sign up to have posts emailed to your inbox. 2. Subscribe to the RSS Feed or 3. "like" Girl Heroes on Facebook. Simple dimple!
Journey with our family on the road at Newschool Nomads as we travel fulltime in RV through the United States!
Pin It