Girl Hero Kristi
It's Girl Hero time again!
This Girl Hero is extra special because she is my sister-in-law.  Kristi is a hairstylist and mother to three wonderful boys!  Her and her husband Garrett enjoy being outdoors and cooking together and, boy, can they cook.  Seriously, Thanksgiving at their house is nothing short of AMAZING.  This spring Kristi decided to change her lifestyle and lost 40 pounds.  She also a recent kettlebell convert!!!
Meet Girl Hero Kristi!!!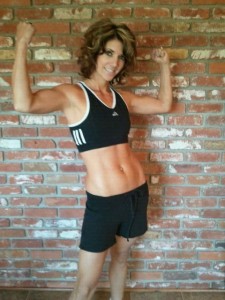 What was your lifestyle like before?  In other words how did you eat and did you exercise before you lost weight?
My lifestyle looking back on it was very unhealthy, I made alot of poor food choices. We would eat alot of fast food because we with 3 boys I always felt like I was in a hurry. We also didn't know the meaning of moderation when we would make our plates at dinner. My husband and I love cooking and entertaining so this just added to the weight gain for the entire family! We would start excercise programs and either get bored or talk ourselves into the ridiculous notion that we didnt have enough "time"..
.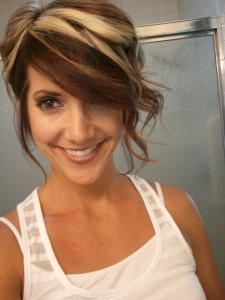 Did you have "a moment" when you finally decided you wanted to change your lifestyle?
This year our family has gone under a tremendous amount of trials and stress especially at the beginning of the year. In reality two things happened, I went to the dentist and they had a picture up of my face which they have to do for every patient. I looked at it and I didnt know the girl that was looking back at me, I felt ashamed and I didnt realize I had let myself get like that. The second thing was I saw my husbund going into a depression caused by stress (We have a blended family and those of you that can relate you know what I mean)! I finally said thats it,we are going to do something healthy for ourselves and if the kids want to jump on board they are welcome to…how surprised was I when they did and how close it brought us all!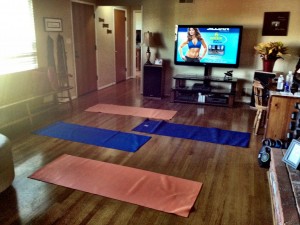 As a busy mom and hairstylist how do you find the time to workout?
I am a busy hairstylist which is one of the reasons I foolishly tricked myself into believing I didnt have to workout. Before my lifestyle change I would come home from work and do all the "motherly" chores we all know and love and then fall into bed every night exhausted and feeling like something was missing. We all adapted to a new schedule, when the kids get off of school at 3:30 I get all of our mats out and that way we can do our workout before all the hussle and bussle of life begins! I no longer fall into bed exhausted, I actually have so much energy my husbund (nicely) has to tell me to stop talking so he can go to sleep lol! Amazing how we can change everything when we finally come to the realization that WE are worth it!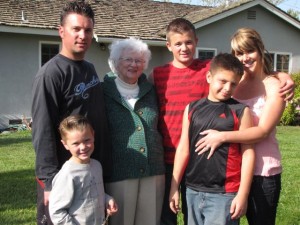 What do you do to find motivation?
I find motivation from my family, I have never felt so proud as when my 7 year old made me a card out of the blue that read: "To my new skinny mommy, you are so pretty, I am proud of you!" My husbund thanks me all the time for giving all of them a push on days when they really dont feel like working out. My mom is so sweet she is always telling all of her friends how proud she is of me, which makes me proud! Last but not least at the beginning of this journey I told my husband, Garrett, at the end of this I am going to be one of my sisters "Girl Heroes".  It was a huge goal, I bet you didnt know that Jen! I love you and you were a big role model for me!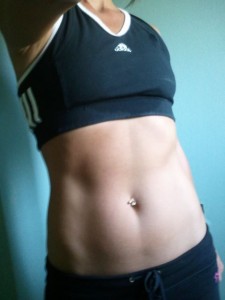 Are you working towards any goals right now?
My goal at the beginning of this was to go from 165 pounds which I was to 135…that seemed so unreachable at the time. Now the scale reads in at 125 pounds and it blows my mind how far Ive come !I would like to be 120 pounds so that way if I want to partake in a yummy Thanksgiving dinner or maybe a piece of Christmas pie I wont feel as guilty 😉 ..I want to feel strong. I never want to look too skinny. When other people look at me I want them to see a healthy girl not a stick figure! My goal has been to have a six pack (I know I'm weird).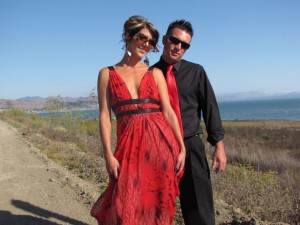 Do you feel like it was mostly working out, food, or a combination of both that helped you to lose 40+ pounds?
I feel what has helped me lose 40+ pounds was a combination of diet and excercise.You cant just do one. If you just diet and dont excercise you cant look fit and toned and if you just excercise without a healthy diet you will eat your way through all the calories that you just burned! I make sure half of our plate is vegetables at night and half a serving of what we would have usually consumed without a second thought of our meat or protein. It took my teenage boys a little while to adapt to this but as long as their plate "looks" full they are happy campers. My son parker the 12 year old has lost 16 pounds and Austin has lost 13.My husbund garrett has lost 25.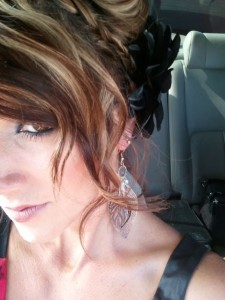 Have you noticed other changes since getting fit other than the ones you see in the mirror?
The biggest changes in my life other than the girl I see looking back at me in the mirror would be self confidence. When I would sit I would cover my stomach automatically, I wouldnt look people in the eye, and I would always look down. The most important change though is that my family works together as a unit now. Its amazing what kids will openly talk about with their parents if you take time to just go on a long walk with them! Who would have though it could be that easy to crack the teenage mind!  : ) I feel happy which is so important as I have suffered from anxiety and depression for 18 years and this has been my cure. I love life that pretty much sums it up.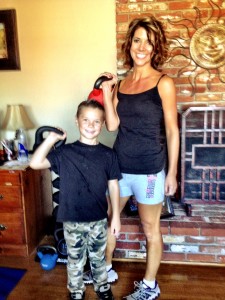 I know you guys like to do workout as a family.  Have you noticed any changes in your family as well? 
We do workout as a family whether it be walking, jogging, weight training, high intensity cardio and thanks to Jen Kettlebells!My family is very competitive with one another, which in our situation its great because we keeping pushing eachother to go further .My family flows together now where before we just co-existed which isnt healthy for any family.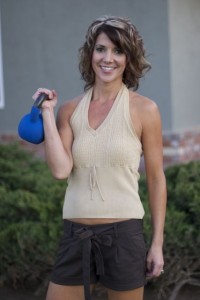 For fun! If you could have any super power what would it be and why?
If I could have a super power it would be with a blink of an eye or a twitch of my nose my house would be clean, which would leave me with more time for the things I love….kids, kettlebells and lots more kisses! Sorry boys I kn
ow mommy is embarrassing!
Thank you Kristi for sharing your story and for making me cry. 😉 I'm so proud of you!!!!  You are a Girl Hero!!!!
Hugs and High Fives,
Jenn
Check out our family's adventures at New School Nomads as we take a year long (or more) road trip through the United States!
If you enjoyed this post you can follow one of three ways! 1. Subscribe to the RSS Feed 2. "like" on Facebook, or 3. Sign up to have posts emailed to your inbox. Simple dimple!
Pin It