Eat Less?
Confession. I like Urban Outfitters. Not as much as its big sister Anthropologie but I still can't help to peek my head in for a glimpse of individuality for the masses. It's the hipster mecca of the world (although no true hipster would ever admit to shopping there) and what mini van driving suburban mom doesn't try to convince herself that she's hip every once in a while?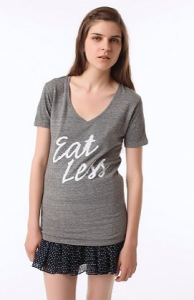 Urban Outfitters, no stranger to controversy, decided last week to pull a shirt from their website that says "Eat Less" on the front due to an outcry that it promoted body image and eating disorders.
With America facing a serious health crisis I don't have a problem with the philosophy of "eat less". Go to any buffet in America and it's hard to argue that a good many people should, in fact, "eat less". However, I DON'T think it's the "responsibility" of a store that caters to young impressionable people who may or may not be struggling with body image/eating disorders to shove this message in their face via a t-shirt clinging the the body of a very thin model. (Anyone else find that picture disturbing?)
If someone is obese, eating less is their personal responsibility. Period. The message doesn't belong on a t-shirt catered to young women and I find it mockery to those who are struggling on a daily basis.
I highly doubt that Urban Outfitters was surprised by the outcry. In fact, I would wager that it was an intentional decision knowing that it would drive traffic to the site and the stores.
While I may try to think of myself as "hipster at heart" (despite the mini van and sweatpants) I'm going to think twice before I step into Urban Outfitter… unless of course they are having a sale.
What do you think? Offensive? Comical? Weird?
Hugs and High Fives,
Jenn
Pin It