Do kettlebells live up to their claims?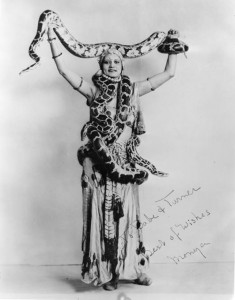 (Is it just me or does anyone else get ill looking at this picture?)
It seems like everyone from celebrities to bloggers are talking about the kettlebells these days.  😉  Some have good advice others not so much but one thing everyone seems to be agreeing on is a kettlebell is one heck of a fitness tool.  So is it just hype? In short, no. They've  lasted through a few centuries much longer than the Thighmaster and , like a classic novel, there's a reason for that.  Recently, ACE, (American Council of Exercise) conducted an independent study on kettlebells featured in their Jan/Feb 2010 Fitness Matters newsletter. Guess what? Kettlebells do seem to be living up to their claims but what does this mean?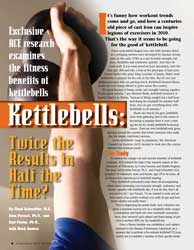 Click on the image to read the entire study.*
According to ACE  kettlebells burn 1200 per hour.  The article said, "The only other thing I could find that burns that many calories is cross- country skiing up hill at a fast pace." Too good to be true?   Yes and No.  First, 1200 calories is based on an hour of snatches. You would have to be extremely fit (and easily entertained) to do an hour of snatches. As of now, I can safely do 10-15 minutes max (with rest periods) using a 12k (26lb) bell, longer with a lighter bell. Two, the snatch is an advanced exercise.  The first kettlebell exercise to master is the swing.  I stuck with  the swing for about 2 months.  (Here is another good slightly longer video) The next progression is the "high pull"  which I practiced on for another month before I felt comfortable enough to attempt snatches under the direction of my senior RKC instructor. I probably could have progressed faster but I'm a scardey cat stickler for safety and I'm training for the RKC myself  so I did not want to have to unlearn bad habits in the future.  My point is NOT to sway you from using kettlebells.  In fact, I would LOVE for everyone to give them a try but I don't want to see people getting hurt so I emphasize  CAUTION. It could be dangerous to read "kettlebell snatches burn 1200 calories an hour", go out and buy a kettlebell, see some random video online and start flipping it above your head without mastery of the proper progression.  All of this to say, you still get an amazing bang for your buck when working out with kettlebells and there is the potential to burn more calories in less time than any other workout.  Kettlebell swings alone are a fantastic calorie burning strength building exercise and there are lots of other less difficult kettlebell fun effective exercises to choose from as well.  Are kettlebells the be all end all to fitness?  Absolutely not. My fitness advice is do what you like.  I like kettlebells because I get the results I want in the time I have, they are fun, and I can do them in my living room.  Plus, I get to look like a side show strong man.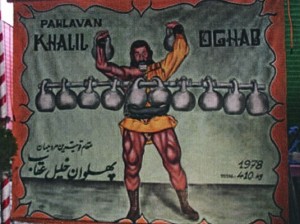 All I need now is a python.
Or not.

Today is the last day to enter for a chance to win a $40 credit for Cookware.com over at I'm an Okie.
*Unfortunately the directions in the ACE study leave out some key information.  While kettlebells aren't rocket science as I said they are not as forgiving as some other strength tools.  You don't want to pull your back, dislocated a shoulder, or drop one of your head. Your best bet is to find a RKC certified instructor or read Enter the Kettlebell. If you want to youtube videos your best bet is to look for RKC instructors.
Hugs and High Fives,
Jenn
If you enjoyed this this post please Subscribe to the RSS Feed.
Sign up for up to have posts emailed to your inbox.
Pin It