"California" Workout
I finally filmed (and edited with the help of Thing 1) my first workout of the 48 workouts I'm planning to film while we travel this year and uploaded it to my brand new YouTube account.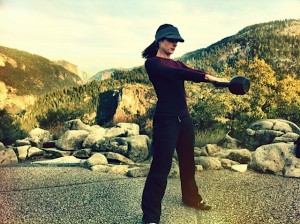 This workout was done in Yosemite National Park overlooking Half Dome about an hour before sunset.  This location is going to be hard to top.  I can't imagine a more amazing place to workout.  (I have more pictures here.)  
This is why kettlebells are my favorite workout tool.  How many other pieces of equipment can think of that you can take up into the mountains and workout effectively with one of the most incredible views in the country?  Besides your body!  😉
California
It has 10 moves since California has 10 letters.  Clever, huh.  😉   I set my gym boss for 40 seconds of work and 20 seconds of rest.
1. Swings
2. Hot Potatoes
3. Goblet Squats
4. Left Push Press
5. Right Push Press
6. Alternating Swings
7. Left Single Arm Row
8. Right Single Arm Row
9. Alternating Lunges
10. Kettlebell Toss (Upchucks)
This was my second workout out since September and I felt it.  Good golly, did I!  I only did one round (10 minutes) and I was pretty sore the next day.  I'm not sure if it was my lack of workouts lately or the elevation but my heart was pounding.  Next time I do it, I would like to do two rounds.  You could do three but I'm not much for workouts longer than 20 minutes.  Next time, I'll also count reps and try to do more each time I do it again.
We've been on the road for a little over three weeks and I'm finally starting to find my groove.  Internet service has been extremely difficult, hence, my erratic posting, slow email responses, and my lack of commenting on my regular blogs. Most of the time, it takes soooooo long to open pages so I'm finding it really difficult to read and then click through from reader.  I'm sorry. When my connection is better I'll be back to commenting but I am reading as much as possible!
Right now my focus is being with my family and updating our travel blog as much as possible because I want to make sure I document everyday of our journey. Although, now that we are settling into somewhat of a routine I'm going to be posting on here more often…assuming we have internet.
Next week, I'll be posting the "Nevada" workout and I have some amazing Girl Heroes lined up over the next few weeks in the meantime…
Hugs and High Fives,
Jenn
Check out our family's adventures at New School Nomads as we take a year long (or more) road trip through the United States!
If you enjoyed this post you can follow one of three ways! 1. Subscribe to the RSS Feed 2. "like" on Facebook, or 3. Sign up to have posts emailed to your inbox. Simple dimple!
Pin It