Free Printable Meal Planner
Last week, I showed you how I plan my weekly meals and workouts.  Those plans are usually scribbled on scrap paper which is good.  It's good to save trees.
But…
It's also good to have something pretty, fun, and organized.  (Ahem)
So my beloved webslave Brent, (often known as Grill Hero) made me a kick ass sweet little meal planner.
Then I had an idea!  Why not share it the way I would share homemade ice cream.  I think I would share?
Here it is!!
A free printable meal planner.
(Just click on it to enlarge and print for personal use.)
And the best part?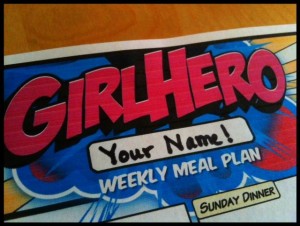 It's customizable.
The little white box where you can write your own name because YOU ARE A GIRL HERO!  Yes, you are!
(Personalized things? How old am I?)
The meal planner is pretty self -explanatory.
"Lunch" and "Dinner" Boxes
To be honest, most of my lunches are leftovers from the previous day.  Is that lazy?
A "Breakfast Things" Box.
I pretty much rotate through 2-4 different breakfasts so I just list those things in the box to remind me what I have on hand.
"Snack Things" Box
Again, I list snacks so I have an easy go to place to remind me of what I have for snacks.  Also I will jot down new ideas or if I want to make a special breakfast in this box.
"Understudies"Box
These are the back up meals in case the "lead characters" don't make it onto the table.   I usually have at least one super-easy-little-work-required meal in the freezer ready to go for the days "I just don't feel like it."   Chili, Trader Joe's meatballs, and broccoli are a few things that I keep in the freezer for last minute meals.  I'll often double recipes and freeze half to put on the "understudy" list.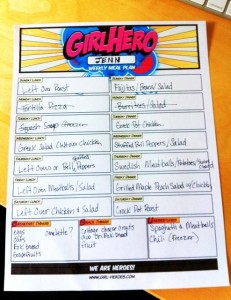 Here is our family's mostly finished meal plan for this week.
Oh the wonderfully organized madness of it all!!!
WHY I PLAN?
1. Save money – I've been planning meals for so long now that I can't imagine not planning.  On that rare occasion, I don't plan I overspend and buy food that we don't need.
2. Save time – There are a lot of things I'd rather be doing than wandering around the store figuring out what I should make for dinner that week.  Things like be on the internet.
3. Nourishment – Make sure there are nourishing foods on hand for my family.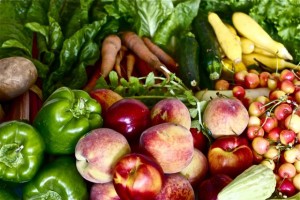 (We got a few pounds Rainier cherries in our CSA box yesterday.  They may or may not already be gone.)
How I Plan?
Step One – I check to see what I already have in freezer, refrigerator and pantry. I buy a lot in bulk so there is always something.
Step Two – I write down my staples eggs, butter, Ezekiel bread, cottage cheese, yogurt, ect.
Step Three* – I see what is coming in this week's CSA box and plan around what is in the box.
Step Four –  I look at my schedule for the week.  Are there nights the Crock Pot would make my life easier?  Is there a more mellow evening where I will have time to experiment and play in the kitchen?
Step Five – I check for variety. We like to get a variety of protein sources.  Actually, this week is pretty limited.  If we didn't belong to a CSA I would do the same with fruits and veggies. I also try to plan a vegetarian night or two to cut costs.  I switch things around as needed.
* If I didn't belong to a CSA I'd look to see what was on sale and plan around those foods.
Just wanted to share my cool little meal planner because you're awesome and I like you!
If you plan meals how do you do it?  Do you like Rainier cherries?
Hugs and High Fives,
Jenn
Keep up with my kettlebell workouts, real food recipes, and more in one of three ways! 1. Sign up to have posts emailed to your inbox. 2. Subscribe to the RSS Feed or 3. "like" Girl Heroes on Facebook. Simple dimple!
Journey with our family on the road at New School Nomads as we travel fulltime in RV through the United States!
Pin It