5 Reasons I Don't Play in Candyland.
Yesterday, I was walking while my kids were in taekwondo when I stopped in my tracks.
Scattered over the sidewalk in front of me were little pieces of my past.
PEZ!
When I was a kid I would buy the Pez multi-packs and not even bother putting them in the dispenser.  Scandalous.
Oh how I  loved PEZ especially the pink ones.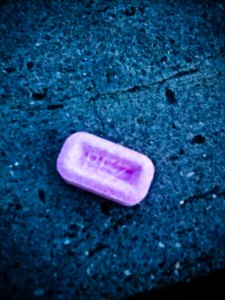 For a second I considered picking them up off the sidewalk and popping them into my mouth.  I did.  But instead, I took a picture because that's what you do when you see one of your favorite candies lying on the sidewalk.  Right?
Or maybe that is what sugar addicts do when they see candy.
5 reasons I Don't Play in Candyland.
1.  I don't know what's in it. Have you ever read the ingredients on the back of a PEZ?  I haven't either but only because I didn't read labels when I was 16.  Now I have Google.  Here's the ingredients: Sugar, Corn Syrup, Adipic Acid, Hydrog. Palm Kernel & Palm Oils and Soybean Oil, Mono and Diglycerides, Natural and Artificial Flavors, Artificial Colors, FD&C Red 3, Yellow 5, Yellow 6, Blue 2. Cola Also contains Sodium Bicarb.Color.  Aside from the first ingredient 😉 nothing else looks appealing.
2. Candy triggers cravings for other foods I'm not keen on feeding my body.  It's not just the candy.  The candy says chips.  Then the chips say candy.  It goes on and on and although my mind wants both my body wants neither.
3. Candy makes me it much harder for me to stay lean. (See reason #5)
4.  I didn't make the candy myself with unrefined sugar.  I LOVE SWEETS.  For two years I avoided all sweets but then last New Year's I decided to have a taste of my mom's peanut butter icing.  A mistake. Two hours later, I was hiding in the pantry pounding my nieces' Cinderella fruit snacks.
I learned two things.  One, I LOVE like want to marry sweets.  I missed sweets.  Two, self-control is "difficult" at best when it comes to sweets.  So I gave myself a "rule" to trick myself into moderation.  This year, I started eating the occasional homemade sweet made with unrefined sugar.  So far it's working mostly because I'm lazy.  I could (guiltily) finish off 12 boxes of Oreos from the store.  However, I will not make 12 batches of cookies.  Case in point, since I allowed myself this option I have made one batch of cookies using NuNaturals stevia.  ONE batch in almost 8 months.  In this instance, laziness is a strength.
Would this work for everyone?  Probably not but it's a solution that is working great for me.
5. None of the other reasons would matter if it weren't for this: It's easier for me to say no than it is for me to use moderation. I'm at the place where I could eat candy in moderation but I don't want to.  Simply put the instant gratification of candy is not worth the energy is takes for me to use "moderation" (Nor is it worth increasing my chances of developing  insulin resistance, a suppressed immune system or other health related disorders).  Moderation with candy (or store bought sweets) is harder than not eating it at all.  I'd rather not eat M&Ms than try to talk myself out of eating 5 lbs of M&Ms because (for me) when it comes to candy one bite leads to another and another to a binge.  There have been studies indicating that sugar can be as addictive as drugs and, at this point of my life, I have chosen to just say no. It's easier and I'm happier.
Hugs and High Fives,
Jenn
If you enjoyed this post please Subscribe to the RSS Feed.
Sign up to have posts emailed to your inbox
Pin It