Hiking Does a Body (and a soul) Good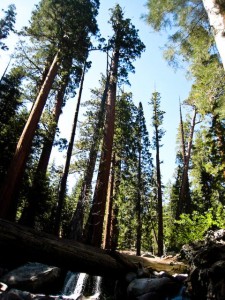 On top of my kettlebell workouts we also hiked a lot.  I averaged 15,000 steps a day.  It felt amazing.  The more I walk the more I am CONVINCED it is actually exercise.  I never thought I would say that but my body has never felt better.  Truly.  Combine walking with a quality kettlebell program and you have a killer combination of strength and cardiovascular with practically 0 stress/impact on your joints.
One of my favorite hikes was up a river filled with boulders.  We went there twice.  Once with the kiddos and once alone.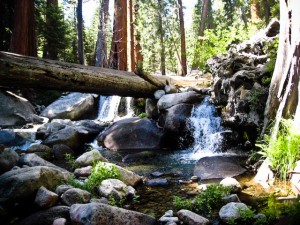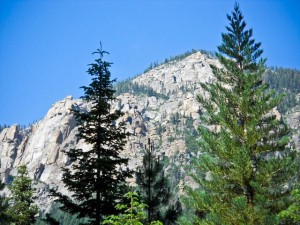 I don't normally hike in a bikini.  That would be weird (for me) but since we were in a mountain stream and no one was around I felt comfortable.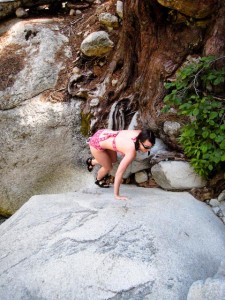 For some reason this picture cracks me up with the flower in the foreground.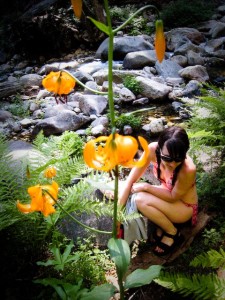 Brent loves to get in mountain streams.  He calls it "refreshing".  I call it CRAZY.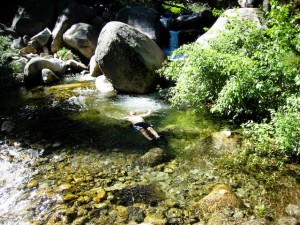 But after some coaxing….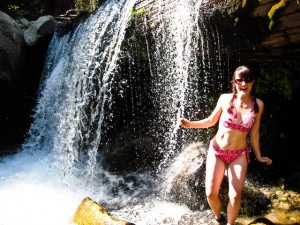 ….he convinced me that I should get in.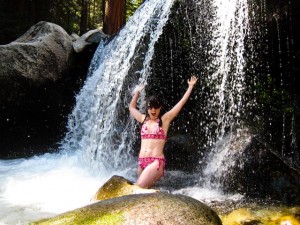 I don't think cold was the right word.  How about PAINFUL.  I will admit after I got out I did feel refreshed.  Maybe hydrotherapy will grow on me.
Can't go under it.  Can't go around it.  Gotta go across it.  This tree was enormous.  Bigger than it looks in the picture.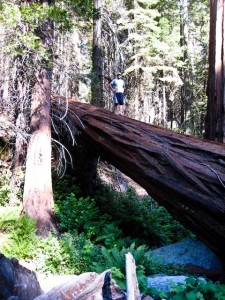 Nowadays this is about as thrill seeker as I get.  Hope I don't fall off.  That would be bad.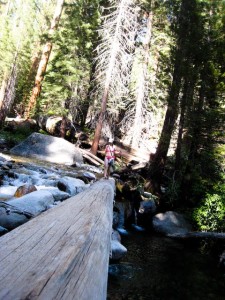 Whew we made it.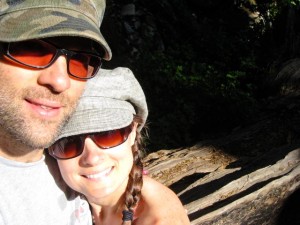 Not only did I get some quality time with Brent.  Thing 2 and I got some cuddle time.  He likes to call me "Cuddle Butt".  I love it.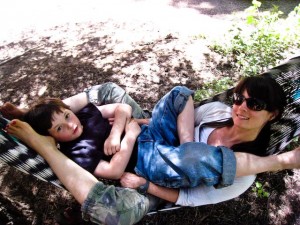 When Weewa, aka my mom, is around I don't get much cuddles from Thing 1.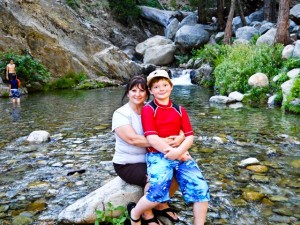 Brent works from home so one day hiked up to the top of a hill to set up "an office".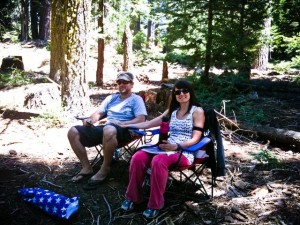 That about sums up our trip unless you want to see the pictures of Snow White Gone Bad.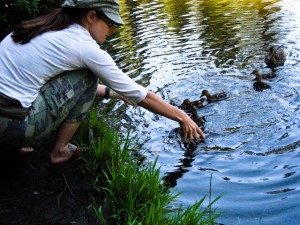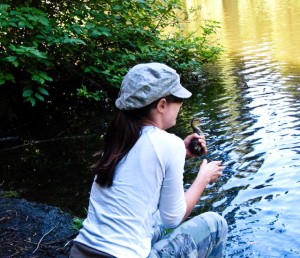 Don't worry I put him right back and it's a myth that mother ducks abandone their ducklings after being touched by a human.  You should have seen Mama Duck.  I'm just lucky I kept my fingers.
Hugs and High Fives,
Jenn
If you enjoyed this post please Subscribe to the RSS Feed.
Sign up to have posts emailed to your inbox
Pin It