Fluffy Friday: Margo and Myths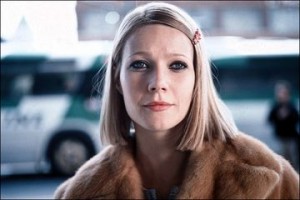 Recently, Gwyneth Paltrow, said in her weekly GOOP newsletter that she "had the beginning stages of osteopenia."  Osteopenia is the thinning of bone mass considered by many doctors to be a precursor to osteoporosis.  (Thank you Google.)  One of the causes is a lack of vitamin D and Dr. Lipman finishes off Gwyneth's (yes we are on a first name basis) newsletter by detailing the importance of Vitamin D and how to increase Vitamin D levels through healthy sun exposure.  (Enjoyed the article and think it's worth the read.)  I'm glad Gwyneth will be getting more vitamin D but I'd also like to see her start lifting some heavier weights as weight bearing exercises help increase bone density as well.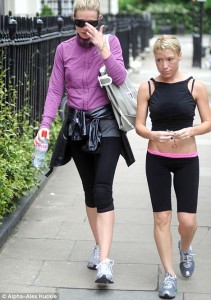 Do a quick google search for Gwyneth Paltrow Strength training and this video of her and her trainer, Tracey Anderson, creator of the "Tracey Anderson Method", pops up multiple times.  You might have seen it before.   I know I've seen it on like 25 different blogs and message boards but it never ceases to entertain me.
Tracey Anderson, "Only three pound weights.  No woman should lift more than 3 pounds weights."
Really?
Well girls, don't pick up that gallon of milk because it weighs over 8 pounds.  Your child wants to be held?  Not if mommy is going to get bulky.   Speaking of holding children the video continues….
Gwyneth, "I hold my 30 lb son in my left arm all day so this one (pointing to her right arm) is like…sags lower than this one (the arm with which she holds her 30 lb son) so she makes me do more arms on one side."
Hmmmm….anyone else see the irony here?  Gywneth points out that the arm she doesn't lift heavy with is saggier than the arm she uses to lift her heavy child.  Maybe she should rethink the 3 pound weight rule.
I'm not knocking Gwyneth.  I think she's beautiful and looks good.   Not to mention she plays one of my favorite characters in one of my favorite movies of all time, Margo in The Royal Tenenbaums.  If those are the workouts she loves then by all means go for it.
As for Tracey Anderson, this video makes it too easy to pick on her. I could say a lot.  In fact, I deleted two entire paragraphs after deciding I don't want to be Miss Critical.  Besides, I have smart readers who know that lifting weights heavier than 3 pounds is not going to turn them into the She-Hulk.  What bothers me the most was that this aired on Oprah and millions of women, who or may not know that strength training doesn't automatically make a woman bulky, have seen it.  Thus, perpetuating the myth that so many women and men who know better are trying to dispel.  I'll speak from my own experience.  Before I started lifting heavy weights my upper arms measured 11″ around.  After more than TWO years of heavy lifting they are 10.25″ around and much tighter than before.  I'll repeat what Gwyneth said, "I hold my 30 lb son in my left arm all day so this one (pointing to her right arm) is like…sags lower than this one (the arm with which she holds her 30 lb son) so she makes me do more arms on one side."
Could The Tracey Anderson "Method" work?  Sure and by the looks of her clients, Madonna, Shakira, and Kate Hudson, it does.  (Although be certain those women are also eating a SQUEAKY CLEAN diet as well.)  Muscles will adapt by growing stronger when a greater than normal stimulus (overload) is placed on them and with enough reps you can get results but it's going to take A LOT of repetitions, hence, a lot of time.  And what is going to happen when 100 reps becomes easy if you shouldn't pick up weights heavier than 3 pounds?  150 reps?  200?  500?   No thanks.   I don't have have the luxury of hours (nor the patience or interest for that matter) to devote to my physical appearance every day.  I'll stick with my short intense workouts with heavy weights like the ones Gwyneth Paltrow's Iron Man co -star, Scarlett Johansson, did to fit into the Black Widow catsuit.
What about you?  Do you like lifting heavy?  Have you gotten bulky from lifting heavy?  What is your favorite movie with Gwyneth Paltrow?  What do you think of the Tracey Anderson Method? Did anyone else feel a twinge of jealously when they showed the outside of that workout studio?  

Hugs and High Fives,
Jenn
Keep up with my kettlebell workouts, real food recipes, and more in one of three ways! 1. Sign up to have posts emailed to your inbox. 2. Subscribe to the RSS Feed or 3. "like" Girl Heroes on Facebook. Simple dimple!
Journey with our family on the road at New School Nomads as we travel fulltime in RV through the United States!
Pin It