Fun Friday: The Great Fitness Experiment Book Review and Giveaway!!!
I'm afraid of flying.  Once an airline attendent looked at my husband and asked, "Is she going to be okay?" as I stood next to him blubbering like a freak teary eyed.  Thankfully, last month when I flew to Indiana, I had something to distract me from my irrational fear.
Charlotte Hilton Anderson, from The Great Fitness Experiment, has written and published a book aptly named The Great Fitness Experiment: One Year of Trying Everything
!!! Excuse me for a second.
CHARLOTTE PUBLISHED A BOOK!!!!!!!  A BOOK! A BOOK! A BOOK!!!!  YAY CHARLOTTE!!!!!!
Ok, I'm back. (I get a little excited when people succeed at doing something they love.)   Charlotte didn't just write a book, she wrote a great book.  A funny book.  A heart breaking book. A hopeful book.  An honest book.  But most importantly, a book that made me forget I was flying!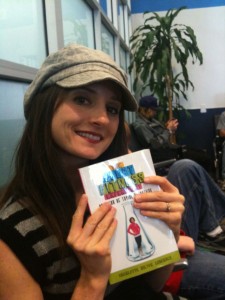 Charlotte's book is an hysterical and equally moving memoir about her year of fitness "experiments".  Her experiments run the gamut from Crossfit to the Tracey Anderson Method and she shares what worked and didn't work for her along the way.
The joy of Charlotte's book lies in its honesty.  Intercut among the experiments are personal essays, "best", and "worst" moments that will make you laugh out loud, cry, and wish you were (and sometimes thankful you're not…teasing Charlotte…you know I <3 you! ) one of the "gym buddies".  In our airbrushed culture, full of smoke and mirrors, Charlotte gives a us a gift.  A true and rare gift of honesty.  She assures us we aren't alone in our crazy and offers hope.  No matter our past, Charlotte assures us, like a good friend, that the future can and will be beautiful…and so are our tummies, stretch marks and all.
If you are a fitness enthusiast, someone who has struggled with body image, or just like to laugh then you are sure to enjoy The Great Fitness Experiment: One Year of Trying Everything
as much as I did!
Speaking of Charlotte and friends, Deb from Smoothie Girl Eats just put up a new post for the blogger calendar featuring pictures of lovely ladies from the cutting floor. Not only is Charlotte a writer but she may also be a contortionist.  Please hop on over to Deb's blog and consider supporting USC Norris Cancer Hospital by purchasing a calendar!
Lastly, Charlotte has offered to give one Girl-Hero reader a copy of her book.  To be entered for a chance win leave a comment!  Winner will be chosen by random. Simple dimple!
Contest ends next Wednesday, 12/15 at 9:00 PM, PST.  Open to US residents only.
Have you ever done any fitness or food experiments of your own?  What did you learn?
Hugs and High Fives,
Jenn
If you enjoyed this post please Subscribe to the RSS Feed.
or
Sign up to have posts emailed to your inbox.
This post contains an affiliate link.  I bet you can guess which one.  Amazon.  Ahem.  I only use affiliate links when something rocks my socks.  Yes, Charlotte may be my friend but so are you and this review was written from the heart.
Pin It