Kettlebells and Canada
Hi there! I haven't disappeared on the Alaska Highway.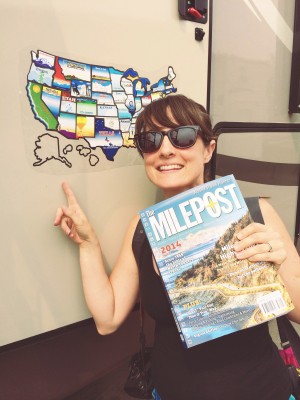 We are still making our way up to Alaska from Key West, FL. It's kinda crazy traveling with an infant and keeping up with our big boys. This is going to be one memorable adventure. I can't believe how much we've seen the last two months. Between caring for my family and all the traveling I haven't had much time to write but I'm still documenting our journey at  Go RVing.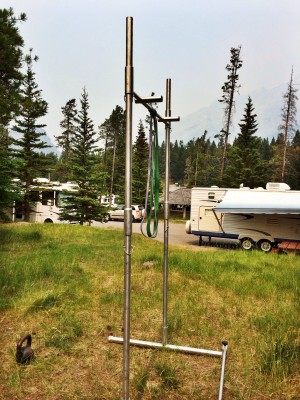 Last week, I decided it was time to FINALLY pull out the kettlebells and pull-up bar. Thing 3 is 13 weeks old and I felt like my body was ready. I did my first kettlebell workout in months in Banff National Park. It's hard to tell in the picture above because it was a cloudy day but the views were phenomenal. Our RV was surrounded by gorgeous mountains.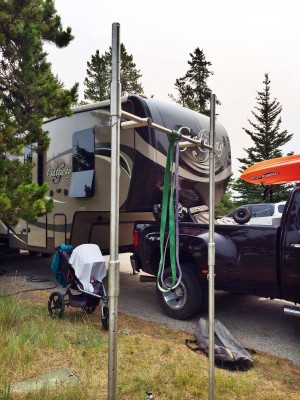 Finding time to workout with an infant is no joke. We walked and walked until he fell asleep in his stroller and then I busted out a quick workout while he slept nearby. I was a little bummed to realize I had to use two bands to do pull-ups. Losing strength was to be expected but I didn't know just how much!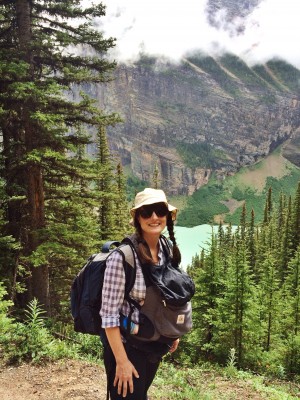 We also did some hiking last week. I hiked 2 miles uphill in the rain with about 30 extra pounds between Thing 3 and my backpack. My legs were spent at the end! That's Lake Louise in the background.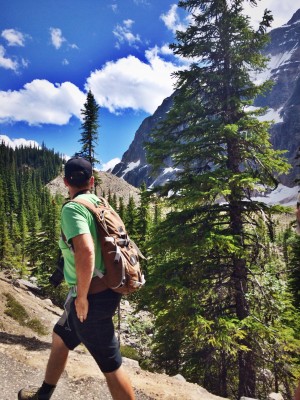 This was a beautiful hike in Jasper.
Thing 3 seems to really enjoy being out in nature. If he is fussy I'll carry him outside and being in trees seems to calm him down…just like his mama.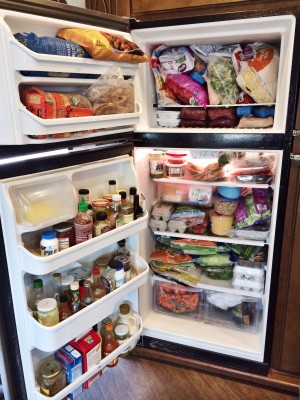 Before we headed up to Banff we stopped at Costco in Calgary to stock up. I may or may not have 18 heads of romaine in my fridge! After all we have a long remote drive, over 1500 miles, ahead of us to Alaska. I wouldn't want to run out of lettuce.
We don't have internet here in Canada unless we stop at a coffee shop or library so I'm not able to update as much as I like. Hopefully that will change once we get to Alaska.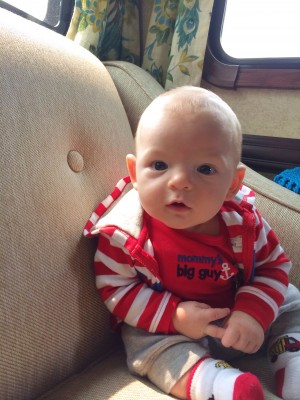 Until then here's the little big guy who is keeping my hands full and heart happy!
Hugs and High Fives,
Jenn
Check out our family's adventures at Newschool Nomads as we travel in our RV through the United States!
If you enjoyed this post you can follow one of three ways! 1. Subscribe to the RSS Feed 2. "like" on Facebook, or 3.  Sign up to have posts emailed to your inbox. Simple dimple!
Pin It