Eating Local on the Road and My 30 Day Paleo Challenge Recap
Remember the 30 day paleo challenge I was doing?
That's okay. Neither do I.
Here is  our adventures in eating local while on the road plus a recap of my 30 day paleo challenge and the aftermath.
It's been fun finding local food. We've been to farmers markets and farm stands from Maine to Indiana.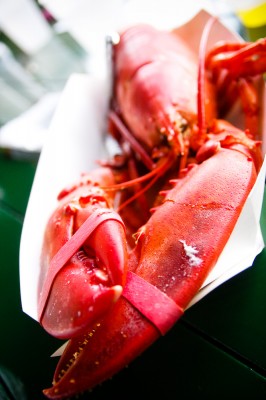 It was easy to find fresh local protein in Maine.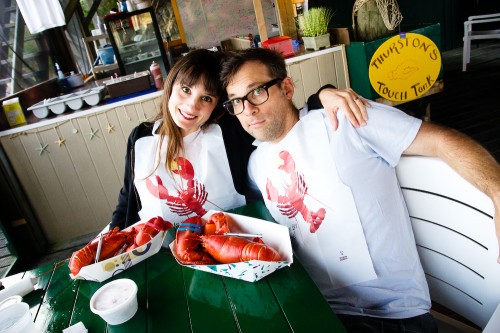 Our first whole lobster experience.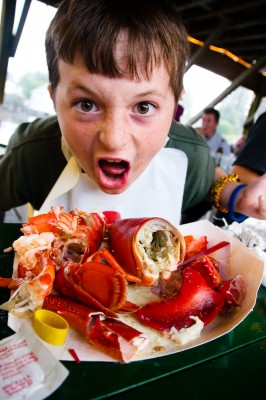 Thing Two enjoyed it.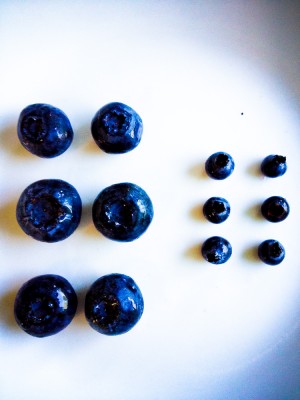 In Maine, we also picked wild blueberries. Check out the difference between the wild blueberries on the right from Trader Joe's blueberries on the left. Hmmmmm…..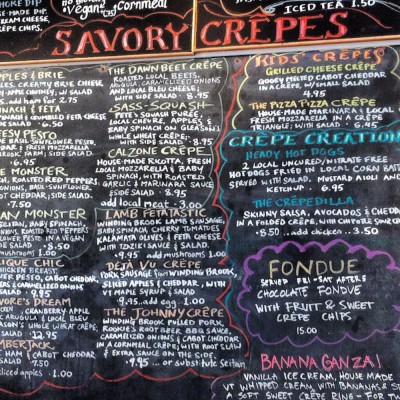 I was sticking to and enjoying my 30 day paleo challenge until we stopped at the Skinny Pancake in Montpelier, Vermont around day 21.
I really didn't want to order a salad. "I would never be back here again."
So I decided, "screw it" and ordered a "garlique chic"  crepe and I would get back to the challenge after dinner.
Simple. As. That.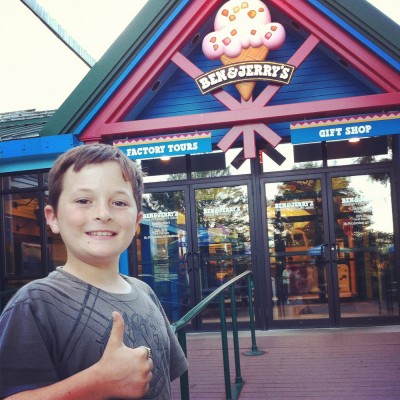 Except it wasn't that simple because we stopped at the Ben and Jerry's Factory and I saw the Coconut 7 Layer Bar ice cream.
"When would I ever be back to the Ben and Jerry's Factory?"
So I ordered it and and enjoyed every bite.
I blame Vermont.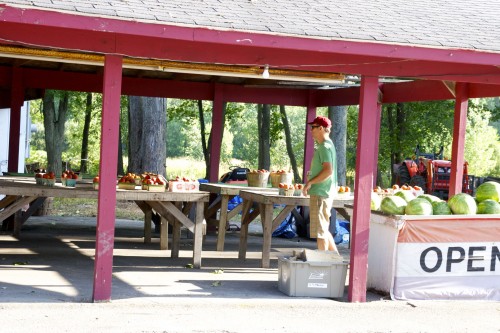 There were still few days left of the challenge and I decided to keep on despite my day of indulgence.
We ate well even though there was sometimes lack of selection. We stopped at small roadside stands for fresh produce.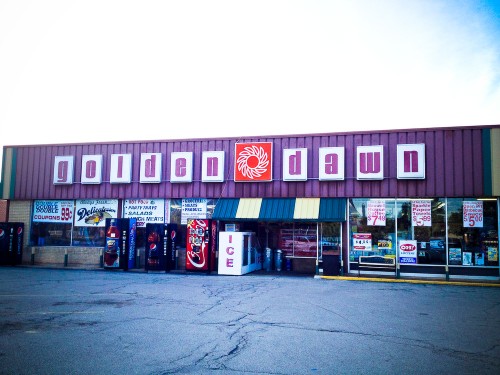 And small local grocery stores…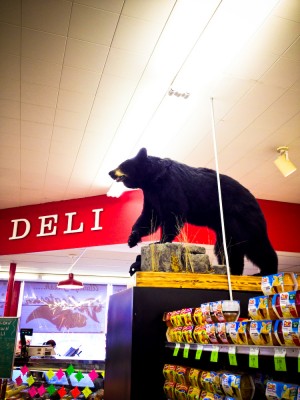 …with bears in the deli.
Then we got to Indiana and my 30 days were up.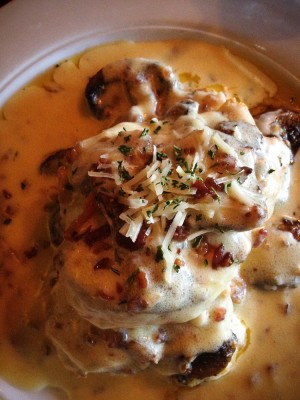 Instead of testing each eliminated food group for four days like the plan It Starts with Food: Discover the Whole30 and Change Your Life in Unexpected Ways
 instructs. I decided to enjoy myself.
Rather too much.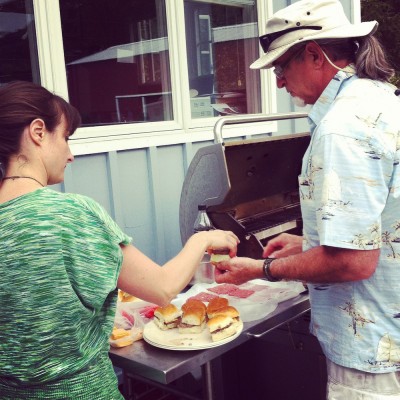 There have been bbq's at home…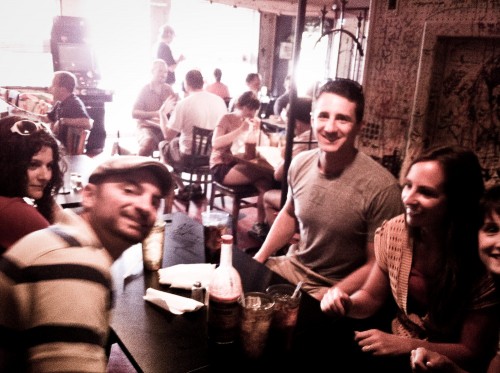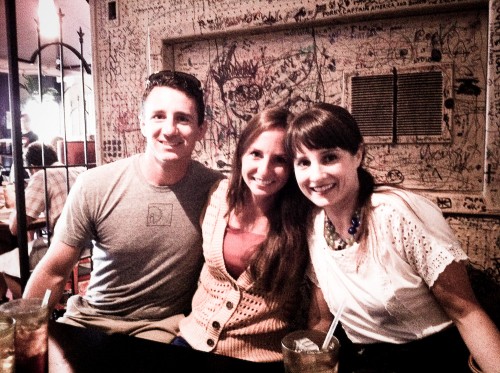 …and fun nights out with my family.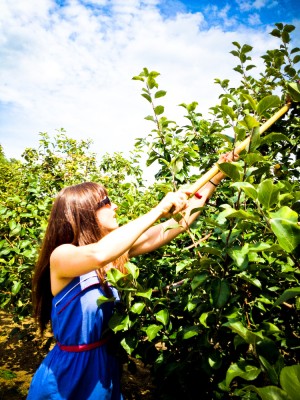 I didn't throw it all out the window. We still went to farmers markets and picked apples from an orchard.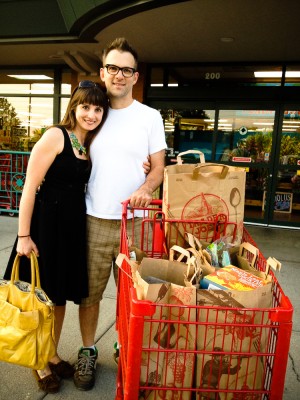 Had a date night at Trader Joe's.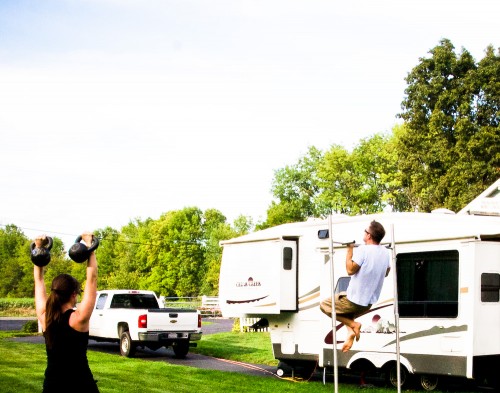 Last week, I got in a few workouts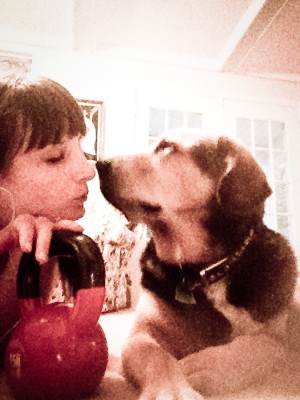 and some kisses with kettlebells.
But I haven't been "perfect" and that's okay. Perfection is overrated. Or so I have heard.
I had my fair share of fun food while visiting my family but I'm ready to get back to real food or clean eating or whatever you want to call it.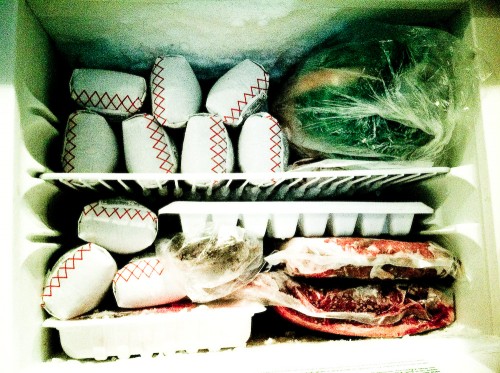 Here is our freezer as of this morning. It's stocked with as much local beef and organic chicken that will fit and our fridge is full of lots of produce.
I want to do a complete review of It Starts with Food: Discover the Whole30 and Change Your Life in Unexpected Ways
but this post is already on the long side. I'll try to get around to it in the next week or two but for now I'll say one thing.
Feta.
Thirty days without feta is no fun.
Hugs and High Fives,
Jenn
Keep up with my kettlebell workouts, real food recipes, and more in one of three ways! 1. Sign up to have posts emailed to your inbox. 2. Subscribe to the RSS Feed or 3. "like" Girl Heroes on Facebook. Simple dimple!
Journey with our family on the road at New School Nomads as we travel fulltime in RV through the United States!
Pin It