Shoes that Look Like Feet – Vibram Five Finger Review
I did it. I finally bought the shoes that look like feet.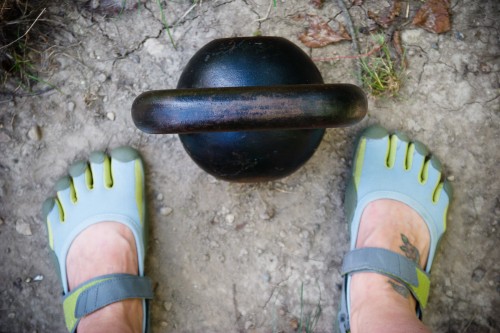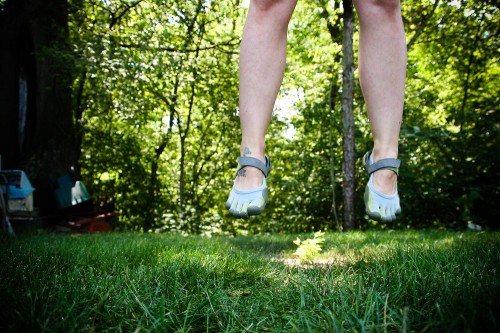 Or sometimes known as frog shoes.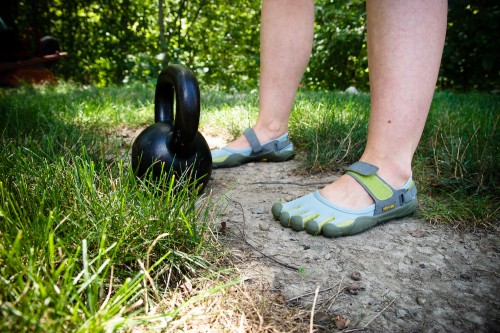 Or just shoes that look like feet.
I've been working out barefoot for over three years now. When I can't workout barefoot,  I wear a thin soled shoe like Converse or my New Balance Minimus which I still love.
In fact, I was planning on buying another pair of New Balance Minimus (they have new gorgeous turquoise ones) when I came across a pair of Vibrams for 40% off at a little sporting goods store in Montpelier, Vermont. Have you ever been Montpelier? What a fantastic little town. It's quaint, beautiful, has a ton of little resturants and it is the only capital without a McDonalds.
Anyway back to my Vibram Five Finger review. Yeah those shoes that look like feet and sort of creep me out.
Brent has been wearing Vibrams for over a year and he loves them. Personally, I wasn't keen of the frog feet look but I am keen on being barefoot and saving money so I couldn't pass up a great deal on a new pair of barefoot shoes.
I've been wearing them for about two week now.
The first few days were uncomfortable. I started out wearing them for about 30 minutes at a time not because I needed to get used to being barefoot but because my little toe started to go number after about 10 minutes. My odd little toe (It's odd because not only can I *wave* it, it looks like it was drawn by a cartoonist.) did not appreciate it. However, my toe is no longer protesting.
The back of the shoe was uncomfortably digging into my heel a little but that also seems to be a matter of breaking in as the irritation lessens each time I wear them. I know I couldn't have gone with a bigger size as these are snug but my big toe still doesn't reach the end.
Lastly, they were hard to put on at first. They reminded me of putting on big puffy gloves as a child but they've started to form to my feet making them easier to get on. While they aren't like putting on a pair of flats my feet pretty much slip into them without too much struggle.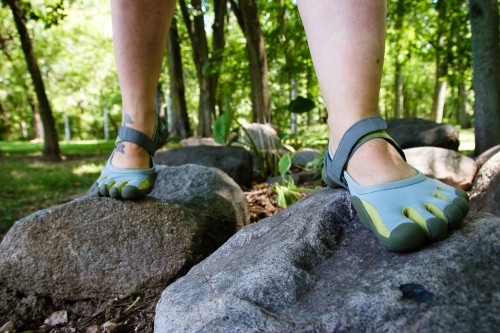 What I really love about the Vibram Five Fingers is being able to be "in touch" with the earth. Literally.  Not in some "woo woo" sort of way. I love to feel the rocks on the ground without hurting my feet.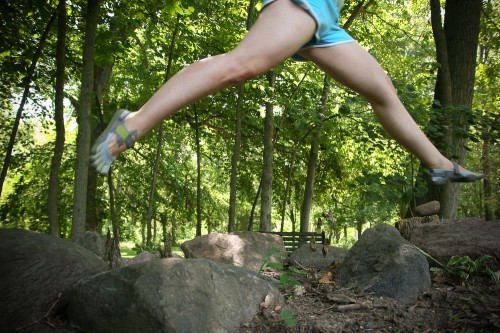 You can't really feeeeeel the earth in heavy thick soled tennis shoes or hiking boots but my Vibrams make me feel and look like a frog.
I can't say I would have bought these for myself had they not been on sale. I probably would have bought another pair of Minimus or different barefoot shoe that doesn't look like feet but I'm getting used to the frog look.  They are also working great for my kettlebell workouts when being barefoot isn't an option. Overall my Vibram Five Fingers serve their purpose by protecting my feet while allowing my feet connect with the ground and do the job they were designed to do.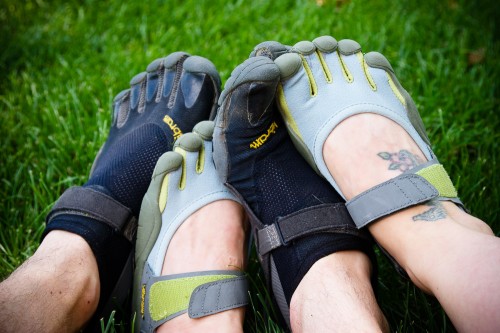 But best of all my new shoes that look like feet connect better in a game of footsie with my love.
Hugs and High Fives,
Jenn
Keep up with my kettlebell workouts, real food recipes, and more in one of three ways! 1. Sign up to have posts emailed to your inbox. 2. Subscribe to the RSS Feed or 3. "like" Girl Heroes on Facebook (Be sure to click "subscribe" if you want posts to show up in your feed.) Simple dimple!
Journey with our family on the road at New School Nomads as we travel fulltime in RV through the United States!
Pin It