How to be Honest with Yourself
I haven't been honest with myself.
The other day while on a walk with one of my sons, I saw a long stretch of green grass stretching through the empty campground.
Sprints?
But…
Well…
Okay.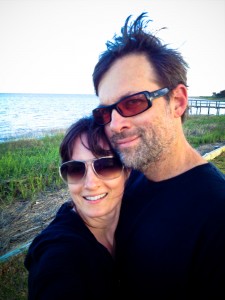 Late that afternoon, before the mosquitoes came out, Brent and I walked over to the empty length of lawn. I carried my Gymboss set for 10 rounds of 30 seconds work/30 rest. Just 10 minutes. I hit start and took off.  I have loved sprinting since I saw the Black Stallion movie as a child. Yep, 30 years later I still occasionally have thoughts of being a horse galloping down the beach while I workout.
The first round felt amazing. I even tried to keep up with Brent. The second was a little harder. The third was uncomfortable. By the fourth I felt like a foundered pony trying to trot along.
I finished the 10 rounds and stood by the ocean feeling more winded and exhausted than I had felt in a long time.
What happened? Why was I gasping so uncomfortable?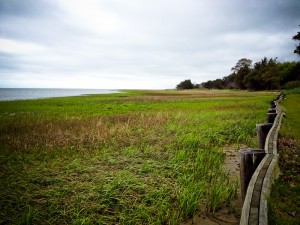 As I looked out over the marsh to the ocean I reflected on my physical and emotional feelings, goals, and choices.
I haven't been honest with myself. Said my lungs. Said my legs. Said my heart.
How to be Honest with Yourself
1. Realize being honest with yourself is an act of courage. All change starts with the ability to face ourselves and that can be the hardest step of all. You are a courageous warrior looking yourself in the mirror.
2. What are the consquences of not being honest with yourself? This is tough but necessary question. Look at the short term and long term consequences. How will you feel after one meal of junk food? How will you feel after 10 years of regular consumption of junk food?
3. Find your consistencies. It's consistency that counts. Who cares about an occasional brownie sundae or late night at work. But are you consistently eating junk? Are you consistently skipping workouts? Are you consistently putting work before family? Journaling may help you recognize your positive and negative consistencies.
4. Recognize the benefits of being honest with yourself. What will I gain if I'm honest with myself? Will my relationships improve? Will I feel better? Have more energy? Create better memories for myself and my family?
5. Take time to reflect on your current choices. Bills, meetings, deadlines, soccer practices, parties, and other commitments can fill our lives to the point of exhaustion. Oftentimes all we can do is fall into bed with the current day nothing more than a blur in our minds. We must make time to reflect on our choices. Regularly turn off the TV or computer and make the time. Do life don't let life do you. This starts by pausing long and often enough to see what is really going on.
6. Look at your life from an outsiders perspective. If your walls could talk what would they say? Mine would say that I often grab a spoon and the peanut butter jar as soon as my family walks out the door. (If no one sees it doesn't count right?) That I often loose patience with my kids. That I spend too much time with my face peering down at my phone. Don't forget the positives. My walls would also say I eat lots of healthful food. I'm very goofy playful. I spend a lot of time cuddling my family.
7. Write an eulogy.  Along the lines of  "if your walls could talk", writing an eulogy is an exercise I learned from Stephen Covey (Seven Habits of Highly Effective People) years ago and it has stuck with me since. Writing an eulogy is a little morbid but it can be, sometimes painfully, eyeopening and yet rewarding. If I were to die tomorrow how do I want people, especially my family, to remember me? Are my values lining up with my choices?
8. Find people who love you enough to help you be honest with yourself. A true friend loves you enough to kindly tell you that those jeans aren't the most flattering. If you are unsure if you are being honest with yourself get together with a friend and have a heart to heart talk.
9. Forgive yourself. Being honest with yourself can be hard because everyone comes up short. No one is perfect. This cliche can be said again and again. We live in a culture whose marketplace thrives on our perceived imperfections. You know what it's okay to be imperfect. Imperfection gives us room to grow. It allows us to relate. It makes us unique. It brings us together. Personally speaking, imperfection also allows me to see God in my life which makes forgiving myself easier. It's hard to love others when we don't love ourselves. So be honest with yourself but be kind to yourself. Forgive yourself and realize we are all stumbling along together doing the best we can.
Learning to be honest with yourself is crucial to health in all its forms: social, mental, spiritual, and physical. (Did I get all of them?) It's an act of courage whose reward goes far beyond the scale, a nice pair of jeans and a sprint workout.
Hugs and High Fives,
Jenn
If you enjoyed this post you can follow one of three ways! 1. Subscribe to the RSS Feed 2. "like" Girl Heroes on Facebook, or 3. Sign up to have posts emailed to your inbox. Simple dimple!
Check out our family's adventures being inspired to follow you dreams at New School Nomads as we take a year long RV road trip through the United States!
Pin It