Girl Hero Elisa
I'm so excited to introduce you to a new Girl Hero! Meet Elisa! Elisa has been married to her husband for over 6 years and is a certified personal trainer and HKC kettlebell instructor. She was recently diagnosed with MS after being misdiagnosed with Guillain Barre. It's been a rollercoaster but through it all she remains hopeful and active. Seriously, read a few posts on her blog, Cake Walk, and you'll see what an inspiration she really is! Elisa loves to read- mostly fiction, but also lots of health and fitness books and going on long walks with her husband where they talk about life and solve all of their problems.  She also enjoys blogging, cooking and her new hobby for 2012 is going to be yoga!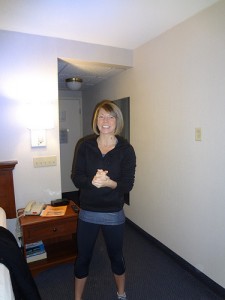 What led you to become a personal trainer?
I went to school to be an elementary school teacher, but realized that I was really horrible at classroom management. I taught kids in South Korea for about 6 months and then switched to teaching adults. After a quick decision to leave Korea and move to Portland, Oregon, I needed a new career. I loved teaching and I have always loved exercise. I ran cross-country in college and even coached it for a year afterwards. Personal training sounded like the perfect thing for me, and after finishing a 6 month hands on program (National Personal Training Institute), I started training!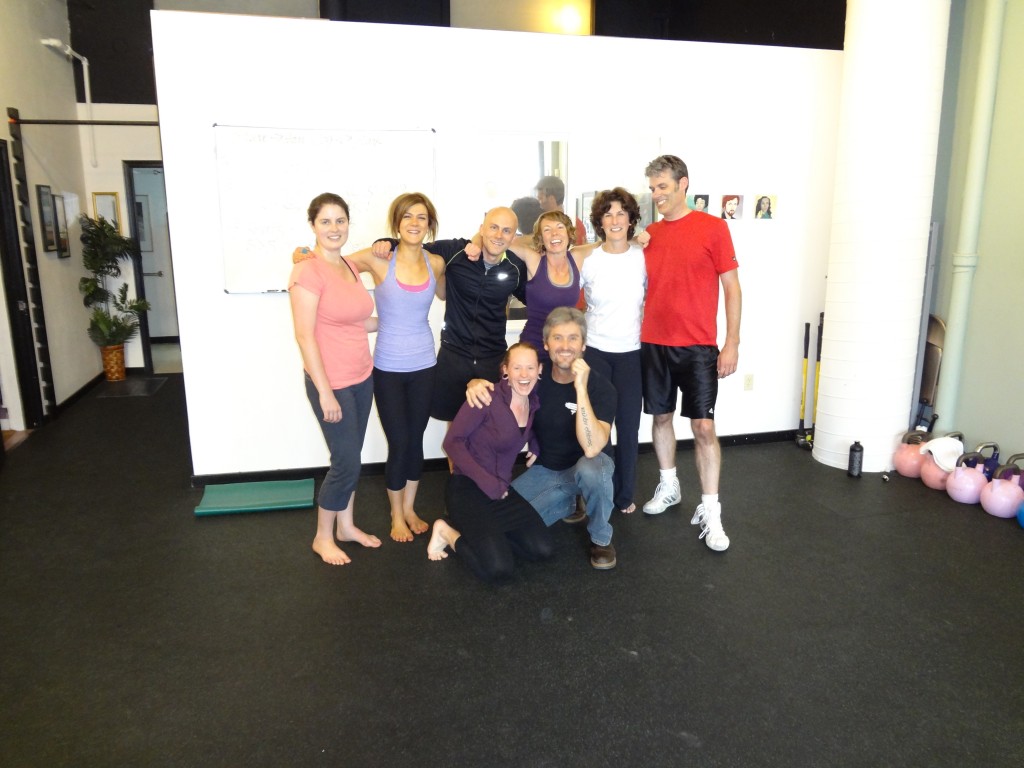 How did you discover kettlebells?
At NPTI, I was exposed to lots of different fitness tools. At one point we visited a Crossfit gym and my instructor handed me a 25 pound kettlebell and told me to swing it over my head. That was the only cue! I did, but it was way scary and I felt out of control. A few weeks later I came across Girl Heroes and you were talking about signing up for the RKC. You looked so strong and as if you had a ton of fun doing your kettlebell workouts. I started doing research and bought a couple of kettlebells. I kept reading your blog and realized that I should really find an RKC kettlebell instructor. Lance Coffel– was the man I found. I started with his kettlebell workshop and was so impressed with his teaching style and careful attention to even the smallest detail. I started going to his classes once a week and a few weeks later signed up for the HKC and the RKC.
What were your workouts like before kettlebells?
I ran cross-country in college, so I've always continued with that. the summer before I started using kettlebells, I ran a trail marathon and several trail half marathons. I also did strength training circuits 2-3 times a week.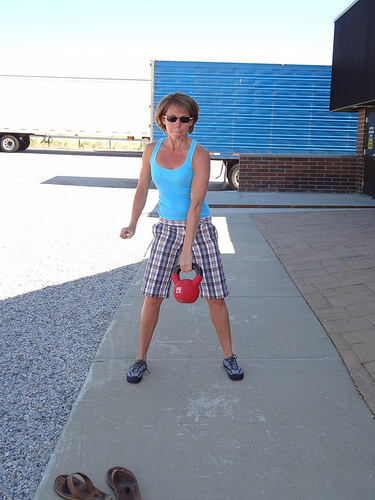 What is it that you like so much about kettlebells?
I've always loved running because I could do it anywhere with minimal equipment. The same is true about using kettlebells. You can take them anywhere and do an entire workout with just one weight. They are intense and efficient. Also, I love the attention to form and detail that they require. There's always something to work on. At the HKC, we spent the entire day perfecting the swing, goblet squat, and Turkish get-up, and there's still more to learn.
You were diagnosed with Guillain Barre a week before your HKC certification. What was that like? What symptoms were you having?
One Thursday afternoon, my right foot went completely numb. The next day my left foot joined the right and soon I was numb all the way up to my belly button. I went to my kettlebell workout on Saturday and was so frustrated that I couldn't do a bottoms up press with even a 5 pound kettlebell. On Monday, I limped into work at the gym and fell over as I tried to demonstrate a lunge. My client told me I should go to the ER, but instead, I went to another kettlebell class. My chiropractor who often joined the class, was there and did a quick exam. He mentioned MS and told me to get myself to the ER. In the background, I was planning my trip with Lance for the HKC in Seattle on Saturday. At the hospital, I had an MRI, which they told me was clear and thus confirmed their suspicions of Guillain Barre Syndrome. They told me to come back to the hospital immediately if anything got worse and got me an appointment with a neurologist for two days later. Two days later, I could barely walk, so the neurologist just admitted me to the hospital for immediate treatment with Immunoglobulin therapy. At this point, I started to realize that the HKC was not happening. I was in the hospital for the next 6 days and things just got worse. I could only walk holding onto something for about 10 seconds before I had to sit back down. By the time I left the hospital, I could no longer walk at all. My muscles were so weak and I couldn't feel them at all. It was super sad, but I knew that I would get better and eventually go for the HKC and the RKC!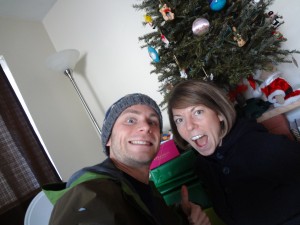 Then late last year you found out you were misdiagnosed and actually have multiple sclerosis. That's intense. You filmed a youtube video where you actually say you are looking forward to the possibilities and opportunities having MS will provide you.  That's an amazing outlook! Can you expand on that? How do you remain so positive?
I always knew in the back of my head, that something was not quite right with the original diagnosis and so finding out that it was actually MS felt like finding a missing puzzle piece that you didn't remember you were missing. When you have always been super healthy, finding out you have a chronic disease, and that you're not actually in control of your body, is almost too shocking to deal with. At the beginning, when the chiropractor mentioned that it sounded like MS, I remember feeling like MS would be a death sentence and I went home and cried my eyes out. During the time in the hospital and my super long recovery, I've dealt with a lot of emotions and have already realized that my health is not in my control. So finding out that I have MS was huge but somehow not that big of a deal to me. When I thought I had Guillain Barre Syndrome, I tried to get involved in helping people who had just been diagnosed, but that just never worked out. The MS community is much bigger and super active, so there will be lots of opportunities for me to get involved. All of my jobs have been somehow related to helping people (caregiving, teaching, personal training) and having MS gives me the "cred" to help people even more. Don't be fooled though, I'm not happy about having MS. I just don't have time to be super sad right now. There are sure to be times where I just curl up in a ball, cry, and feel sorry for myself. That's not unique to MS, that's just human, we all do it!

How has MS affected your life and training?
Well, originally, I lost my job. Since recovering, my husband and I have moved from Portland, Oregon to Boston. I've been working since the end of August and have not missed any days of work so far. Double vision and vertigo are some of the symptoms that I have to deal with often, so my husband drives me to work whenever those issues are a problem. My clients think that I come to work at 6am a little tipsy!

Finding out that I have MS has actually helped my workouts. Whenever I work out, my symptoms get much worse- i.e. hands and feet are numb, no muscle coordination, super exhaustion, etc.- and I have to stop the workout early. After doing some MS research, I realized that heat makes the symptoms worse, so if I can keep myself cool enough, I can workout much longer.
You ended up passing the HKC in November! Congratulations!  What was it like?
Passing the HKC was amazing for me. It's still just the basic kettlebell cert., but I had been through so much to get there. All my kettlebell people on the West Coast were super excited, but on the East Coast, it was just another day!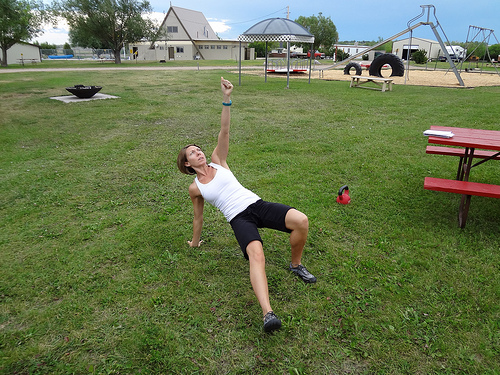 I know you planned to train for the RKC. Is that still a goal?
The RKC is still a huge goal for me. Honestly, I could probably attempt to pass it now. I can do 100 snatches in five minutes, although I don't know if I can handle working out for three days straight. But it is expensive and after a big move across the country and a lot of medical bills, we are trying to refill our savings account.
Passing the RKC is a goal of 2012, but I'm not going to let myself get frustrated if the MS gets in my way. I'll get there eventually.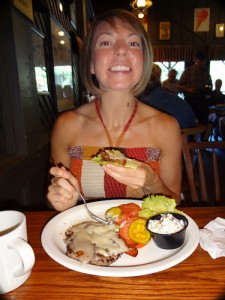 What are your thoughts on food? In other words, what does an average day of food look like for you? Has your recent diagnosis affected the way you eat?
Right now, I'm frustrated about food. I've cut out sugar and processed foods for the last 6 years of my life and I still got sick. There are so many people telling me to try this supplement or eat this and not that, I feel overwhelmed by information. I keep reminding myself to go back to what I've always believed about food. If it makes your body feel good, gives you more energy, and doesn't make you gain weight, then eat it up. Everyone is different and what makes me feel good might make you feel terrible. For the last 6 years, I've eaten lots of meat and vegetables. Sugar and even fruit give me an instant headache. Grains make my stomach hurt.
A couple of months ago, I started intermittent fasting and absolutely love it. I stop eating at 8pm and don't start eating again until 12 or 1 pm the next day. My feet and hands have not been numb since I started and it's helped me to realize that feeling a little hungry is not an emergency.
What do you like best about being a personal trainer?
As a trainer, I get to meet so many interesting people from all walks of life. I love it when they come back from a vacation and tell me how they impressed their family by hiking up a mountain or walking around all day without having to stop and rest. Their stories inspire me.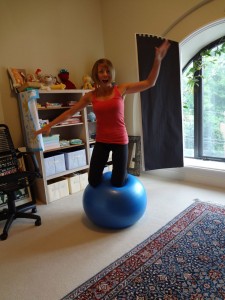 If you were going to write a memoir about your life what would you call it?
Driving the Rollercoaster
Thank you so much Elisa for sharing part of your story!
Don't forget to check out Elisa's blog, Cake Walk, and be inspired!
Hugs and High Fives,
Jenn
If you enjoyed this post you can follow one of three ways! 1. Subscribe to the RSS Feed 2. "like" Girl Heroes on Facebook, or 3. Sign up to have posts emailed to your inbox. Simple dimple!
Check out our family's adventures at New School Nomads as we take a year long RV road trip through the United States!
Pin It