A World Where Frilly Aprons & Pull-ups Rule
Life has been unusually busy this past week with the upcoming video shoot.
But between rehearsals, catering (Did I mention I'm CRAZY going to try and cook the dinners for the entire cast and crew ahead of time?), shopping for props and wardrobe, training my clients, teaching my classes and taking care of my family
There has been time for….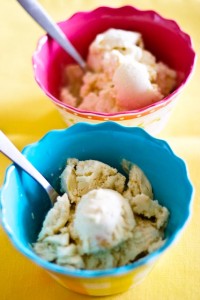 Homemade Maple Peach Ice Cream in "His and Her Bowls"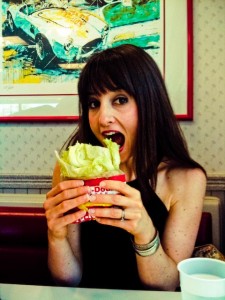 In-N-Out – Double Double Protein style with Grilled Onions I opted for the Thousand Islands "special sauce" this time.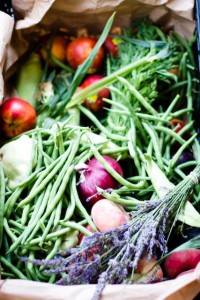 A CSA Box
(Yes, I'm quite aware of the contradiction.)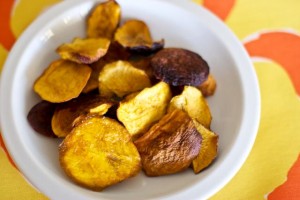 Making dried nectarines.  Best. Treat. Ever.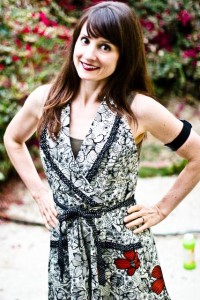 And while I was out running around like a mad woman searching for red Converse hi-top Chuck Taylors in a size 13, I made a little detour happened upon this snazzy little apron ON SALE at Anthropologie.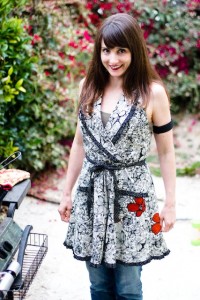 How could I pass up an apron with a ruffled bottom that was over half off.
Now on to the mandatory important stuff.  This is my last week of my "Fitt(er) for the Fourth" Challenge.  As you might have guessed, I don't think I have reduced my body fat by much (In-N-Out…Ice Cream…Ahem) as evidenced by my jeans still fitting the same (I didn't want to take the time to measure my bf% this time around.) but I have made progress toward my other goals.  I'm happy because while looser jeans are nice they don't compare to the feeling of being able to do pull ups.  Seriously.
Welcome to my world where frilly aprons and pull-ups rule!
Planning to finish off this last week of the challenge week strong and I've changed my schedule up a bit.
Monday – Full Body Strength Training & Taekwondo
Tuesday – Rest & Walk
Wednesday – Full Body Strength Training & Taekwondo
Thursday – Sparring & Walking & Taekwondo
Friday – Full Body Strength & Taekwondo
Saturday – TRX Class
Sunday – Rest & Walk
I'm considering making a new challenge for myself each month.  Challenges help keep things fun and they help keep me motivated. I'm thinking next month will be a "no sugar" challenge.  There has been a little too much maple syrup and honey around these parts the last few weeks.
What have you been up too?  What rules in your world?
Hugs and High Fives,
Jenn
If you enjoyed this post please Subscribe to the RSS Feed.
Sign up to have posts emailed to your inbox.
Pin It