Girl Hero Heather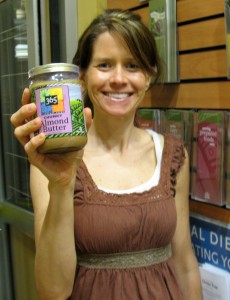 Heather, also known as HEAB or Heabie after her blog, Heather Eats Almond Butter, has such as sweet authentic spirit.  Heather is a massage therapist specializing in deep tissue, neuromuscular therapy, and sports massage.  She also loves yoga, hiking, walking, and getting out in the warm sunshine.  A down to earth girl she also spends a lot of time reading, blogging, and hanging out with her husband and two dogs.   Not only is Heather as sweet as can be but she is also living proof that small steps can lead to big changes.
What caused you to make your lifestyle change?  Was there a moment you just knew you had to change your habits?
After living abroad for a year and losing weight without any effort (due to all the walking I did), I decided it was finally time to make a few small changes regarding my diet and exercise, or lack there of. I never set out to lose 100+ pounds as I truly did not believe it was possible.
How did you take those "first steps"?
I cut out junk food and started walking. However, the biggest help was probably drinking nothing but water. After growing up on milk, juice, and soda, making water my beverage of choice really helped me to lose the weight.
What was your like your lifestyle like before versus now?
Oh gosh, the "before" has been a while. Let's see, I watched a lot of movies and ate whatever I wanted whenever I wanted. I was always happy and had great friends, but I hated not being able to do active things with my them. In a lot of ways, I'm still the same person, but in other ways I'm not. For instance, instead of going to the movies, I'd much rather be out on the trails if it's nice outside, and rather than eat an ice-cream sundae after dinner, I'll have a baked sweet potato instead. So, I'm much more active and I make better food choices. However, I will always enjoy laughing and hanging out with my friends.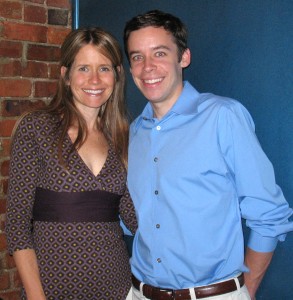 What have been your biggest obstacles and more importantly how did you get pass them?
The only obstacle I really struggle with is not being too hard on myself. After losing a large amount of weight, it's difficult not to have certain rules surrounding your food intake. A lot of people think I'm really hard on myself, but deep down the fear of ever being overweight again is still there. Lately, I've eased up on many of my restrictions, and I'm trying to just go with the flow these days. That being said I will never be completely at ease with eating whatever whenever. My body simply can't handle that.
You say on your blog that "keeping the weight off is not that challenging."  I love that.  Could you elaborate on what makes it easier than most people might think?
It's just not been that difficult for me. However, anyone that truly knows me will tell you I am very stubborn and hardheaded when I want to be, and I think that particular personality trait has really helped me to keep my weight in a healthy range. As long as I make good choices, I'm fine. Yes, that usually means no sugar or fast food, which for most people sounds impossible. But for me, it's just a way of life. One time, a friend who was trying to lose weight asked me for advice. We began talking about her food intake for that day, and she said she had no choice but to eat fried chicken from a fast food restaurant. I told here you always have a choice. Pack a lunch or choose something healthier from the menu. The problem is many people don't know what the best choices are as there is so much conflicting info. regarding what is truly good for us these days. For me, it took educating myself on what works best for my body, and others need to do the same. We're all different, and I simply just try and make the best choices I can 90% of the time.
I know you limit sugar.  In all forms? Was that a hard choice to make?  Why do you choose to limit it?
Sugar is not my friend, and was the main reason I spent the first 20+ years of my life overweight. As soon as I cut back, the weight started to disappear. So, I really do limit my intake compared to most people, but I still love my sweets. However, the idea of "dessert" for me has changed. To me, a simple bowl of oatmeal, some dark chocolate, or a baked sweet potato usually satisfies my sweet tooth. However, I am not perfect, and do enjoy the occasional bite…or 5 of a sugar laden dessert. I love love love ice-cream, but instead of eating an entire pint of Ben & Jerry's in one sitting, I'll just have a serving or two of coconut milk ice-cream or make my own using less sugar.
What advice would you offer to people who don't know how to cook?
Everyone can cook. It simply involves following directions and perhaps a little patience.
What staples would we find in your kitchen besides almond butter? 😉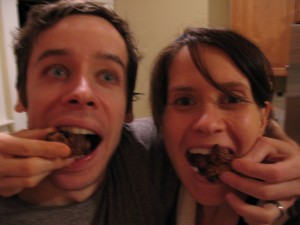 CD (my husband) and I keep the fridge filled with tons of fresh produce. We eat so many vegetables and usually buy them in bulk from Costco, including Brussels sprouts, mushrooms, onions, spinach, bell peppers, and broccoli. Those are our staples. I also always keep sweet potatoes and oat bran on hand as well as eggs, unsweetened almond milk, fresh fruit, and goat milk cheese. Currently our freezer is filled with wild Alaskan salmon, grass-fed finished beef that we buy in bulk from a local farm, and Garden Herb Sunshine Burgers (love those!). I also think every kitchen should be stocked with fresh lemons and garlic cloves as I use both in so many recipes.
You have a quite a list of yummy looking recipes on your blog!  What is one of your favorites?
CD came up with Marinutta sauce sauce which I love. However, now that it's practically summer, I'll probably be enjoying my raw lemon-miso salad a lot more. Oh gosh, it's so good on a warm sunny day. I also have a passion for pancakes and enjoy coming up with a new pancake recipe every week.
What do you do for exercise and how often?
My exercise of choice is yoga, but I also love to hike and take long walks. I used to run run run, but quit when I realized it had become more of a chore than anything else. An ideal week for me would be 4 to 5 sessions of yoga with a few walks or hikes thrown in the mix.
How did you find yoga?
I actually took a yoga class in college but never took my practice seriously until about almost 2 years ago. I started taking a class back in my running days as I thought it would be good for toning and stretching. Eventually, I started doing more yoga and less running. Then one month, I decided to do nothing but yoga, and I was amazed at how great I felt and how much my body changed for the better. I've been hooked ever since.
What motivates you?
Oh gosh, all sorts of things. Personally, for me it's seeing a woman with toned arms, listening to my husband talk passionately about his running, taking classes with fellow yoginis, or reading about what other bloggers are doing to stay in shape. The people in my life inspire me more than they will ever know. I'm also motivated by everyday life. Not a day goes by when I don't see someone struggling with a weight issue, and I'm reminded that I can help others with my story. It keeps me going and reminds me why I do what I do and why I blog.
What goals are you working towards?
Goals – as far as fitness goes, I really don't have any at the moment. Well, that's not true. I'd love to bust out into a handstand one day in yoga class…without the assistance of the wall, but I've tried to stop pushing myself so hard. I know the strength and flexibility will come with practice. Where my diet is concerned, again, I'm just trying to go with the flow these days and listen to my body more.
What accomplishments are you most proud of?
I'm proud of my weight loss, and I really just want to use my own story to help those out there struggling. I've been there – I've walked in their shoes, and I'm proud that I made the changes necessary to get healthy. I want others to be able to say the same.
What is your favorite way to eat almond butter?
I love it mixed in warm oat bran or with a banana.

If you were going to write a song about your life what would you title it?
Ha – gosh I don't know. I can't think of anything that doesn't sound like a horrible country song.
Anything else you would like to share???
Here are some random facts you may not know about me:
1) I cannot whistle
2) I am a horrible driver.
3) My favorite musicians are Patty Griffin and David Gray.
4) I will always hold a special place in my heart for John Cusack after watching him play Lloyd Dobler in Say Anything.
5) I hate hate hate raw broccoli, but it's one of my favorite foods when cooked.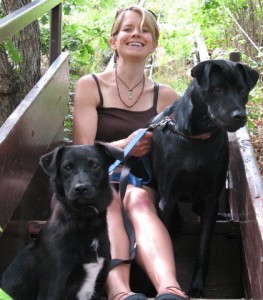 Thank you so much Heather for taking the time to share you journey with us.  You are encouraging and kind, a Girl Hero in every way.  If you haven't read Heather's blog go check it out.
Hugs and High Fives,
Jenn
If you enjoyed this this post please Subscribe to the RSS Feed.
Sign up for up to have posts emailed to your inbox.
Pin It