Weekend Workout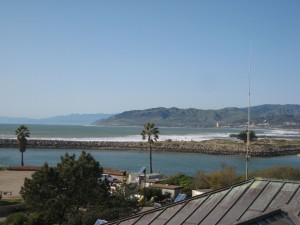 Saturday I spent the day at the beach nurturing my latest obsession…kettlebells!  A friend had mentioned she had been reading my blog and wanted to try kettlebells out for herself.  Eager to find someone who wanted to listen to me ramble on about how much fun they are, I offered to help her and her friend out with the basics.  We had a good time and after they left I did my own workout which was…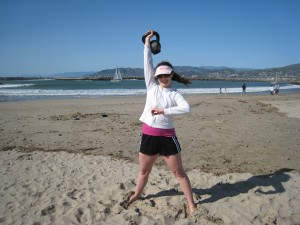 100 swings
20 snatches (10 right, 10 left)
3x
3 x 5 military presses each side
stretch
Sunday, I spent a good amount of time eating French toast figuring out my weekly workout schedule because I ate too much French toast today my husband and I are officially beginning the second part of the Enter the Kettlebell program in my preparation for the RKC (hopefully) later this year.   I'm excited.  I like plans.  I like kettlebells.  I like (adore) my husband.  It should be good. Fittingly, the second part of the program is called "The RKC Rite of Passage".  (Sounds a little hardcore for a girl who likes to lay around in flannel pj's sipping chamomile listening to Bon Iver.)  It consists of LOTS of presses (and optional pull ups), swings, and snatches.  Light, moderate, and heavy refer to the intensity. The class I am taking with Doug Nepodal fits into this program perfectly because it calls for "variety" days where you practice a variety of moves at a low intensity.  I feel fortunate to have a senior RKC instructor  to lead my "practice" days.  My week (for the next few months) is going to look like this.
Monday
Kettlebells Moderate (Presses, Pull Ups, Swings)
Taekwondo
Tuesday
Kettlebells Variety
Wednesday
Sparring  (No strength training)
Thursday
Kettlebells Variety
Taekwondo
Friday
Kettlebells Heavy Intensity (Presses, Pull Ups, Swings)
Saturday
Rest
Sunday
Kettlebells Light (Presses, Pull Ups, Snatches)
It feels really good to have a (flexible) plan written down in a journal ready to go.  My obsessive compulsive side can't wait to fill in those little spaces with numbers.  While I 100% believe in having a plan, truthfully, I haven't been practicing what I preach for the last few months.  Without my plan on paper it's been easier to come up with excuses and skip workouts.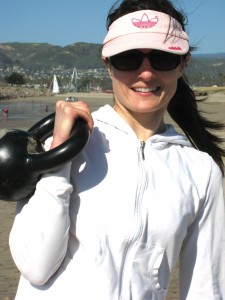 What are your workout plans for the week?
xoxo
j
If you enjoyed this this post please Subscribe to the RSS Feed.
Sign up for up to have posts emailed to your inbox.
Pin It