Please pass the hamburger…errrr….I mean the Swiss Chard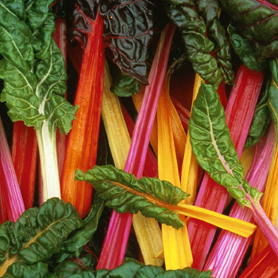 As you may know, I joined a  CSA (community supported agriculture) so it's probably only a matter of time before I start wearing pachouli.   Since I don't get to choose what goes into our veggie box it's always interesting to see what each week will bring.  This may sound inconvenient or even scary for some but it works for us. The great thing about being a part of a CSA besides getting the crazy fresh organic produce is that it forces me to try new things and get creative (or go online in search of recipes.)  Lately there has been a bunch of swiss chard something I wouldn't normally buy because I don't trust that something called chard could taste remotely good…even with "Swiss" tacked on the front.  Normally, I stick to things like broccoli, green beans, red peppers, onions, asparagus, lettuce, and spinach so the swiss chard seemed a bit on the exotic side.  After some searching around on google I decided to try this swiss chard recipe.  It was simple, super quick, and even tasty enough for  my picky 9 year old.  Like most things green, swiss chard is really good for you too.
If you are interested in finding a CSA or farmer's markets in your area check out Local Harvest.
Regarding my New Year's resolutions, I'd like to say I almost caved and ate a burger today but my plan of self-destruction was thwarted…well…I had a few fries.
One last thing.  Sorry about the random playlist "place holder" post that accidently went out to some of you subscribers.  We switched the domain over to girl-heroes.com and have been having some issues with the subscriber list.  Hopefully all the kinks will be ironed out soon.
xoxo
j
If you enjoyed this this post please Subscribe to the RSS Feed.
Sign up for up to have posts emailed to your inbox.
Pin It