How to make and keep New Year's (Life) Resolutions.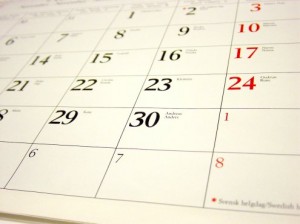 Don't worry I'm aware it's February 1, 2010.  Yep, we are already into our second month of 2010.  How are you doing with those New Year's resolutions?  I got off to a slow start.  It helped that I finally put some thought into the changes I want to see this year.  I finally got around to putting together a little three-step guide to writing and keeping resolutions.  If it's now July 2010 and you just came across this post it's never too late to make positive lifestyle changes.  Hmmm???  How about calling them New Life Resolutions.
Jenn's Three Step Guide to Making and Keeping New Life Resolutions
1.  Start with the positive. Think in terms of accomplishing goals rather eliminating behaviors.   Think of doing instead of stopping.  Active instead of passive.  For instance, instead of saying, "stop smoking" you could say "conquer my smoking addiction". Simply rephrasing your resolution can give you a greater sense of power or control.  As you are coming up with a list of positive things you'd like to accomplish this year it helps if they are specific and realistic.  Don't be afraid to challenge yourself.  In fact, set the bar high because I think most people expect too little of themselves.  However, if you are one of those who are continually setting the bar too high and repeatedly feeling disappointed with yourself then you may want to question if your goal is truly realistic.  Unless you are already a world class sprinter, you probably won't set a new world record for the 100m dash but you can set a new personal record.
2.  I think the most important part of having a successful New Years resolution is coming up with the WHY.  For most of us, it's easy to come up with the "what".   It isn't enough to say I want to eat healthy. We need the WHY.  We need to know why we want the things we want. It is the WHY that drives us.  It is the WHY that keeps us moving after the initial motivation has run out.  It is the WHY that puts a purpose behind the want.  It is the WHY that helps us grasp that slippery little thing (in my case a slug) called self discipline. Losing weight is one of the most popular resolutions but WHY is that important?  Don't be afraid to dig deeper than the obvious because looking good in a bikini will (most likely) only take you so far.  Sure having a beach body is motivating but how about reducing your chance of heart disease, diabetes, and certain cancers.  Or what about teaching your kids healthy habits that will affect them the rest of their lives or having more energy or a more positive outlook or….  So when you are writing down what you want to do make sure you write down WHY so when that motivation has dwindled to little more than a vapor you can get recharged and steam on ahead.
3. Prepare for February.  (Better late than never right?) By this I mean, look ahead and be prepared or decide HOW you are going to carry on when the initial excitement runs out.  What has kept you from reaching your goals in the past?  Lack of time?  Lack of will power?  Lack of resources?  Consider possible pitfalls now and come up with a practical game plan of HOW you are going to get around potential obstacles. List the possible problems for each resolution and write down at least two possible solutions for each problem so when they come up you are prepared to forge ahead.  Don't forget to include forgiveness as part of your strategy.  Too many people fall off the wagon and decide they will wait until next year to catch another one.  Not Girl-Heroes.  Girl Heroes realize slip-ups and regressions are a part of life and jump right back on that wagon regardless of how hard they fall.  😉
Here are my resolutions. (Not in order of importance.)
1. Eat only whole foods until July 2010.
Why – Not only do I crave chips, I crave challenges.  I want to see how I feel when I eat exclusively whole foods.  Don't get me wrong, I already eat mostly whole foods but to be perfectly honest I still struggle with binging on things like chips, crackers, pretzels, ect.  Conquering my sugar addiction was freeing now I want to conquer my struggle with processed food. I know myself and moderation doesn't come easy so I'm starting with 6 months of completely cutting out the foods that are keeping me from feeling my best.
Possible Pittfalls – PMS cravings, days when I'm depressed, social gatherings.
Solutions (How)  – Prepare whole food snacks I enjoy ahead of time before PMS hits.  Tell people what I am doing.  Eat before the gathering.  Leave pretzels and the like on the grocery store shelves. Bring husband on board for accountability.  Remind myself that it's not forever and I can go 6 months. Then I can decide if I want to eat those foods again.  Basically it's the same strategies I used to overcome my sugar addiction.  Reach for the phone instead of crackers on down days to tell a friend how I'm feeling.
2.  To train for the RKC certification.  (New one)
Why – Because I love kettlebells and see enormous benefits to training with them.  I want to spread the awesomeness of kettlebells.  I want to have proper technique and be able to pass that knowledge along to others.
Pitfalls – I get distracted easily.  My own lack of strength and endurance.  Lack of time
Solutions (How) – PLAN my weekly workouts ahead of time.  Read articles about kettlebells to keep up my excitement.  Stay in Doug's class. Share my goal with friends.   Train smart and consistently. (Just started Enter the Kettlebell.)  Enlist a workout buddy.  Thankfully DH is on board!!  Get enough sleep so my body has a chance to recover and grow stronger.  Resolution #1 should help with strength gains.
3.  Daily Reflection and Prayer.
Why – Because I want to know my Creator on a deeper level.
Pittfall – Lack of time and discipline.  Getting overwhelmed with life and forgetting my true purpose.
Solutions – Get up earlier.  Set boundaries. Read inspirational books.  Listen to inspirational music.  Sit quietly.  Spend time outside enjoying nature.  (This is a huge for me.  Being outdoors always brings me back to God's presence.)
4. To learn to use a curling iron correctly.
Why – Because after 30 some years I am tired of looking like Medusa when I try to curl my hair.
Possible Pitfall – Burnt fingers.
Solutions – Tips anyone? Slow down?  Gloves?
The picture below is from this odd little milk promo that I don't know how to embed)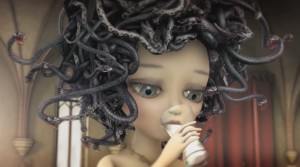 So now you've listened to me pontificate, I should probably be honest with how I'm doing.  I'd give myself an 8 or 9 on resolutions #1 and #2.  So far so good.  I know having Brent on board is helping tremendously.  Sadly, #3 is still a hit or miss and I consider it my most important goal. I'm at about 50% which is better than last year but it's still not where I want to be.  Curling my hair? Medusa doesn't look that bad does she?
xoxo
j
If you enjoyed this this post please Subscribe to the RSS Feed.
Sign up for up to have posts emailed to your inbox.
Pin It