Seconds
I think I may have overestimated my will power.  Maybe I'm not ready for chapter three of The Great Sugar Experiment.
Tuesday night, my husband mentioned he had been wanting ice cream all day.  We were sitting on the couch and he looked so tired, sweet, and cuddly.  I wanted to do something nice for him.  I wanted to do for him what I knew he would do for me (if I was a normal person without ten ton food issues).  "I'll go get you some," I said.  We had the polite "No that's okay"  "Yes, really."  argument for about 10 seconds and I was out the door pausing briefly to say, "I can do this".   Yes, it was very dramatic as if I was on my way to make peace with an enemy who had deeply wounded me.  I guess in some ways I was.
About 15 seconds into my drive I started wondering if I could find an ice cream without refined sugar at the large grocery store.  Battle begins.  I don't need it.  Just make some at home.  They won't have it.  You said you have to make it.  But if it's natural sugar.  Maybe….
My husband had specifically said he wanted "tiramisu" ice cream.  I'm wandering down the ice aisle reading the labels seeing EVERY flavor a human could possibly imagine except tiramisu.  My husband is probably the sweetest guy on the planet. However, he can be particular so I called to ask for another acceptable flavor.  "Creme brulee?" he says politely.  Seriously?  I just scoured a mile long grocery aisle looking for tiramisu ice cream and now  he wants "creme brulee" ice cream.   I have boundaries.  I'm nice enough to go out in the wet rainy weather to get him ice cream but not nice enough to search through 8000 pints a second time looking for a flavor that might not even exist.  Annoyed, I read all the Ben and Jerry's flavors over the phone while drooling worse than a Saint Bernard.  Finally, my husband decides on Oatmeal Cookie Chunk.  I grab the ice cream and hustle towards the checkout when a small section of the freezer catches my eye.  I stop and words like "all natural", "organic", "dairy free" pop out.  Hmmmm?  I've never seen this little section before.  Of course not, I've been avoiding the ice cream aisle for two years.  Could there, would there, should there be a "natural sugar" ice cream?
I start picking up little pints of ice cream scanning the ingredients looking for one with honey or maple when I see these.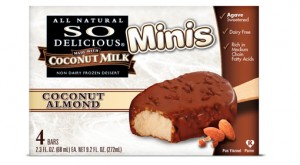 Up in the corner it says "agave sweetened".  I pick up the box and read the back.  Two separate lists of ingredients and sure enough "sugar" (or one of its refined forms) is not listed.  On the first list.  However, on the second list for the chocolate coating I read "beet sugar".  I know good and well that "beet sugar" is refined sugar but crazy train had already started to pull away and jumping on.  I saw only the word "beet". Suddenly the ice cream bars belong in the vegetable family.  It's craziness, I tell ya.  I threw the box in my basket and charged to the check out.  Fast.  A woman on a mission.  Before I come to my senses and put them back.
I get home and nonchalantly tell my husband they had ice cream bars made with "all natural sugar".  Well almost.  I sit down in front of the fire and unwrap my little bar.  Soooo good.  I'm shooting up.  Two bites into it and I'm already thinking about the 3 left in the box.  This is where the real problem lies.  The bar is not the problem.  While not leafy greens it isn't the worst thing in the world to be eating.  In fact, for being a processed sweet it's not that bad with short ingredients list and only 10 grams of sugar mostly from agave nectar.  (Been reading some stuff in question regarding agave…need to do more research but for now I'm considering it an okay natural sugar.)  Ten grams of sugar is about 2.5  teaspoons, a quarter of the sugar in one can of coke and less than half  of what the American Heart Association is now recommending.  It's me.  I'm the problem.  I spent the next 20 minutes thinking, okay OBSESSING, about the 3 bars left sitting in my freezer. I contemplated sneaking them out through the back door where I could eat them all in private in the  pouring rain.  I'll just explain to my husband why they are all gone in the morning.  Or maybe he wouldn't notice?  Or I could run back to the store in the morning to buy replacements? I thinking that I should just eat the whole box and go back to being sugar free tomorrow.  I'm thinking I could just eat one more.  I'm thinking.  I'm thinking.  I'm thinking about NOTHING else except the %$#!@*!@ ice cream bars.
"One is too many and a thousand is never enough." as fellow blogger Liimu once reminded me.
There's hope.  There's always hope.
Ultimately,  I told myself that if I'm going to do this, then I have to do this. Stop at just ONE.  I can't live the rest of my life, "starting over".  I grabbed a piece of mint gum, feverishly finished cleaning the kitchen, and rushed to brush my teeth.
The questions remain.  Was it worth it?  Was that one little bar worth the 30 minutes of emotional turmoil that followed…because I'm not going back to where I came from?
I may not have had a second helping but I'm having second thoughts.  Life almost felt easier without desserts.
xoxo
j
If you enjoyed this this post please Subscribe to the RSS Feed.
Sign up for up to have posts emailed to your inbox.
Pin It