Grieving Gelato
The other day my family and I went into a little gelato shop after visiting our alma mater Westmont College.  Over the past year and a half, I've learned to deal with these little occurrences without much grief but for some reason this particular trip was different.  The flavors of gelato lined up in the case glimmering under the store lights bringing back summer memories of getting happily lost in scoops of ice cream.  I scanned the flavors.  They had the standards like mint chip (my old favorite), vanilla, and coffee, as well as more exotic flavors, like lemon chiffon, peach, and green apple.  Looking at them, I remembered the rush of pleasure a spoonful would bring.   I thought of the creaminess, the sweetness, the coolness of each bite.  In the moment, I forgot the binges and the horrible feeling of losing control.  It was like breaking up with a boyfriend.  You forget all the reasons why you broke up and only remember the fun times.  This was the first time in many many months that I really missed sugar. I debated if I should get a scoop or not while the smiley faces on the flavor tags seemed to mock my indecisiveness and grief.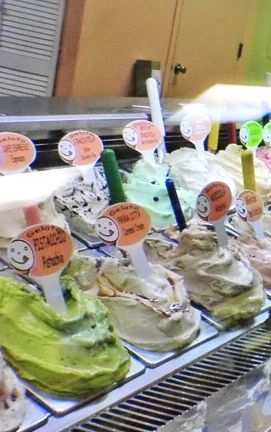 In fact I almost cried because I wanted some so bad. Seriously, I had tears in my eyes.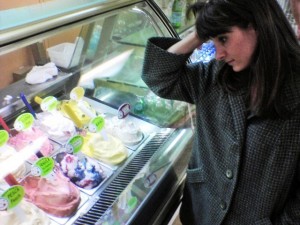 I decided to try a taste of the sugar free (made with splenda) vanilla with fresh blueberries. I ate a bite the size of my finger nail and instantly knew if I ordered it I'd turn down a new road filled with unnecessary potholes.  I don't need that.  The road I'm on has enough already.  Every trip to the grocery I'd justify  "sugar free" ice cream or end up back were I started driving around the neighborhood stuffing my face with "diabetic" candy.  I don't want to fight a battle I've already won.
Food whose sole purpose lies in being a sweet treat is still a doorway to craziness. Occasionally, putting honey in my tea or a little maple syrup instead of blueberries on my French toast is okay.  So far I haven't found myself curled up in the fetal position rocking back and forth in my closet licking the inside of a frosting can.  I had to draw a line somewhere to stop the madness.  That line is NO candy, cakes, puddings, ice cream, cookies, doughnuts, ect.  Basically anything with a lot of refined sugar.  Yeah sometimes it really stinks.  REALLY STINKS but so does the life of an addict.
Here is my family at the gelato shop enjoying their ice cream.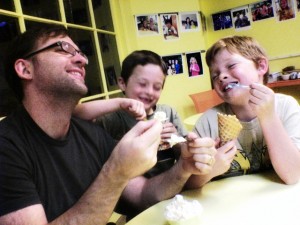 I, Killjoy, am watching them while sipping my steamed milk.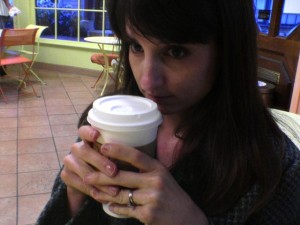 Yeah life is hard in America.
xoxo
j
Pin It