Life : One Rhinestone at a Time
I'm down to the last day. I'm a little nervous but also excited to be done. I'm ready to eat something other than chicken and asparagus which is all I've had for the last few days.
For the past week and a half I've been working on my suits non-stop. Gluing over 2000 little 5mm rhinestones to velvet fabric. It's been tedious but has given me a lot of time to think.
As I glued each little crystal to the fabric, I thought about how our lives, in a way, are similar. What?No, seriously, stay with me for a second.  Each rhinestone is like a day or moment in our lives. One rhinestone by itself doesn't amount too much. Sure it's pretty but all in all it's just a simple little sparkling piece of crystal. But after hours of glueing I stepped back and looked at the design. The design finished in it's entirety is so much more beautiful. I think that is how God sees our lives. Building a life one rhinestone at a time and when we get to the end all of them together create a beautiful whole. At least that what we hope. On my suit there are quite a few mistakes, too much glue here, a out of line one there.  But the thing is you don't notice the ones that are a little crooked or messy, the larger picture overshadows them. In life, we will all make mistakes but hopefully our good choices will overshadow the bad choices to where you don't even notice them, just like the few crooked little rhinestones.
I think this analogy can be used for our health and weight loss goals too. We will have bad days. We will have days where no matter how much we try we just can't resist eating half a pizza or a pint of ice cream. There will be days no matter how much you try to talk yourself into it you will not be able to find the energy to get to the gym. It's okay. Those days will be the crooked crystals but as long as you keeping going, keep gluing those rhinestones on the best you can, you will see something beautiful in the end.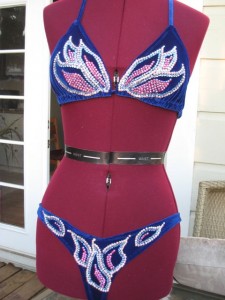 It's late and it's been a long day with too little carbs! Maybe that explains my quirky little rhinestone analogy. Well gotta get some sleep for the big day tomorrow.
xoxo
j
Pin It