How to make and/or stone your own figure competition suits.
If you decide to compete in a figure competition you will need a sparkly figure competition suit or two depending on the federation.  You have a few choices.  The most sane (and pricey) choice is to buy a new custom figure competition suit made just for you.  You can also buy a used suit, rent a suit, borrow a suit, buy a simple suit and add stones, or (the least sane choice) make and stone your own figure competition suit.  Of course, I went with the least sane choice because I like to nurture my craziness and I'm a cheapo.  This is how I did it.  I'm not an expert.  It was more of a fly-by-your-pants and hope- for-the-best project. Luckily it worked out and my suit didn't split while I was doing my t-walk.
Before you stone a suit you need a suit.  So I dug through a box of old fabric in my garage and found some royal blue stretch velvet (Yeah I'm the kind of person who has stretch velvet in the garage) that I thought would work and called my mom because I can't even sew a straight line to hem a curtain panel.  My mom used the KWIK SEW Pattern 3239, pieces C and G.  C worked great for the top but we needed to alter G, the bottoms, to fit more like a posing suit.  I brought over a bunch of figure girl pictures who have butts that I only dream of having and we did our best to alter the pattern.  Basically, what we did was narrow the back and front, put a "v" in the front and back waist band, and make the legs more high cut.  Think 1980s. Then we sewed two little swimsuit hooks on the back so I could cross and attach the straps to the bottoms.  We also used elastic in all the edges on the bottoms (not the cups) and in the straps to give it A LOT of stretch. Oh and we lined it with swimsuit lining and I put little slits in the the liner at the top of the triangle cups so I could put (a lot of) padding inside.
We thought about making the one piece but after careful consideration I decided I didn't want to go back to therapy so I had  Amy from Posing Wear make my one piece. She was really nice, affordable, and helpful.  I highly recommend her.  (On a side not I've heard one federation has axed the one piece division so check with your federation before shelling out cash for a one piece. If anyone has the detail feel free to elaborate in the comment section.)
Once I had two suits, it was time to glue on some bling or sparkles.  First I needed to decided on a design. I spent a lot of time looking at pictures online of suits.  I decided I wanted a swirly design on my one piece so I went on  dreamstime.com and found a swirly christmas tree graphic that I though would work for the body of my one piece if I turned it upside down.  I hope that doesn't make me a heretic.  I printed it out and laid my rhinestones out on the pattern.  For the cups I drew a few different swirl designs on paper until I made one that worked.  Then stretched and pinned my suit to a sturdy piece of cardboard and I sketched the design on the suit with Crayola chalk.   I looked at the pattern I had made on the paper and glued one rhinestone at a time to the fabric matching the pattern.  While I was doing this I found it more helpful to pay attention to the placement of the rhinestones in comparison to each other and the pattern I had laid out on the paper instead of following the chalk lines.  The chalk lines were just rough guidelines.  In other words, I'd glue on one rhinestone in the middle then glue one or two on the right side of the design and then make sure the rhinestones on the left side mirrored the ones on the right.  So for hours I'd go back and forth from the one side to the other being super careful that the rhinestones on each side were being laid at the exact same angles mirroring each other on both sides.  In the beginning, I started out using a pair of tweezers made for rhinestones but quickly realized that my angled tweezers that I use for my baby mustache eyebrows worked better.  I held the tube of glue in one hand and my tweezers in the other.  I'd dip my rhinestones in the glue directly from the tube.  Every so often I'd have to clean the glue buildup off the tube.  Also I kept a few toothpicks nearby to push the rhinestones into the exact spot I wanted them and press them down into the glue. Toothpicks are also handy to wipe up little pieces of glue that string out on the fabric.  And this is what I did for hours and hours.
For my two piece I was a little more precarious.  I put my two piece top on a sewing mannequin.  I had found a leaf pattern I liked in Oxygen magazine so I used chalk and sketched it onto the fabric.  I didn't bother laying the design out on a paper pattern first which may account for my my leaves looked more like flames.  That's also probably why I ran out of rhinestones and had to order more.  I just took my time going from one cup to the other laying one to three rhinestones at a time making sure they were in the exact same position on each cup. It's not perfectly symmetrical but you can't tell unless you look really close.
So if you are still crazy enough to stone your own suit here are the materials you'll need.
To make the suit
-Stretchy fabric. A yard was plenty.
-Thin elastic.  I  think it was a 1/4 inch.  You'll need quite a bit.  It's really cheap so get at least 4 yards
-Thread
-Swimsuit liner
-Padding (optional for some…not for me!)
-A pattern (depending on your sewing skills)
-Two swimsuit hooks
To do the bling
-Rhinestones.  I like the swaroski crystals but there are lots of cool crystals out there.
-Tweezers
-E6000 Glue
-Toothpicks
-Old wash cloths (to clean toothpicks and dripping glue from the bottle)
-Firm piece of cardboard or sewing mannequin
-Pins to keep your suit on the cardboard
-Chalk
Websites
Suit By Amy (she made one of my suits)
Passion Fruit Designs (Suits)
Merry Christine Bodywear (Suits)
Jagwear (Suits)
Lydia Conti-Bodywear (Suits)
Vandella Costumes (Suits)
Bikini Guru (Suits)
Fit Wear Designs (Suits)
Cynthia James (Suits)
Dream Wear (Suits)
Cherry Bombs (Suits)
Competitive Edge (Suits)
Nina's Competition Suits (Suits)
Tremblay Designs (Suits)
Diva Exchange (Used Suits and Stuff)
Lydia Haskell's Pro Consignment (Used Suits)
Shoes (There are some real doozies on this site)
Tami's Place (Rhinestones and glue.  I thought she had the best prices.  HUGE Selection.  Fantastic customer service.  She even sends them in scented fabric pouches.)
Stretch House (HUGE selection of stretchy fabrics of all kinds!)
Spandex World
Some other tips
– Someone recommended NOT using any stones smaller than 20ss.  GREAT ADVICE!
-Don't wait until the last minute.
-Take your time.
–Don't sweat small mistakes because you won't notice them when you are done.  (Pictures of the finished suits)
-Draw or print out your design on paper and draw stones on it so you can get a rough idea of how many to order.  You can print out the actual sizes of the stones from the website that sells them.
-Hang a punching bag next to your workspace so you can take out your frustration on it instead of your family.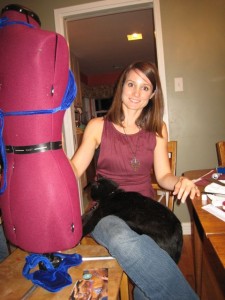 (That's my FBFF (feline best friend forever) Sunny Life on my lap.)
Hugs and High Fives,
Jenn
Keep up with my kettlebell workouts, real food recipes, and more in one of three ways! 1. Sign up to have posts emailed to your inbox. 2. Subscribe to the RSS Feed or 3. "like" Girl Heroes on Facebook. Simple dimple!
Journey with our family on the road at New School Nomads as we travel fulltime in RV through the United States!
Pin It