Snatch It Up- Kettlebell Workout – Minnesota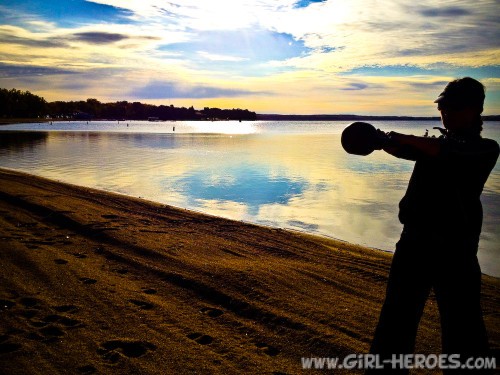 Sometimes I think we make things harder in our head they they are in reality. How many times have you talked yourself out of workout because it just seems like it's going to be "too hard" or "you don't have time".
I know I've done that more than I'd like to admit.
Working out isn't the only thing I put off because it seems "too hard" or "too time consuming".
Editing my workout videos is another thing that always seems overwhelming in my head but once I start I realize that it's not that hard. I was reminded of that this morning when I sat down to edit another kettlebell workout for my state series. It took all of two hours instead of the all day job I had envisioned. In hindsight, it would have been easier just to start in the first place instead of keeping it on my to-do list. Kinda of like a workout.
I filmed this kettlebell workout early last fall in Minnesota. It was a beautiful morning on the lake and a perfect way to start the morning before we headed to North Dakota. Before my workout I did a series of mobility drills for warm up.
As usual it's a simple kettlebell workout that  requires one bell but if you are really advanced it could easily be done with two substituting presses for the reach.
Kettlebell Workout Minnesota
A. Squat Reach 10x
B. Snatch* 10x each arm
AMRAC in 9 minutes. AMRAC = As many reps as challenging.
Most often you see AMRAP (as many reps as possible) used in timed workouts. I have posted AMRAP workouts before but recently I've been working on listening to my body more. While I'm not against  AMRAP workouts I no longer think that language is the most beneficial as it encourages people to get in as many reps as possible oftentimes at all cost. Form may be sacrificed (I've done this) and when you are racing the clock then it's easy to forget to listen to your body (I've done this too). Of course, it's absolutely possible to do an AMRAP workout safely but perosnally I prefer the word "challenging" because the goal is to challenge your body not push it to its limits. Every once in a while is fine but to push to your limits all the time is not necessary nor is it smart.
*If you aren't comfortable with snatches just substitute swings instead.
Do you prefer kettlebell snatches or swings? Do you ever put things off only to find out it wasn't near as "bad" as you thought? 
Hugs and High Fives,
Jenn
Keep up with my kettlebell workouts, real food recipes, and more in one of three ways! 1. Sign up to have posts emailed to your inbox. 2. Subscribe to the RSS Feed or 3. "like" Girl Heroes on Facebook. Simple dimple!
Journey with our family on the road at Newschool Nomads as we travel fulltime in RV through the United States.
Pin It