Get Your Swing on Kettlebell Workout – New Hampshire
Another kettlebell workout two weeks in a row?!?!
I might be able to catch up editing all my kettlebell workouts by winter's end after all.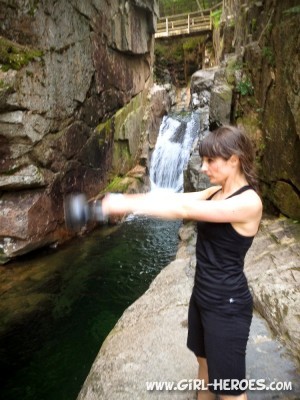 I did this kettlebell workout in New Hampshire at Sabbaday Falls located in the White Mountains National Forest.
Aside from the fact, I had to carry my kettlebell for the 15 minute walk to the falls from the parking lot (talk about a grip workout), it was a peaceful place for a workout. The boys enjoyed playing in the woods along the stream and took no notice of my workout. In their world, it's totally normal for mama to pull out her kettlebell and workout anywhere.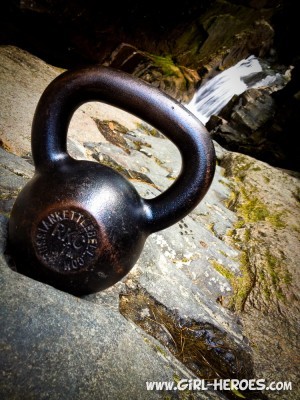 Kettlebell Workout – New Hampshire
Part One
A. Clean & Press 1, 2, 3 (each arm)
B. One Arm Row 1, 2, 3 (each arm)
C. Squat 1, 2, 3
Round one: A-C 1 rep.  Round two:  A-C 2 reps. Round three: A-C 3 reps
Part Two
A. OH Walk
B. Swings (any variation)
C. OH Walk
D. Swings (any variation)
E. Farmers Walk
F. Swings (andy variation)
G. Farmers Walk
H. Swings (any variation)
I. Heartbeat Walk
Do A-I at 30/30 – work/rest or skip the rest and use the the walking as your rest.
I have to say I'm working on improving my swing. It's not terrible but spending hours editing videos of myself swinging shows me where I need to improve for sure. I have a tendency to get lazy with the hip hing and release my lats.  Keeping my neck in a neutral position has been a long time struggle for me. Three years later and I'm still a work in progress! At least I'm not bored!
Have you ever been to New Hampshire? Did you done any kettlebell workouts (or any workouts) this week? Have you ever filmed your workouts to check your form?
Hugs and High Fives,
Jenn
Keep up with my kettlebell workouts, real food recipes, and more in one of three ways! 1. Sign up to have posts emailed to your inbox. 2. Subscribe to the RSS Feed or 3. "like" Girl Heroes on Facebook. Simple dimple!
Journey with our family on the road at Newschool Nomads as we travel fulltime in RV through the United States!
Pin It