Swinging by the Big Apple – Kettlebell Circuit – New York
Here is another kettlebell circuit shot in one of my favorite places to visit, New York City!
Okay, truth be told, I actually did this kettlebell circuit in Liberty State Park in New Jersey so I could get the view of Manhattan skyline.  Still counts as New York right?  Liberty State Park was an amazing place for a kettelbell workout. The boys flew remote control helicopters while I swung kettlebells.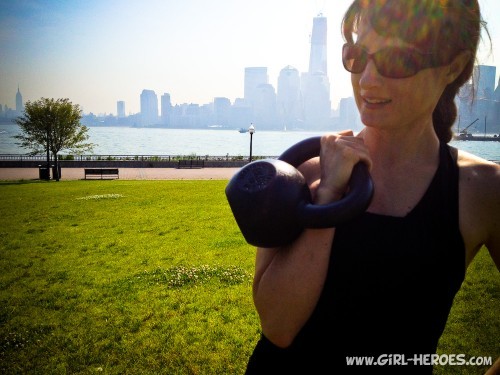 We had a fantastic time in New York. This was the only kettlebell workout I got in that week but that was okay because I was walking between 10,000 and 20,00 steps every day. Good thing because we were also going out to eat a lot. We have a number of friends, including two bridesmaids from our wedding, who live in New York and it was fabulous to see everybody. There are few things as special as catching up with old friends and family.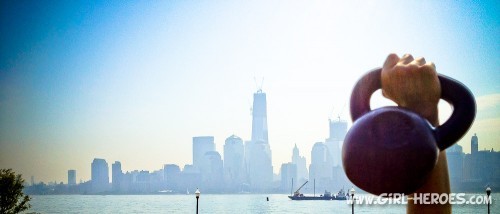 I love looking at city skylines. It makes me feel small and my problems insignificant.
Anyway here's the workout!
Kettlebell Circuit – New York
1. Heartbeat Squats
2. KB Reach
3. Deadlift
4. Alternating Rows
5. Swings
6. KB Toss
7.Down Ups
30/30 or 40/20 – Work/Rest.
Repeat Circuit 1-3x
Kettlebell circuits are a good on their own or as option for conditioning days as opposed to a cardio machine for those who follow a more traditional strength training program. The best thing about kettlebells is that you can take them anywhere and everywhere!
Hugs and High Fives,
Jenn
Keep up with my kettlebell workouts, real food recipes, and more in one of three ways! 1. Sign up to have posts emailed to your inbox. 2. Subscribe to the RSS Feed or 3. "like" Girl Heroes on Facebook. Simple dimple!
Journey with our family on the road at New School Nomads as we travel fulltime in RV through the United States!
Pin It