Lessons From a Trash Truck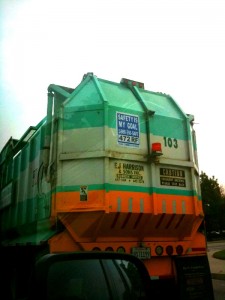 Today on the way to school my oldest, Thing 1, saw this trash truck which had a sign on the back that read "Safety is my Goal".
Thing 1, being the analytical 10 year old he is, says, "That's a dumb sign."
"Why do you say that?" I asked.
"It should say safety is my priority not just goal." He continued, "I can say my goal is to kick behind my head (referring to taekwondo) but just because that's my goal doesn't mean I'll do it or even keep trying.  But if I make it a priority it means I'll keep practicing because it's a priority not just a goal."'
Hmmm….
I'm a notorious goal setter. I even have a family bucket list.   My "goals" range (or have ranged) from weight loss to learning to make soar dough bread  to filmmaking to personal feats of strenght, heck, I even set "goals" to mop my kitchen but like, Thing 1, said just because it's a goal doesn't mean it will happen….unless I've made it a priority which explains my sticky kitchen floor.   Setting a goal indicates desire but making something a priority indicates character.  Perseverance, consistency, and commitment make up the current upon which goals travel and without them a goal may stagnate until it is nothing more than a forgotten idea collecting cobwebs in a far corner of the mind.  I'm thinking it's time I revisit some of those dusty ideas and brush away the cobwebs.
I sure hope the trash truck meant safety is their priority.
(And I thought being inspired by a Big Gulp was bad.)
Hugs and High Fives,
Jenn
If you enjoyed this post please Subscribe to the RSS Feed.
or
Sign up to have posts emailed to your inbox.
Pin It